A simple task, such as getting in and out of bed, can be extremely difficult for some older adults. If you have a parent that is having difficulty getting into or out of bed, repositioning in bed, or is at risk of falling or rolling out of bed, then a bed rail may be the right answer. Once you've decided it's time to purchase a bed rail, it's time to do some research to find out the bed rail that will be the best for your loved one.
How to Select the Best Bed Rail for Your Needs
Parentgiving.com provides an easily searchable environment for bed rail products and offers the following questionnaire to identify which bed rail is right for your parent:
What kind of bed will the rail be used on? Is there a box spring and mattress? Is it an adjustable bed? Is it a hospital bed? What size is the bed?
Do they want the rail to be one sided or two?
Will the rail be used as an assist to help them get in and out of bed or is it to keep them in bed during the night? (or both?)
Is there a caregiver to raise and lower the rail, or will the patient need to do that him or herself? Before purchasing a bedrail for use in a facility, it is important to contact the facility and determine what can and cannot be installed.
If a loved one suffers from dementia and is quite active, will they be confused and try to climb over the rails? Rather than protecting the patient, this could actually harm them more.
After doing your research, the next step is to select the right bed rail. You will also want consider price points before making the final purchase. In general, bed rails cost between $50 to $150 depending on the design. Make sure you shop around to compare prices across stores.
What to Do After Choosing a Bed Rail
The Consumer Protection Safety Commission provides the following checklist to follow after choosing a bed rail:
Check with the manufacturer to make sure the bed rails are compatible with the mattress and bed frame. These are not one-size-fits-all products.
Select and place bed rails in a way that discourages climbing over the rails to get in and out of bed, which can lead to falling over the rails.
Install bed rails using the manufacturer's instructions to ensure a proper fit.
Check bed rails regularly and readjust as needed to make sure they are installed correctly. Rails can shift or loosen over time creating dangerous gaps.
Each bed rail will have its own instructions on how to install. Some bed rails are secured with straps and clips, others are attached to the metal bed frame and others are fitted and weighted down by the mattress. Make sure to read the instructions carefully and secure the bed rail properly to ensure your parents safety and well-being.
Other Helpful Products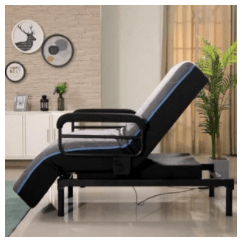 The EZ-Lift Bed Sleep To Stand Bed can transition you from bed to standing with just one touch of a button, so when it comes time for your morning routine or if you need some relief during the day, all you have to do is press down and stand up again. Start sleeping better today!