Best Vitamin B12 Supplement Brands for Older Adults
Fact checked by: Lynda Menegotti, Editor | Last Updated: June 2022
How We Found The Best B12 Supplements:
Caring Village may receive commissions for purchases or leads made through links in this article.
Did you know that a Vitamin B12 deficiency can put your aging loved one at greater risk of Dementia? The five essential vitamins and minerals for adults 50+ are Vitamin D, Vitamin B12, Calcium, Magnesium, and Potassium (source). The vitamins (keeping you healthy) and minerals (helping your body function) are essential for healthy living and overall wellbeing. Sources of these vitamins and minerals are primarily through food but often older adults may need a supplement for a variety of reasons.
What Is Vitamin B12 and Why Do We Need It?
Vitamin B12 is a water-soluble vitamin that is naturally present in some foods, added to others, and available as a dietary supplement and a prescription medication Other water-soluble vitamins are vitamins C and B complex. Most water-soluble vitamins are not stored in the body and must be replenished on a regular basis, however, vitamin B12 is stored in the liver. It can take between 3 and 5 years to deplete the liver stores and become deficient.
In order to understand the role of vitamin B12 and the best supplementation choices we will first look at:
What vitamin B12 benefits
Forms of B12
How B12 is metabolized
Causes of vitamin B12 deficiency
Symptoms of vitamin B12 deficiency
How to test for vitamin B12 deficiency
Foods rich in vitamin B12, and
Our top picks for supplements
Benefits of Vitamin B-12
Aids in the formation of red blood cells, which in turn provide energy and oxygen throughout the body
Assists in the formation of DNA
Helps maintain the central nervous system
Improves mood
Protects myelin sheath that surrounds nerves
Essential for energy production
Prevention of macular degeneration (along with folic acid and B6)
The 4 Forms of Vitamin B12
Methylcobalamin - The biologically active form found in foods and supplements
Cyanocobalamin - A synthetic form of B12 that converts into biologically active adenosylcobalamin and methylcobalamin
Hydroxocobalamin - This is an injectable form to treat b12 deficiency. It is also an antidote for cyanide poisoning
Adenosylcobalamin - This is the natural, most common form of vitamin B12 found in the cells, organs, and tissues of the human body, as well as the most common form of B12 found in food.
Of these 4 types of B12, cyanocobalamin is the most common synthetic supplement used. It is considered more stable and can convert into biologically active methylcobalamin and adenosylcobalamin.
Methylcobalamin is naturally occurring and is found in food and supplements.
How is B12 Absorbed by the Body?
Vitamin B12 is bound to protein in food and must be released before it can be absorbed by the body. The body absorbs vitamin B12 from food in a two-step process. First, hydrochloric acid in the stomach separates vitamin B12 from the protein that it's attached to. Second, the freed vitamin B12 then combines with a protein made by the stomach, called intrinsic factor, and the body absorbs them together.
Causes of Vitamin B12 Deficiency
Lack of intrinsic factor, leading to pernicious anemia - There are many reasons for this, some of the most common are: an autoimmune disease called atrophic gastritis which attacks the stomach lining, which in turn reduces the manufacture of intrinsic factor. Gastric bypass surgery can also cause a lack of intrinsic factor. As noted above, intrinsic factor is needed to bind with B12 so it can be absorbed by the small intestine.
Low stomach acid - Needed to break apart proteins from food so they can bind to intrinsic factor.
Advanced age - As we age our bodies produce less stomach acid. It is estimated that up to 43% of older adults are deficient in vitamin B12
Intestinal problems such as Crohn's disease, autoimmune diseases attacking the intestinal wall where vitamin B12 is absorbed, such as celiac disease, tapeworms ingested when consuming fish
Excessive alcohol use
Medications that can cause B12 deficiency such as Proton pump inhibitors and histamine blockers that treat gastroesophageal reflux and heartburn symptoms, some of the common medications are: Cimetidine, omeprazole, Zantac, Pepcid, Metformin (Glucophage) (treats type 2 diabetes)
A strict vegetarian or vegan diet (plant foods have no B12 unless fortified)
HIV
Many autoimmune diseases, such as Hashimoto's thyroiditis
What Are the Symptoms of Vitamin B12 Deficiency?
Many of the symptoms of B12 deficiency are commonly brushed off as advanced age or dementia or Parkinson's. Consult with your care provider if any of the following symptoms are present:
Low energy
Fatigue
Tingling hands, feet (neuropathy)
Anemia
Fast heart rate (associated with anemia, the body's inability to transport oxygen to various parts of the body)
Pale skin
Depression
Trouble concentrating
Sores and pain in the mouth and gums
Impaired vision
Erectile dysfunction
Muscle cramps
Impaired coordination
How Is Vitamin B12 Deficiency Detected?
Vitamin B12 deficiency is detected by a blood serum level. Many healthcare providers advise blood testing for B12 levels in older populations as a proactive, preventative measure, but be sure to consult your own doctor for medical advice.
How Much Vitamin B12 Should You Have?
The average adult should get 2.4 micrograms (mcg) of vitamin B12 a day according to the National Institutes of Health.
Which Foods Are Rich in Vitamin B12?
Beef
Organ meats, particularly liver and kidney
Wild-caught fish, such as salmon, tuna, herring
Clams
Milk and yogurt
Eggs
Fortified breakfast cereals
Fortified nutritional yeast
How to Supplement Your B12 Intake
It is recommended that you consult your primary care provider before taking any supplements. Some side effects of B12 supplementation are rash, swelling of the face and tongue (very rare), nausea, diarrhea, and headache.
Common Forms of B12 Supplements:
Vitamin B12 Injections: This form requires a prescription. A good alternative when compliance may be an issue.
Advantage: Only needs to be administered 1-2 times a week, which helps with compliance
Disadvantage: Requires weekly office visits or a skilled caregiver to administer
Oral (Pill form and Lozenge): Pills and lozenges can be filled in pill dispensers, lozenges are usually very good tasting, which can help with compliance.
Advantage: Prefilled pill dispensers help with compliance when used
Disadvantage: For clients who have difficulty swallowing pills or have issues with other oral routes this may not be a good choice.
Nasal Spray: It is a good alternative to injections
Advantage: Goes directly into the bloodstream
Disadvantage: Prescription required.
Transdermal Patch: Apply directly to the skin, wait 8 hours, remove
Advantage: Good for those with impaired swallowing or Alzheimer's/dementia patients. Can place out of range of removal.
Disadvantage: Some people find the adhesive irritating to the skin
Best Vitamin B12 Supplements
According to our research, the following are the top 5 Vitamin B12 Brands based on customer ranking. You can find numerous forms of the supplement from a tablet, gummy, liquid, or pills.
PatchAid B-12 Vitamin Patch
Nutritional vitamin patches are a new technology. Each patch contains a specially formulated collection of vitamins, minerals, and/or other nutrients designed to promote health. Because people over the age of 60 have a decreased absorption of vitamin B12 from food or pills, transdermal applications make it easier and faster for the nutrients to go directly into the bloodstream. This application also makes it perfect for those unwilling to take supplements orally due to dementia or Alzheimer's.
PatchAid's B12 Energy Plus Vitamin Patch has a unique formula with B vitamins, including biotin and folic acid, and choline.
What We Like:
A pain-free alternative to injections
Easy-to-use format for those unable or unwilling to take supplements orally
What Could Make This Product Even Better:
Less residue after removal
Pure Encapsulations B12 with Folate
These lozenges, which are naturally fruit-flavored with black cherry and vanilla are a great choice for diabetics. They contain no sugar, taste great, and contain the biologically active form of B12, along with folate (which aids in healthy red blood formation). They contain no wheat, eggs, tree nuts & peanuts, gluten, artificial colors, flavors & sweeteners, coatings and shellacs, GMOs, and unnecessary binders, fillers & preservatives.
What We Like:
Great taste
Pure quality
They dissolve in your mount without needing water to swallow
What Could Make Them Even Better:
Garden of Life Raw Vitamin Code B12
Garden of life has an outstanding reputation when it comes to product quality. This vegan-friendly, raw, whole food, organic B12 is also gluten and dairy-free with no binders or fillers. This formula contains 1,000 mcg methylcobalamin along with digestive enzymes and probiotics, which enhance absorption and digestion.
What We Like:
Easy to use
All-natural, certified organic, and no fillers
A great option for vegetarians
What Could Make This Product Even Better:
Global Healing B12 Blend
This liquid form (sublingual, under the tongue) of B12 contains 2 biologically active forms of B12. It is vegan-friendly, certified organic, soy, dairy, GMOs, nuts, sugar, artificial flavors, synthetic dyes, and toxic fillers.
What We Like:
Hypoallergenic blend
Contains 2 forms of active vitamin B12
What Could Make This Product Even Better:
Nature Made Vitamin B12 Gummies
These delicious gummies make it easy for your body to get the vitamin B12 it needs. They are also gluten-free and have no high fructose corn syrup, no synthetic dyes, no artificial flavors, and no artificial sweeteners.
What We Like:
Great taste
A good alternative to swelling large pills
What Could Make This Product Even Better:
More resistance to melting caused by extreme heat during shipping (manufacturer seems to be addressing this with foiled lined packaging)
Other Considerations
Each brand comes in different amounts of B12 and the form to take. This is important to discuss with your doctor to determine the best supplement to support your needs.
Need Help Remembering to Take Your Medications and Supplements?
Hero Medication Dispenser, Manager, and Pill Organizer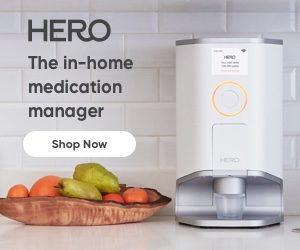 Hero sorts and dispenses doses at the push of a button with audible and visual reminders to help keep your loved one track, and an optional PIN password that keeps medications safe until it's time to take them. The app reminds you or your caregiver if you need a helping hand. You will also get an alert if you're low on pills. The optional Hero Fill service delivers medication directly to your door to help keep you from running out of prescriptions, over-the-counter medications and supplements and includes free delivery. Your Hero membership gives you peace of mind with an automatic pill dispenser that makes it simple and easy for your loved ones to take the right medication at the right time, every time. Free Shipping. Free Returns. 30-day Free Trial.
Brooke worked as a home health and hospice nurse for many years. During her time working with patients and families, she saw the pressures and strain of what caregivers went through while caring for loved ones.
Dan Fogarty has more than 10 years experience in healthcare management and strategic communication. Dan earned his Masters in Health Communication from Johns Hopkins University in 2012. Dan is the Acting Chief Administrative Officer of the NIH Clinical Center and an Adjunct Faculty member of the Massachusetts College of Pharmacy and Health Sciences (MCPHS).