Best Vitamin B12 Supplement Brands for Older Adults
Did you know that a Vitamin B12 deficiency can put your aging loved one at greater risk of Dementia? The five essential vitamins and minerals for adults 50+ are: Vitamin D, Vitamin B12, Calcium, Magnesium and Potassium (source). The vitamins (keeping you healthy) and minerals (helping your body function) are essential for healthy living and overall wellbeing. Sources of these vitamins and minerals are primarily through food but often older adults may need a supplement for a variety of reasons. To help you understand the best supplements available we have provided the top 5 Vitamin B12 brands below.
NEW - PatchAid Nutritional Supplements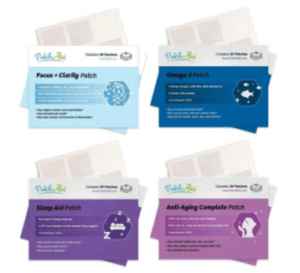 PatchAid is the latest in nutritional supplements. Each patch contains a specially formulated collection of vitamins, minerals, and/or other nutrients designed to promote health. The ingredients are suspended in a matrix and are activated to mobilize when the patch is applied to your skin and exposed to the heat and moisture from your skin. Use coupon code CV15 at checkout to receive a discount!
What is Vitamin B12?
Vitamin B12 cannot be made in the body naturally. It is ingested through food (or a supplement) and it primarily supports the making of red blood cells, nerves and DNA. If your aging loved one has a Vitamin B12 deficiency they may experience symptoms often associated with getting older, such as (source):
Numbness, or tingling in the hands, legs, or feet
Difficulty walking (staggering, balance problems)
Anemia Swollen, inflamed tongue
Difficulty thinking and reasoning (cognitive difficulties), or memory loss
Muscle weakness
Fatigue
Nerve damage
Top 5 Vitamin B12 Brands
According to Amazon the following are the top 5 Vitamin B12 Brands based on customer ranking. You can find numerous forms of the supplement from a tablet, gummy, liquid or pills.
Jarrow Formulas Methylcobalamin (Methyl B12)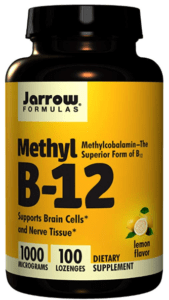 Jarrow Methyl B12 lozenges come in three delicious flavors (lemon, cherry, and tropical) and can be chewed or left to dissolve in the mouth. Jarrow Formulas' Methyl B-12 lozenges are a convenient method for obtaining biologically active B-12.
The Methyl B12 costs about $14 for a 60 lozenger bottle in the amount of 5000 mcg.
Vitafusion Extra Strength Vitamin B12 Gummies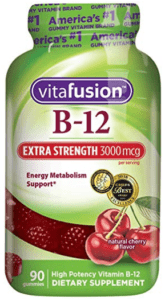 The new Vitafusion Extra Strength line includes high potency Vitamin B12 fused into delicious gummies. Two Extra Strength B12 gummies provide 50,000% daily value (3000 mcg) of B12.
The Vitafusion costs about $10 for a 90 count of gummies in the amount of 3000 mcg.
Natures Bounty Vitamin B-12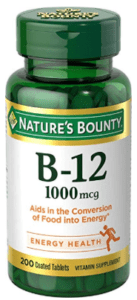 Nature's Bounty B-12 microlozenges are a fast and easy way to deliver essential B-12 when you want it most - during your busy day! Just place the microlozenge under tongue for 30 seconds before swallowing. You'll enjoy the bust of great cherry flavor and the benefits of Vitamin B-12 as it dissolves!
The Natures Bounty B12 costs about $10 for a 200 tablet bottle in the amount of 1000 mcg.
Natrol Vitamin B12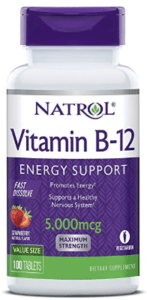 Natrol Vitamin B-12 is easy to take without water and has a great tasting strawberry flavor that can be taken anytime and anywhere. These tablets are all-naturally sweetened and flavored as well as 100% vegetarian. d.
The Natrol Vitamin costs about $6 for a 100 tablet bottle in the amount of 5000 mcg.

Garden of Life B12 Vitamin
Garden of Life B12 Vitamin Spray is the FIRST NON-GMO PROJECT VERIFIED whole food methylcobalamin in a convenient, delicious organic raspberry spray. Certified Vegan, Gluten Free and NO synthetic binders or fillers. Delicious, Mouth-watering ORGANIC Raspberry Spray.
The Garden of Life costs about $12 for a 2oz liquid bottle in the amount of 500 mcg.
PatchAid B-12 Vitamin Patch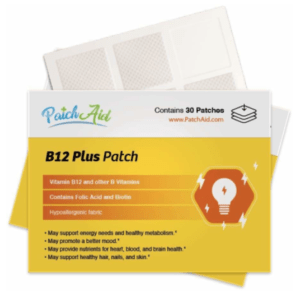 PatchAid patches are easy to use and comfortable. Each patch contains a specially formulated collection of vitamins, minerals, and/or other nutrients designed to promote health. Because people over the age of 60 have a decreased absorption of vitamin B12 from food or pills, transdermal applications make it easier and faster for the nutrients to go directly into the bloodstream. This application also makes it perfect for those unwilling to take supplements orally due to dementia or Alzheimer's.
PatchAid B12 Energy Plus Vitamin Patch has a unique formula with B vitamins, including biotin and folic acid, and choline. It offers:
No risk of a sugar crash.
Caffeine-free energy support.
A pain-free alternative to injections.
A convenient alternative to high-dose pills.
Other Considerations
Each brand comes in different amounts of B12 and the form to take. This is important to discuss with your doctor to determine the best supplement to support your needs.
Hero Medication Dispenser, Manager, and Pill Organizer
Hero sorts and dispenses doses at the push of a button with audible and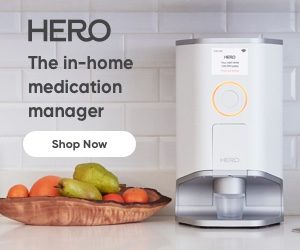 visual reminders to help keep your loved on track, and an optional PIN password that keeps medications safe until it's time to take them. The app reminds you or your caregiver if you need a helping hand. You will also get an alert if you're low on pills. The optional Hero Fill service delivers medication directly to your door to help keep you from running out of prescriptions, over-the-counter medications, and supplements and includes free delivery. Your Hero membership gives you peace of mind with an automatic pill dispenser that makes it simple and easy for your loved ones to take the right medication at the right time, every time. Free Shipping. Free Returns. 30-day Free Trial.
​​​​​​​* Average and up to savings percentages are based on all discounted prescriptions that were run through the WellRx program in 2018. Discount percentages represent savings provided off of pharmacies' retail prices for consumers who do not have a discount program and pay cash. For more info visit https://www.wellrx.com/ for more info.