The 10 Best GPS Trackers for the Elderly
The number of people living with dementia and Alzheimer's Disease is expected to rise to 75.6 million by 2030, and 135.5 million by 2050 (source). Dementia and other similar conditions often cause older adults to become confused or lost in both familiar and unfamiliar places.
If an aging loved one becomes lost or disoriented at times you may want to consider utilizing a GPS locator or a wearable device in order to track their whereabouts and find them in an emergency. The development of GPS medical alert systems has changed the way the elderly receive round-the-clock care while living at home. The changing technology does offer comfort for caregivers and autonomy to the elderly.
The use of GPS Trackers for the elderly such as those offered by AngelSense, Pocketfinder, iTraq, Trax, Spy Tec, Yepzon, SPOT, GPS SmartSole, Trackimo and Medical Guardian can bring your aging loved one safely home and provide greater peace of mind for caregivers and family members of people with dementia.
The Pros and Cons of Geolocation Tools for Seniors
The adoption of GPS medical technology has its pros and cons. Before purchasing and jumping into using a GPS medical device (mobile or wearable) read the list below to determine if utilizing this technology is the right choice for you and your loved one.
Those that use a GPS tool to monitor their loved ones have noted that it does offer the ability for both the wearer and caregiver to live an independent life but remain connected in the event of an emergency.
The downside of using a GPS tool is misguided safety. Overly relying on the device may give the wearer more freedom but that can come with decreased physical interaction and connection. Requiring the device to be on the person at all times can prove difficult if the wearer simply removes it or leaves it at home. Also, privacy can become a source of contention since the device will be tracking and monitoring the wearer at all times.
The information below describes the pros and cons of the specific geolocation tools in more detail.
General Concerns of Technology in Home Care
Keep the following questions in mind when determining what tool is best for you and your loved one:
Will it replace the element of personal contact?
If the technology of a GPS locator is how health is monitored, will the family or caregiver not check-in as often and provide the personal, emotional contact needed?
These concerns are valid and will take time to answer since emerging technology is new and rapidly changing.
Wearable Technology and Mobile Apps
GPS technology for the older and/or infirm can be wearable or in the form of a mobile app. These tools are specifically designed to track and monitor the location of a person. The person will be connected to a caregiver through this device.
Pros
Cons

Each wearable and/or mobile device can provide targeted monitoring and unique data collection.
 The device can notify individual of leaving designated area (i.e. home property).
In an emergency, the tools can connect to the appropriate emergency responders.
If the wearer is lost, the devices can guide them to their desired location.

Each device requires the user to wear the device (i.e. heart monitor) or to carry his or her phone with them at all times.
The devices, if not charged or properly powered, could provide misguided safety.
Requires multiple users to actively use and monitor tool/device.
The tool does not lead to action without a crisis/emergency plan.
Remote Monitoring Tools
In a different look at GPS tools, remote monitoring devices create a direct link between your loved one and access to health monitoring tools. This type of technology allows an individual to actively monitor his or her health remotely.
Pros
Cons

Allows seniors to keep a closer eye on their daily health from their home.
Cuts down on the stress that going to the doctor can create.
 Can help with managing medication and daily intake.
Provides increased immediate access to medical care, reducing the impact of health-related emergencies.

The user may rely too much on the alert systems causing them to not pay as much attention to general and/or feelings changes in condition.
  If the home monitoring tool does not detect something the individual may not consider what they feel as significant enough to alert his or her physician.
Could promote an isolated or sedentary lifestyle by reducing the need to leave the home.
Can cause a reduction in privacy of personal health information.
In general, the tools listed above do provide tremendous opportunities to improve the quality of care. The growing market of technologies is not a way to relieve the responsibility of the caregiver, but they should enhance a caregivers' ability to provide comprehensive and high-quality care for their loved one.
A Few Things to Consider Before You Purchase
What Type of Device is Best Suited to Your Situation? Depending on the severity of your loved one's dementia you may need a vehicle tracking device in case they get turned around, or you may need a wearable tracker that can tell you if they leave the house on foot.
Will your loved one be receptive to wearing a tracking device? Your loved one may be resistant to having their activities monitored during the early stages, or they may find security in knowing that help is available to them should they become lost or confused.
What Features Are Must-Haves? GPS trackers come with many features including; geofencing, SOS buttons, two-way calling, and voice monitoring.
Will There Be Any Additional Fees? Many GPS trackers require a monthly fee, so be sure you understand the costs involved before you purchase.
Top 10 Products to Track my Elderly Parents Location
Below is our list of the top 10 GPS products for tracking your aging loved one's location based on reviews from several tech industry blogs, customer reviews, and ratings.
Medical Guardian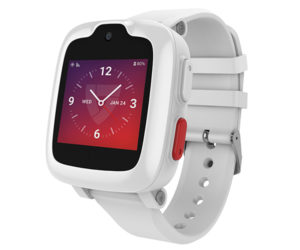 Medical Guardian provides numerous options for families and seniors such as GPS trackers, medical alert devices, in-home devices, and personal emergency response systems. Their offerings also include fall detection and a 24/7 monitoring service that provides a comprehensive security offering. Their newest product, the Freedom Guardian resembles modern-day smartwatches which are much more discreet than other similar offerings but still easy to operate.   Medical Guardian's devices are consistently ranked highly in numerous online review sources such as Consumers Advocate, Reviews.com, Medical Alert Comparisons, and others.
AngelSense Elderly GPS Tracker and App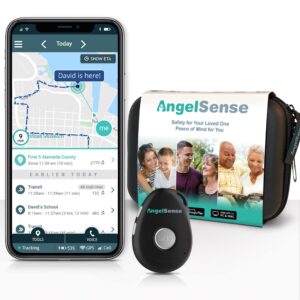 For a limited time, AngelSense is offering their GPS tracking device for only $69 (70% off) The AngelSense GPS Tracker is a unique offering that combines a GPS tracker and mobile app with a monthly service plan that includes unlimited notifications, full-day location updates, late departure warnings, email alerts and real-time technical support. AngelSense initially entered the market as a service to track children and those with special needs (such as autism) and later expanded into the elderly tracking space. This solution is perfect for those with Dementia, Alzheimer's Disease, and other memory problems as it helps prevent wandering and mistreatment while promoting independence and reducing family caregiver stress and anxiety. The AngelCall feature also allows families to talk to their elderly loved ones directly without the need for them to "pick-up" the device. AngelSense offers three pricing plans and provides free onboarding support by phone.
PocketFinder
The newer PocketFinder models utilize all three location technologies, GPS, Cell ID, and Google Wi-Fi touch, for accurate outdoor and indoor locating. It also has an SOS button. You can also receive $30 off Personal or Vehicle trackers exclusively with the Caring Village discount code: CARING30
iTraq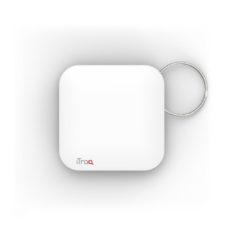 iTraq determines its position using WiFi triangulation (for indoor tracking) as well as GPS and cellular tower triangulation that allows iTraq to be located anywhere in the world where cellular service exists. There are also fall detection, scheduled reporting, and geofencing abilities. Battery life can also last up to four months depending on the settings you select.
Trax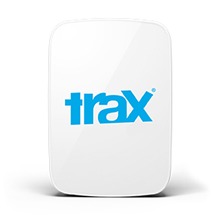 Trax is the smallest and lightest real-time tracker on the market, combining GPS and GLONASS for increased precision. Single or multiple trackers can be monitored via easy-to-use smartphone (iOS/Android) and desktop web apps. Trax boasts an array of features including geofence security, proximity and speed alerts, and an Augmented Reality fast-find feature. Trax is small in size but big on technology and fits easily into a pocket or bag.
Spy Tec Mini GPS Tracker
The Spy Tec STI_GL300 Mini Portable Real-Time GPS Tracker is a good match for seniors because it ensures unsurpassed accuracy and provides real-time location tracking. Powered by proprietary tracking software and the cutting-edge GL-300 real-time GPS tracking device, Spy Tec is an industry leader in addressing consumer and enterprise GPS tracking needs. On Amazon, this product received a 4.5 (out of 5) rating with 1,533 reviews to date.
Yepzon One Personal GPS Locator 
The Yepzon GPS locator tracks the location of your loved one every 10 seconds. It can work with any mobile device and the battery life is suitable to last several weeks (to even months) depending on how often you need to use it. On Amazon, this product received a 4 (out of 5) rating with more than 250 comments and reviews.
SPOT 3 Satellite GPS Messenger
SPOT Gen3 gives aging adults a critical, life-saving line of communication when they travel beyond the boundaries of cell service. The latest generation of award-winning SPOT devices, SPOT Gen3 lets family and friends know their loved one is okay, or if the worst should happen, sends emergency responders their GPS location - all with the push of a button.
GPS SmartSole
The GPS SmartSole provides peace of mind for family members and those caring for the millions of people suffering from memory impairment and wandering which can be caused by Alzheimer's, Dementia, Autism, Traumatic Brain Injury, or other cognitive memory disability. The patented GPS-enabled "Smart" insoles fit easily into most adult shoes and let you monitor the whereabouts of loved ones who may tend to wander or be at risk of becoming confused and lost. You can track their location through any smartphone, tablet, or web browser, set up text and e-mail alerts if they leave or enter defined areas on a map.
Trackimo
Trackimo has a comprehensive GPS tracker offering to include uses for vehicles, drones, pets, children, and the elderly. Their primary device is currently the smallest on the market coming in at less than 1.5 ounces. Trackimo leverages smart alerts by SMS or email that can automatically message family members when their loved one leaves the "safe zone." They also boast about battery life of up to 96 hours which is quite impressive with the small size of the device. As of November of 2018, they are offering free GPS service for the first year before you transition into a $5 per month fee which is the lowest fee we are aware of. Although their primary device is the 3G Tracker, their other devices such as travel trackers, watches, and pet devices all have the same functionality in different form factors and can be reviewed at their online store.
Notable Mention: The Alerta Patch & Wedge Wearable Proximity Monitor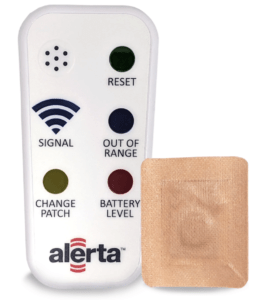 The Alerta Patch & Wedge System was designed for the family caregiver, caring for someone with dementia at home. While not a GPS device, we felt this passive, wearable proximity monitoring system was worth a mention. The care recipient wears the patch on the upper back. It is discreet and comfortable. The caregiver can either hold the wedge carried in a pocket or place it in a central location. Alerta allows the caregiver to attend to household tasks (or maybe even rest) without needing a line-of-sight to the care recipient. The patch is lightweight, comfortable, water-resistant and discreet. Alerta is a low-cost, easy-to-use solution that does not require additional devices or cellular or WiFi services.
The Best of the Rest
Below we have listed a few more products that we think are worth looking into to see if they might be the right product to fit your family's needs.
Tycho Real-time Tracking SOS GPS Tracker Watch
Tycho's stylish 3G GPS Watch is a new generation of GPS trackers designed for personal safety. Features include; real-time tracking (GPS+WIFI+LBS multiple positioning modes), phone call & SOS emergency calling (users can press the SOS button to circularly call family numbers for help in case of an emergency), historical route tracking (footprint record), electronic geofence alarm, remote voice monitoring (listening in), alarm clock, voice chat, low battery alarm, and more.
Jiobit GPS Tracker
Jiobit is the first of its kind patented location tracking platform that uses Bluetooth, Wi-Fi, Cellular, and GPS. This is one of the smallest location trackers on the market for children and seniors and helps keep your loved ones safe. It's small and lightweight and will clip discreetly to clothing and shoes. Jiobit, which pairs with a smartphone to deliver real-time location information, will track in any location at any distance. Jiobit requires cellular data to track location. Plans are selected at activation in the Jiobit app with no separate cellular contract needed.
Optimus 2.0 GPS Tracker
The Optimus 2.0 GPS Tracker enables you to keep an eye on the people and possessions that mean the most to you. Enjoy the peace of mind knowing that you will be notified when the tracker leaves or enters a pre-defined area (geofencing). You can also receive push notifications, text messages, or emails when one of the following events are triggered: tracker starts moving, speeding, low battery, or when then SOS button is pressed. The Optimus GPS Tracking platform allows you to track on your computer. With Google Maps as your base map, you can also get a street view of where your tracker is located.
Amcrest GPS Tracker
The Amcrest GPS Tracker offers real-time tracking with up to 5-second updates through Windows and MAC desktop web-access (Chrome, Safari, Edge, Firefox) or the Amcrest GPS smartphone app (iOS/Android). The intuitive user interface allows you to monitor activity easily, manage alerts, and generate custom reports. Create links and share them with family to keep track of children, seniors, and assets. Create custom geo-fencing zones that alert you anytime the GPS tracker enters or exits a zone.
Before purchasing a GPS tracking device, make sure to receive permission from your aging loved one. If possible, start having conversations about how you should handle particular situations with your loved one as the disease progresses. While these are no doubt difficult conversations to have, getting them out of the way early on will give you peace of mind as a caregiver and help ensure that you are following your loved one's wishes as closely as possible. We have several tips for how to navigate sensitive conversations like this in our, 'What is the Best Way to Communicate with an Aging Parent About the Future?' article.
And keep in mind that although GPS tracking does not necessarily equal better care, as it cannot stop someone from getting lost if worn or in possession of the person lost, they can provide peace of mind to concerned family members. Research the products above to find the right device or app for you or your loved one.