Keeping track of what medication to take, when to take it, and doing so on a regular schedule can become difficult, as well as potentially dangerous if not followed correctly. Handling one pill a day is manageable, but what if you need more pills, injections, breathing exercises, etc.? Checklists and pillboxes can help, but now there are also medication management apps that help make it easier to stick to your regimen.
NEW – Hero Medication Dispenser, Manager, and Pill Organizer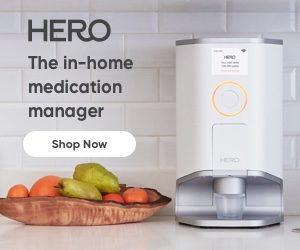 Hero sorts and dispenses doses at the push of a button with audible and visual reminders to help keep your loved one track, and an optional PIN password that keeps medications safe until it's time to take them. The app reminds you or your caregiver if you need a helping hand. You will also get an alert if you're low on pills. The optional Hero Fill service delivers medication directly to your door to help keep you from running out of prescriptions, over-the-counter medications and supplements and includes free delivery. Your Hero membership gives you peace of mind with an automatic pill dispenser that makes it simple and easy for your loved ones to take the right medication at the right time, every time. Free Shipping. Free Returns. 30-day Free Trial.
Top Ranked Medication Management Apps
Medication management apps are intended to help you take your medication on time and as directed. After you download these apps, they will ask you to input information about the medications you take, such as: the dose, how often, and timing directions. They also help by allowing you to set reminders and alerts. The following is a list of the top five medication management mobile apps according to several analyses conducted by Pharmacy Practice News online, HealthLine, and iMedicalApps.
EllieGrid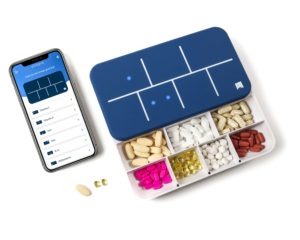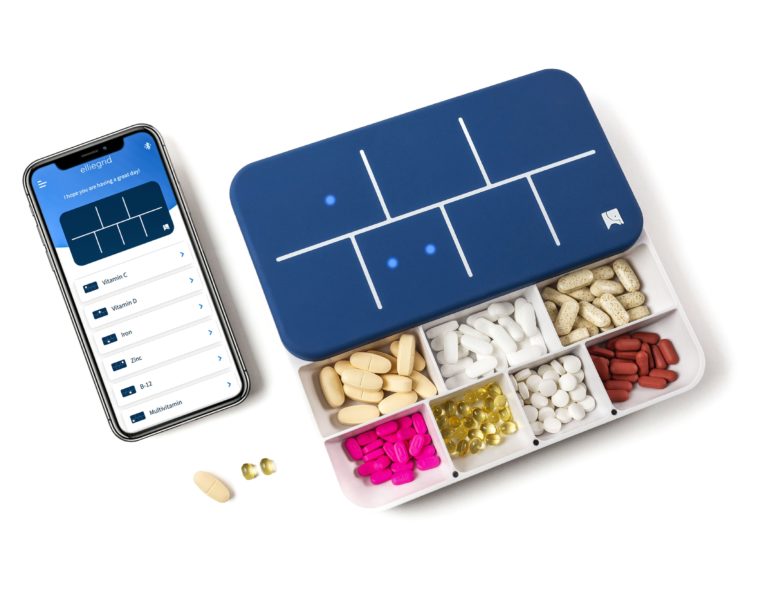 EllieGrid is a smart pill organizer that combined a beautiful design with strong technology in order to create a fashionable health accessory. In addition to the features above, EllieGrid also offers "smart alarms" in order to prevent alarm fatigue. If you enable the "smart alarms" feature, EllieGrid's software will track your activity and trigger alarms at more convenient times. Thanks to EllieGrid's unique features and design, it is the only medication management system that has shown it can increase medication adherence in 80% of users. Free shipping, free returns, and a 20% discount with promo code "CaringVillage".
Pill Reminder by Medisafe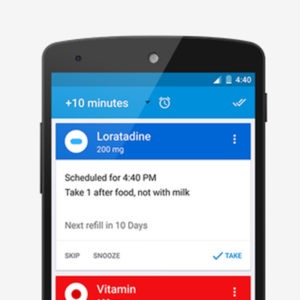 Pill Reminder's mission is to give you the reminder tools, support, and info you need to safely take pills. Pharmacists rank Pill Reminder by Medisafe #1 out of 461 apps they've tested, and MyVCM recognizes Medisafe for HIPAA privacy "best practices in managing security and compliance." The app is free to download and use, while the premium version upgrades your experience and gives you unlimited Medfriend supporters, unlimited family, and friend profiles, access to 20+ health measurements, choice of a dozen Medtone reminder voices, the ability to pick color themes, and pillbox shapes, and no banner ads for $4.99 a month or $39.99 a year through an auto-renewing subscription.
MyMedSchedule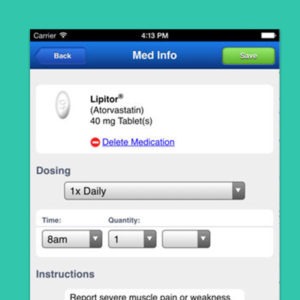 MyMedSchedule Mobile is a secure medication schedule and reminder program, complete with pictures of your pills. It allows you to create and save easy-to-understand medication schedules. Each MyMedSchedule shows you what times you should take your medications or supplements, how much to take, and the purpose of each. You can set up text and email reminders to remind you to take your meds. MyMedSchedule Mobile is in sync with MySchedule.com, a free website, so it can be easily revised, accessed, and printed from anywhere in the world, and you can quickly pull up an updated schedule for an emergency or routine doctor visit. Now your specialists can be aware of all the medications you are taking and you can access MyMedSchedule from your mobile phone or any computer around the globe.
MyMeds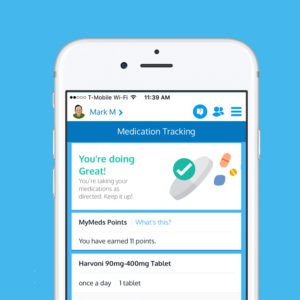 MyMeds is a secure, easy-to-use medication management platform. MyMeds can help keep you healthy by:
Sending you daily medication and refill reminders (text, email, and push notification depending on your preference)
Helping you understand the reasons for taking your medications
Keeping your healthcare team and loved ones in sync on what medications you're taking
Analyzing your medication usage history
Finding the best price for prescriptions near you
Informing you about your medications and their side effects.
RXmindMe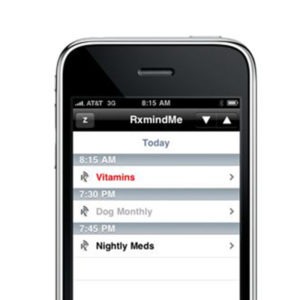 RxmindMe allows you to enter all your dosage information, set up reminders, and keep track of when you take your medications. App feature highlights include:
Nine different types of reminders based on the dosage frequency
Keeping track of your medication adherence will automatically update the prescription quantity
Ability to refill or transfer an existing prescription to Walgreens
Easy exporting of all your prescription data with ease
Log of your Email prescription history
Caring Village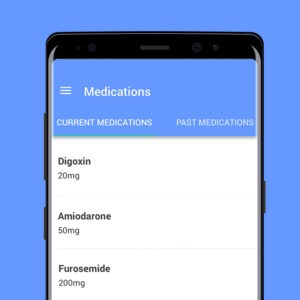 Caring Village is the only easy-to-use dashboard and mobile app designed specifically for family caregivers, making it easier, safer, and less stressful to care for an aging loved one. One of the features of this free app is the medications lists. Caring Village's Medication Lists make it easy to:
Maintain an accurate list of current and past medications
Store photos of pills and bottle labels to avoid confusion
Track refills
Keep the list secure but centralized, so all-important parties can access this information if and when necessary
Medication management apps are a great tool to use but make sure to do your research and find the one that meets all of your needs.