What are the Top 5 Adult Incontinence Underwear for Women?
Incontinence, or the accidental loss of urine, is a problem that affects nearly 13 million Americans each year*. Incontinence in women can occur at any age, but it is more common in women over 50.
The Four Major Types of Urinary Incontinence
Stress Incontinence: This type of urine leakage occurs while coughing, sneezing, laughing, exercising, lifting heavy objects, or doing anything that puts pressure on the bladder.
Urgency or Urge Incontinence: Described as the inability to hold urine long enough to reach a restroom, urgency incontinence can be associated with more frequent urination. It may be an indication that a separate disease or condition is present. Urinary Tract Infections (UTIs) are a common cause of frequent urination and are often easily treated. Always consult with a doctor to find out if there is a reason why you feel the need to urinate more frequently than usual.
Functional Incontinence: Urine leakage that is a result of an inability to reach a restroom in time because of a mobility issue is described as functional incontinence. This type of incontinence may happen because of an injury, arthritis, or any other condition that inhibits movement.
Overflow Incontinence: Overflow incontinence occurs when the volume of urine produced exceeds the bladder's capacity to hold it, and it too can be a result of an underlying condition that you should discuss with your doctor.
How is Incontinence Treated?
A treatment plan should be determined only after consultation with your doctor. They will take your age, health, and medical history into consideration and discuss possible treatments based on your tolerance for different kinds of medications and the various therapies available.
Incontinence can be treated in many different ways, including dietary changes, behavioral therapies, medicine regimens, pelvic muscle re-education, in-office procedures, and surgery.
Dietary Changes: Your doctor may recommend eliminating bladder irritants, such as alcohol, caffeine, and citrus fruits.
Behavioral Therapies: Common therapies include bladder training and toileting assistance. Bladder training techniques teach you how to resist the urge to urinate and gradually lengthen the duration between urinating. Toileting assistance uses schedules and habits to prompt you to urinate regularly, thus preventing leakage.
Medicine Regiments: Your doctor may prescribe anticholinergic medications. These work by blocking the action of acetylcholine, a type of neurotransmitter. Blocking acetylcholine inhibits involuntary muscle movements, and may be prescribed for overactive bladder and incontinence. Be sure to discuss the side effects, particularly for elderly patients. Vaginal estrogen may also be considered to help ease stress incontinence in particular.
Pelvic Muscle Re-education: A variety of methods to help improve muscle tone may be recommended to help prevent leakage, including Kegel exercises, vaginal weight training, biofeedback, and pelvic floor electrical stimulation. These techniques cause the muscles to contract and can help strengthen pelvic muscles.
Kegel Exercises: Many things can weaken your pelvic floor muscles, including pregnancy and childbirth, obesity, chronic straining or coughing, and aging. Kegel exercises can be done anywhere, anytime, and help strengthen the pelvic floor muscles, which support the uterus, bladder, small intestine, and rectum.
In-Office Procedures: Botox injections into the bladder, urethral bulking agents, and peripheral nerve stimulation are all procedures that can usually be done in your doctor's office and may help alleviate urinary incontinence in women.
Surgery: Bladder suspension, peripheral nerve stimulation, and slings are all surgeries that your doctor may consider depending on your age and overall health.
What Options Are Available to Help Manage Incontinence?
To help manage incontinence day-to-day, many women wear protective pads, absorbent underwear, fitted briefs, or diapers, depending on their age, level of need, and mobility.
There are more options than ever for both washable incontinence products and paper products, including many that are fashion-forward for those with light to moderate incontinence.
The Best Disposable Incontinence Underwear for Women
We have put together a list of the Best Disposable Paper Product Incontinence Underwear for Women**.
NEW- Because Quality Bladder Protection for Women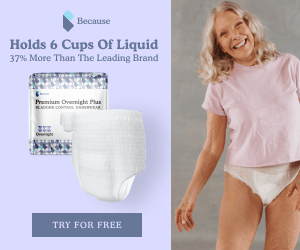 Highly rated by customers, Because Market is a little-known brand that makes some of the highest absorbency incontinence products on the market. Because Market's underwear absorbs up to 6 cups of fluid. Partnering with urologists at Stanford Medical Center, the team at Because has developed cutting-edge materials that make their products feel like real fabric underwear. Their underwear is designed with premium quality cotton-like fabric that has a streamlined fit under clothes. Double-stitched leak guards are built into the leg area to provide extra leak protection and neutralize unwanted odor. Both their pads and underwear are 35% more absorbent than leading brands*** meaning fewer leaks, better protection, and more comfort. Because Market's underwear is available in two absorbencies: Maximum absorbs up to 4 cups of liquid, and Overnight absorbs up to 6 cups of liquid. Both are effective in protecting against leaks from sudden urges or gradual flows. The products are shipped free of charge discreetly to your doorstep.
DryDirect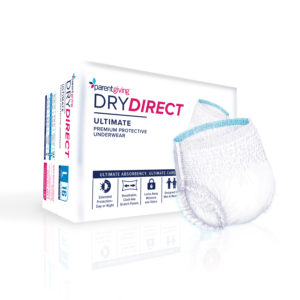 Dry Direct's Ultimate Underwear's Super absorbency equals less changes per day and less leaks – which is ideal for all caregivers, but especially family caregivers. This is the first incontinence underwear ParentGiving have put their brand on and the first one they confidently recommend ONLY 3 or 4 changes per day are required. Dry Direct Ultimate Underwear is ideal for nighttime use and a good night's sleep without interruption.

Features Include:
•  Elastic leg cuffs (to prevent leaks inside sleepers and for bowel incontinence)
•  Breathable cloth-stretch panels
•  Soft cotton outer layer
•  Odor lock core (to minimize odors while in use)
•  Unisex design
•  Pull-up underwear design with tear-away panels for easy removal
Save 10% off Dry Direct products. This is a one-time use promotion code. Parentgiving is a website dedicated to helping caregivers and those in the aging process with the best information, support, and products in one place. Promo Code: CVDD
Lily Bird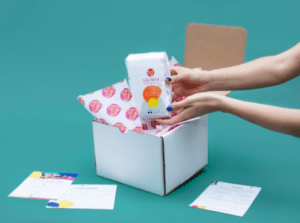 Tell Your Bladder Who's Boss with Lily Bird! Get pads and disposable underwear delivered to your home so you can feel confident leaving it. Lily Bird's products are softer, more comfortable, and more absorbent than most drug store brands. Their high-quality, long-length pads come in 5 absorbency levels and are designed specifically for bladder leaks. All have a slight hourglass shape and gentle side elastics for maximum comfort and solid leak protection. Start with a trial. Cancel anytime. (Yes, really!) And shipping is always free.
Check Prices At:
Tena Women Protective Underwear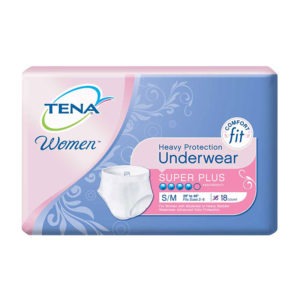 Tena Women Protective Underwear provides a more discreet style of disposable underwear that's designed to look and feel like regular underwear, with a snug, body-close fit for moderate to heavy incontinence. It is made of a soft, cloth-like, cottony material and a soft, narrow comfort waistband that can be easily pulled on and off like regular underwear.
Check Prices At:
Prevail Protective Underwear for Women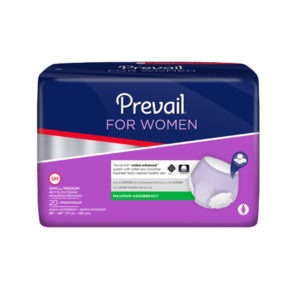 The Prevail Protective Underwear for Women provides discreet absorbent protection. It has a comfortable waist panel that gives a discreet fit and has soft leg gathers that ensure a comfortable fit and dryness. Most importantly, these are super absorbent, dry quickly, and lock away wetness and odor.
Check Prices At:
Depend Underwear for Women – Maximum Absorbency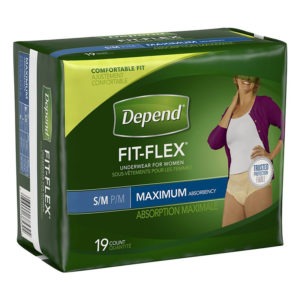 The Maximum absorbency product is the heaviest protection available from Depend. Its breathable stretch panels gently contour to the body for a close comfortable fit. The cloth-like outer material is rustle-free underneath clothing and the absorbency protection is designed specifically for women.
Check Prices At:
Tranquility Premium OverNight™ Incontinence Underwear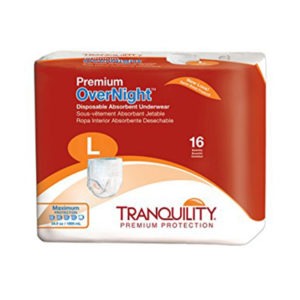 Tranquility's Premium OverNight™ Disposable Absorbent Underwear is the top-rated overnight underwear for adults. It offers superior protection to ensure a restful sleep. Premium OverNight™ Disposable Absorbent Underwear is available in a range of sizes from XS to 2XL. The absorbent Peach Mat Core provides maximum protection by locking away liquid resulting in dryness, urine pH neutralization, and odor reduction while protecting delicate and sensitive skin from the damaging effects of moisture. The superior performance of the Peach Mat Core is why Tranquility's Premium OverNight™ Disposable Absorbent Underwear is considered a top-rated overnight adult diaper among caregivers and medical professionals.
Check Prices At:
LivDry Overnight Protective Underwear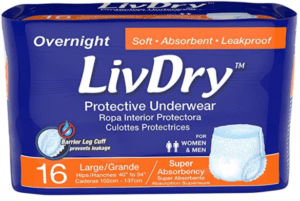 LivDry's Overnight Protective Underwear is designed for maximum comfort, ultimate protection, and bedtime-to-rise reassurance. Their proprietary super absorbent gel core quickly locks fluid away, reduces odor, and can handle night bladder incontinence. LivDry Adult Overnights have a soft, cloth-like, latex-free material with a stretch panel that contours to your body for a comfortable fit with leakage barrier leg cuffs and tear-away sides that allow for easy removal.
Check Prices At:
Attends Incontinence Care Breathable Briefs for Adults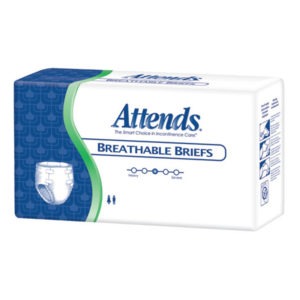 The briefs made by Attends have breathable side panels and a soft inner liner that provides exceptional comfort. They also utilize a triple-tier moisture locking system that delivers superior performance and leakage protection, while promoting skin wellness and managing odor. The soft and flexible Comfort Flex-Tabs fasten anywhere for a secure and tailored fit.
Check Prices At:
Wellness Absorbent Underwear
These award-winning pull-ons made by Unique Wellness are so innovative that they were featured on Discovery Channel's How stuff works and are designed to last up to 8 hours using NASA-inspired multi-layered InconTek® technology similar to designs used by astronauts in space for long missions. This is revolutionary because changes can actually be scheduled to only once in eight hours/ three in 24 hours putting the wearer or caregiver in control with no worry of any exposure to the effects of urine. Save up to 70% over other absorbent underwear due to fewer changes and rarely requires expensive creams or ointments.
Although there are a lot of choices for women in the incontinence underwear market, these products have solidified their positioning in the market and have received excellent reviews and feedback from those who have purchased and used them.
Check Prices At:
NorthShore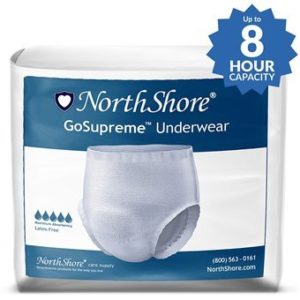 A pull-on that's different from the rest. GoSupreme™ from Northshore provides top-of-the-line comfort, absorbency, and fit while featuring extra coverage in the front, rear, and sides. Improved leg elastics will fit great for those with skinny legs while still remaining comfortable for others. Plus, silky-smooth feel against the skin; extra waist elastics; low-profile design for reduced bulk; breathable yet 100% waterproof!
Check Prices At:
Washable Incontinence Underwear
For those with light to moderate incontinence, washable incontinence products may be the way to go. Not only are they discreet, so you can go about your usual day-to-day activities, but you'll also be saving money and helping the environment at the same time.
Just'nCase by Confitex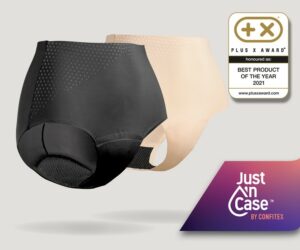 Our favorite brand of washable incontinence underwear is Confitex who offer a variety of functional pee panties and male incontinence underwear in a range of fashionable and comfortable designs. Awarded Best Product of the Year in the prestigious Plus X Awards, Just'nCase by Confitex reusable absorbent underwear feature market-leading textile technology that has been independently proven to offer the best combination of absorbency capacity and leakproof performance without excess bulk. Unlike other brands, Confitex's patented waterproof textile doesn't rely on a layer of plastic, which means the absorbent gusset within their life-changing Just'nCase women's briefs can be both heat-sealed and stitched to deliver superior protection against leaks. Better still, unlike other brands, they can safely be machine-washed and tumble dried without affecting their performance.
Confitex offers a variety of functional pee panties, male incontinence underwear, and nursing pads in a range of fashionable and comfortable designs.
Why choose Just'nCase by Confitex:
Comfortable, quality stretch cloth fabric, just like normal underwear
Machine washable and tumble dryable to save you time
Superior absorbency and leakproofing for light-to-moderate bladder leakage
Independently lab-tested leakproof, odor-resistant and breathable
Eco-friendly option over single use products, that can also save you money
Stylish designs available in different colors and absorbency levels
Easy online ordering and discreet delivery to your door
Available only at justncase.com
Exclusive discount for Caring Village readers! Use code CV2108WB at checkout to save 10% on your next order. One purchase per person. Not available with any other offer except free shipping on bulk orders. Full terms and conditions at confitex.com.
Incontinence Underwear Brand Comparison
Tips & Advice for Choosing the Right Products
Keep in mind that your regular underwear size will not necessarily be the size you should purchase in incontinence underwear. Each product comes with its own sizing chart and recommendations based on your height, weight, level of activity, and current leakage. For some, an incontinence pad or liner may be all that is necessary. For others, their everyday activity level and need for comfort and discretion may mean that a pull-up style brief is the way to go. And for still others, a lack of mobility or overnight issues may make a tabbed diaper the best choice.
Other products that may help ease the amount of work required for caregivers of elderly patients or loved ones include personal care wipes, diaper covers, and underpads for beds.
SOURCE
*The Illinois Department of Public Health
**We filtered the results to those that had at least 30 product reviews.

***US Industry average is 1200mL absorbency for an overnight product. Because is over 1500ml.