With nearly 1 in 4 adults living with a disability in the U.S. (source), the need for adaptive apparel represents a large market and need. A common challenge many aging adults face is the act of getting dressed and undressed by themselves. This can be the result of a physical disability, chronic condition, and/or other restrictions that may come with age or for people with disabilities. This is where adaptive clothing can be of great help.
Adaptive clothing is designed to make it easy to dress and undress by providing easy access to certain body parts without having to fully remove any clothing. These changes make life simpler for aging adults and their caregivers. It provides comfort, confidence and in many cases independence for aging adults, as well as the family caregivers. For many of us, the first question is: where do I start? Likely, your Google search for adaptive clothing brought you here so let us help you. Review the information below to understand more about adaptive clothing, what to look for in the clothing itself and review the top adaptive clothing companies.
What is Adaptive Clothing?
Adaptive clothing is designed with the dressing needs of the elderly and disabled in mind. It's also important to mention that there are styles and designs unique to each of the challenges someone may face. However, adaptive clothing is most commonly associated with those in wheelchairs. Typically, the adapted features include:
Velcro-type closures instead of buttons
Open-back blouses, shirts, and dresses with Velcro-type closures that still retain the traditional button styling on the front
Lap-over back-style garments with snaps for the individual who cannot raise their arms
Zippers with easy-to-grasp pull tabs
Pants with side zippers
Seatless pants to help with incontinence
Shoes with Velcro-type closures instead of shoelaces
Slippers that adjust in width to accommodate swollen feet and ankles
Flat seams for comfort and style
Sensory-friendly clothing to help identify clothing
Magnetic closures instead of requiring a zip motion
The list of features illustrates the wide-range of what adaptive clothing may mean and offer. evaluate your aging loved one's needs to ensure you find the clothing that is just right. Encourage them to be honest with challenges they may face and pay attention as they button their jacket or tie their shoes. These observable behaviors can help you identify options for them. Join them in wearing the same clothes to help them feel comfortable with the change.
Top Five Adaptive Clothing Companies
There are many adaptive clothing companies available but not all have big, brand names. To help you navigate the adaptive clothing industry, below is a list of the top five companies. You will also be able to find adaptive clothing available from Target, Tommy Hilfiger, Zappos and other couture clothing stores. Evaluate each company, review their website and try something new. Each company's name, link to their website and a short background is organized for you to get a quick glance of the available options so take a look:
Adaptive Clothing by Silvert's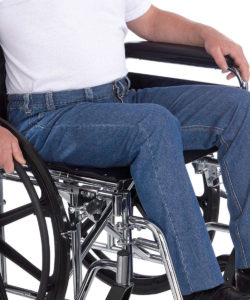 Silvert's understands the routine physical dilemmas faced by many in the daily chore of dressing. As a result, Silvert's design department continually consults with clients, caregivers, and health care professionals to meet the daily needs of its customers. The design department has incorporated style while focusing on the challenges faced by those with decreased levels of mobility, arthritis, scoliosis, podiatry concerns, and incontinence issues. Silvert's has one of the largest collections of clothing for both Women and Men. Peruse Silvert's online and search by products for men and women, as well as by need which can include clothing for those with Alzheimer's, wheelchair specific, incontinence, and many more.
IZ Adaptive Clothing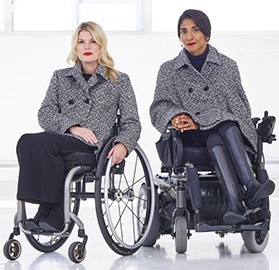 The IZ Adaptive Clothing Collection is a line of fashionable and functional clothing, created to make wheelchair users look and feel amazing. The collection has signature cuts and styles for a seated body, which fit better, look nicer and feel more comfortable than standard mainstream clothing, all without interfering with wheelchair mechanics. They use quality fabrics, which have been selected for stretch and durability. IZ garments are created ethically in customized studios, where every consideration is made so that the end-user gets the best possible product and service. The variety of options and focus on the perfect fit for you offers a selection of adaptive clothing beyond what you may have guessed. Use this promo code for 20% off at IZ Adaptive.
Able2Wear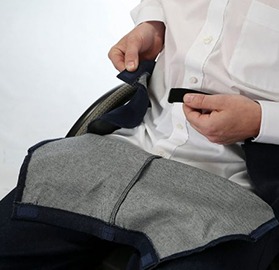 Able2Wear is a supplier of wheelchair and adaptive clothing for all ages and all degrees of ability. If you're looking for clothing that is skillfully designed and made and brings confidence and comfort to the wearers, Able2Wear clothing is a great solution. Able2Wear provides clothing for people with spinal injuries, chronic and progressive illnesses, stroke, and other severe conditions. Check out Able2Wear and you will be able to find tailor-made clothing, as well as accessories. These additional options offer choice to you and your aging loved one as you shop for the best adaptive clothing.
Adaptations by Adrian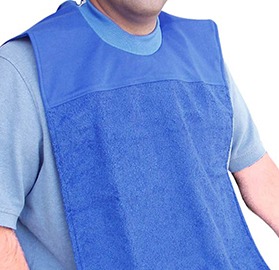 Adaptations by Adrian offers a wide range of clothing and accessories. Unique items, such as the bus pass/cell phone holder, arm warmers, swimsuits, and stylish boots can be found there, made for people of all ages. They offer a variety of special needs clothing including fashionable adult bibs and clothing protectors, back-opening wheelchair shirts and wheelchair jackets, hook and loop closures on wheelchair pants and lounge-wear, wheelchair capes and accessories, as well as specialized foot and winter wear.
Easy Access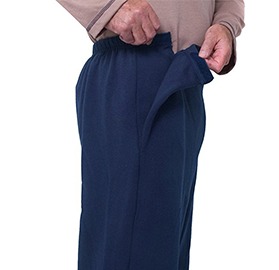 Easy Access makes adaptable clothing for men, women, and children. Clothing in a variety of styles, colors, and fabrics, has been chosen to increase independence, maintain dignity, and make the wearer look good. Their mission is to make the most practical, functional, highest quality, and most fashionable collection of clothing and products for older adults that have to deal with daily challenges from arthritis, scoliosis, podiatry concerns, incontinence issues, and other limiting conditions. Search online for the right product and see what Easy Access has to offer you.
The top 5 adaptive clothing companies listed above give you a solid starting place. Take a look around and see if any of these companies or clothing options are right for you. Explore each website and test the products you find most appealing but don't accept anything below your standard and comfort. As you explore each line of adaptive clothing you will hopefully be able to walk the runway of your dreams.
Adaptive clothing is available should you or your aging loved one needs it.