Support when having difficulty getting into and out of bed. Getting in and out of a bed can often be quite difficult for an older adult due to common health problems such as decreased strength and pain from movement.
What Are Bed Rails?
Bed rails are railings that go along the side of a bed and connect to both the headboard and footboard, preventing a person lying in the bed from rolling out easily. Bed rails may take on various titles such as bed side rails, half rails, safety rails, bed handles, assist bars, hospital bed rails, and adult portable bed rails.
When Should You Use a Bed Rail?
A bed rail should be used to:
Reduce the risk of falling from the bed since an injury from falling can have serious health risks including broken bones, internal damage, etc.
Help your parent reposition in the bed on his or her own.
Help your parent get in and out of the bed on his or her own.
In general, a bed rail should be used when someone has poor strength, decreased flexibility, poor endurance, and general difficulty moving around.
A bed rail should
not

be used:
As a restraint to keep your parent in a bed even if they have a physical or mental need. It is dangerous without proper supervision. This can potentially cause suffocation, injury, neglect, and/or entrapment.
Without proper installment so that it does not cause injury or harm to your parent.
The overall advantages of using bed rails (when appropriate) include:
increasing your parent's safety
preventing falls
promoting independence.
Overall, a bed rail will give your parent the autonomy and freedom to move in and out of his or her bed at will without assistance (unless needed). The bed rail can provide comfort and confidence.
Other Helpful Products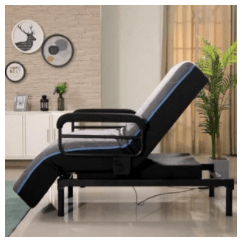 The EZ-Lift Bed Sleep To Stand Bed can transition you from bed to standing with just one touch of a button, so when it comes time for your morning routine or if you need some relief during the day, all you have to do is press down and stand up again. Start sleeping better today!
If you think you should purchase a bed rail for your parent, then check out our blog How to Select the Best Bed Rails for My Aging Parent.