The Best Bed Rails for Adults and Seniors
Updated March 2021
Caring Village may receive commissions for purchases or leads made through links in this article.
A simple task, such as getting in and out of bed, can be extremely difficult for some older adults. If you have a parent that is having difficulty getting into or out of bed, repositioning in bed, or is at risk of falling or rolling out of bed, then a bed rail may be the right answer.
What Are Bed Rails?
Bed rails are railings that go along the side of a bed and often connect to both the headboard and footboard, preventing a person lying in bed from rolling out easily.
Bed rails may take on various names such as bedside rails, half rails, safety rails, safety bed rails, bed handles, assist bars, hospital bed rails, and adult portable bed rails, and can be used with many different types of beds.
What Types of Bed Rails Are Available?
Bed rails typically come in a variety of shapes and sizes and can be used in numerous applications. Where they differ from one another is where and how they are attached, with freestanding frames, wall-mounted variations, and those that attach to the mattress or bed frame options available. You may also find special features like built-in storage and adjustable height or width available when considering your options.
A list of the most common types of bed support rails can be found below.
Bed Rail Handles - Bed rail handles have a low profile and take up less space than some of the larger models and are good for individuals who only require a little bit of leverage to help them get in and out of bed. These models typically attach directly to the bed.
Crossbar Bed Rails - Bed rails with several horizontal crossbars provide users with multiple handholds at various heights to help them roll over in bed or push up to a standing position when exiting the bed. These models typically attach directly to the bed.
Bed Rails With Support Legs - These bed rails tuck beneath the mattress and have the added support of two legs that rest on the floor. You can typically find models that extend in length and height as well as a few that come with built-in storage compartments.
Legless Bed Rails - Legless bed rails are designed to tuck between the mattresses. Because these models do not have the extra support of external legs they are best used in settings where the bed is queen-size or larger as the weight of the mattress acts as the sole stabilizer. Legless bed rails frequently offer adjustable length and height as a feature and you will find models that offer built-in storage as well.
Fold-Down Bed Rails - Commonly referred to as Swing Down Bed Rails, these bed rails fold down easily allowing free access to the entire bed, and are best suited to situations where a caregiver is present and may need quick access. Keep in mind that you will also need clearance beside the bed so that the bed rail can fold outward and away from the bed. Adjustable length and storage are usually options for these models as well.
Dual Bed Rails - In situations where the bed is positioned in the middle of the room or away from the walls, you will need rails on both sides of the bed. Dual bed rails typically have crossbars that extend under the mattress to provide stability and hold both sides in place.
Why Purchase a Bed Rail for Seniors?
Adult bed rails help those with reduced strength, decreased flexibility, poor endurance, and general difficulty moving around get safely in and out of bed on their own. They can also help reduce the occurrence of common injuries often associated with falling out of bed such as broken bones, bruising, and internal damage.
Bed assist rails also make it easier for you or your loved one to reposition themselves while in bed and get in and out of bed on their own more easily and safely by providing something to hold onto while maneuvering in and around the bed.
If your loved one suffers from Chronic Fatigue Syndrome, Multiple Sclerosis, Parkinson's disease, general fatigue or dizziness, or is in Post-Stroke recovery, they may benefit from using a supportive bed rail.
Overall, a bed rail will give your loved one the autonomy and freedom to move in and out of his or her bed at will without assistance (unless needed). A bedrail can provide comfort and confidence and help prevent falls.
When Should You Not Use a Bed Rail?
Bed rails and safety straps should never be used as a restraint to keep your loved one in a bed even if they have a physical or mental need. It is dangerous to restrain anyone without proper supervision and doing so can potentially lead to suffocation, injury, neglect, or entrapment.
Proper installment is also important when using a bed rail. Without proper installment, you may increase the risk of injury or harm to your loved one.
What Else Should You Consider When Purchasing a Bed Rail?
Before reviewing the list of bed rails below, consider taking a few minutes to outline your needs and expectations first. This careful preparation will help you narrow down your search more quickly based on your requirements and budget.
What price range are you looking to stay within? In general, bed rails cost between $50 to $150 but can vary widely depending on the design, application, and any additional features you may desire. Make sure you shop around to compare prices across stores.
What type of bed will the bed rail be used on? Is there a box spring and mattress? Is it a thick mattress? How heavy is the mattress? Is it an adjustable bed? Keep in mind that some bed rails with legs may not work with adjustable beds.
How much does the person who will be using the bed rail weigh? Always double-check the weight capacity of any model you are considering.
What is the placement of the bed in the room? If the bed you plan to use the bed rails on is pushed again a wall on one side you only need one bed rail. If it is in the middle of the room, however, you will need a model that offers dual rails.
Is the bed rail needed to prevent falling out of bed? Choosing a slim profile grab bar versus an adjustable length bed rail to prevent your loved one from falling out of bed will depend on the individual's mobility and whether or not they suffer from some form of cognitive impairment.
Will there be a caregiver present to raise and lower the rail, or will the patient need to do that him or herself? Before purchasing a bedrail for use in a facility, it is important to contact the facility and determine what can and cannot be installed.
Does your loved one suffer from some type of dementia? If your loved one suffers from dementia and is quite active, they may become confused and try to climb over the rails causing more harm than good.
After doing your research, the next step is to select the right bed rail. You will also want to consider price points before making the final purchase.
What Are the Best Bed Rails for Adults and Seniors?
EZ Adjust Bed Rail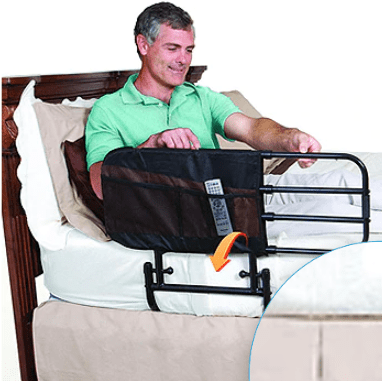 The Stander EZ Adjust Bed Rail is one of Stander's most popular bed rails. This is the only bed rail on the market that extends in length after installation for Full-Fall Protection. It can be used as a half-bed rail to get in and out of bed – and extends to a full-size bed rail at night for full fall protection. It easily adjusts from 26" – 42" inches with the push of a button – and folds down and out of the way when not in use. It also comes with a convenient organizer pouch to keep handy items close by.
Drive Medical Adjustable Height Home Bed Assist Handle
The Drive Medical Home Bed Side Helper from Drive Medical provides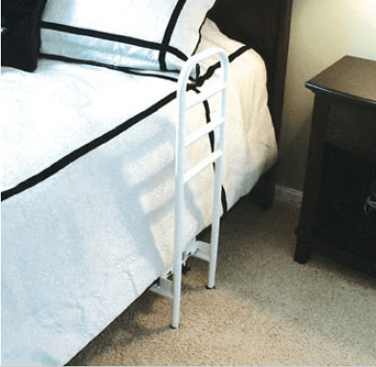 assistance for getting in to and out of a home-style bed. The user does not have to worry about the fit since the handle attaches to either side of the bed. It simply slides underneath the mattress and includes an added feature on the base bar, "no-slip foam" that helps hold the bar in place. The removable handle is part of an all-steel, chrome-plated construction that is strong, solid, and easy to clean. The unit arrives in three pieces and can be assembled quickly and tool-free, and it also can be adjusted flat for easier storage.
Stander Stable Adult Home Bed Rail
Stander Stable Bed Rail STD5800 is one of Stander's most popular bed rails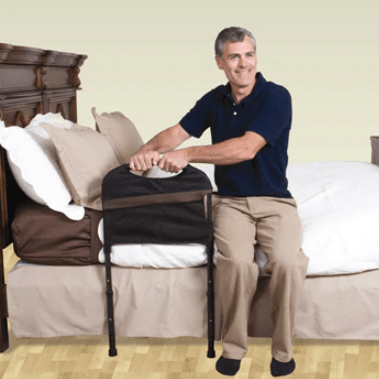 because it is designed to accommodate both in-home and hospital beds. The two non-slip legs plant firmly on the floor for extra stability and support when getting out of bed. Setup and adjustment do not require any tools so the stable bed rail can easily be customized it to meet your needs. It also comes with a convenient four-pocket organizer pouch.
Medical Depot Home Bed Style Adjustable Length Bed Rails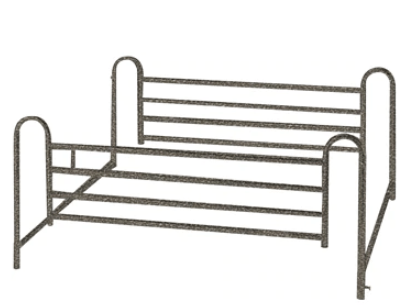 The Drive Medical Standard Telescoping Full-Length Bed Rail by Drive Medical are highly accommodating home bed style adjustable length bed rails that will fit any home bed. Easy-to-install (and remove) crossbars adjust between 36" and 72" and come complete with extensions that will even accommodate a king-sized bed. The rail length adjusts to 37", 43" or 57" in length without tools. Both upward and downward adjustments are simplified by a spring-loaded release. The 1" steel construction with brown vein finish is durable and strong, yet attractive.
Drive Medical M-Rail Home Bed Assist Handle with Storage Pouch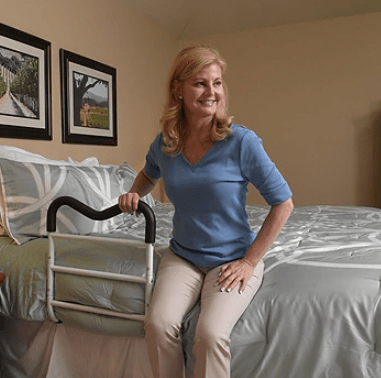 The Drive Medical M-Rail Home Bed Assist Handle provides support when getting into and out of bed. It also gives added independence to someone who may need help to sit up, reposition, stand, or transfer out of bed to a mobile device like a walker or wheelchair. Its compact and ergonomically contoured M shape handle with a padded, no-slip grip allows for various hand positions to accommodate any user. Multiple crossbars create an easy grip for any height use. The special extra-long nylon safety straps wrap around the mattress or box spring to ensure a secure fit. It fits bed widths from single to king size. Also, included is a black accessory pouch with pockets that can hold personal items such as glasses, television remote, magazines, and much more. Assembly is quick and tool-free making this perfect for any home or for travel.
Take your time and research each option above to find the best bed rail for you. If you have any specific questions you should discuss with your physician, as well as directly with the company.
What to Do After Choosing a Bed Rail
The Consumer Protection Safety Commission provides the following checklist to follow after choosing a bed rail:
Check with the manufacturer to make sure the bed rails are compatible with the mattress and bed frame. These are not one-size-fits-all products.
Select and place bed rails in a way that discourages climbing over the rails to get in and out of bed, which can lead to falling over the rails.
Install bed rails using the manufacturer's instructions to ensure a proper fit.
Check bed rails regularly and readjust as needed to make sure they are installed correctly. Rails can shift or loosen over time creating dangerous gaps.
Check for recalled bed rails or handles.
Each bed rail will have its own instructions on how to install it. Some bed rails are secured with straps and clips, others are attached to the metal bed frame and others are fitted and weighted down by the mattress. Make sure to read the instructions carefully and secure the bed rail properly to ensure your parents' safety and well-being.
Dan Fogarty has more than 10 years experience in healthcare management and strategic communication. Dan earned his Master's in Health Communication from Johns Hopkins University in 2012. Dan has served as the Chief Administrative Officer, Office of Intramural Management (OIM), National Heart, Lung and Blood Institute for 8-years. At present, Dan is the Acting Chief Administrative Officer of the NIH Clinical Center.
In 2021, Dan earned the distinct credential of board certification in healthcare management as a Fellow of the ACHE (FACHE). Dan is also an Adjunct Faculty member of the Massachusetts College of Pharmacy and Health Sciences (MCPHS).
Dan is a member of the American College of Healthcare Executives. He earned his Fellow of the ACHE credential in 2021. He has consulted for a variety of healthcare organizations in strategic communication and operational initiatives.