Best Washable Incontinence Underwear
Millions of Americans experience some form of urinary incontinence daily.
It is a sensitive subject to be sure, but it doesn't have to be. In fact, sharing your experience with incontinence may others who are experiencing this same issue in silence.
Among the many challenges when dealing with incontinence is finding the right products to help alleviate the annoying effects you're dealing with on a daily basis.
You may be tired of wearing pads or pantyliners for extra protection. The fear of an embarrassing leak may be preventing you from participating in activities you love.
Let's talk solutions to get you back to living your life on your terms!
For instance, did you know there are washable incontinence products? Far from the bulky washable diapers, you may have used for your children, washable incontinence underwear are often stylish and incredibly comfortable. The best feel no different than your regular underwear and last just as long with careful care.
How to Choose the Best Washable Incontinence Underwear
When choosing the right washable underwear, you should consider several key factors; absorbency, style, and material.
| Absorbency | Style | Material |
| --- | --- | --- |
| The amount of liquid the underwear is able to hold. This is often indicated in oz or ml, but may also be referred to in the equivalent of fluid contained in a tampon. | The preference when it comes to the look or design of the underwear which differs for men (brief or boxer) and women (various pantie styles). | The options vary based on the product and company (cotton, nylon, lycra, bamboo, and so on). |
Each of these key factors should be considered when searching for the right underwear to meet your needs.
What to Look for In Washable Incontinence Underwear
In addition to the key factors you should also consider the following when exploring your options when it comes to washable incontinence underwear:
Does it look and feel like regular underwear?
Can you select from a range of sizes and absorbencies?
How does the underwear feel when liquid is added?
How long will the underwear last?
What are the care instructions for washing?
Will it control odors?
What do the customer reviews suggest?
Asking these questions will help narrow down your preferences.
Best Washable Incontinence Underwear
You may find the many options for washable incontinence underwear overwhelming. We certainly did when writing this article!
Below you will find our top picks to help you find the perfect fit for your unique situation including; Confitex, Modibodi, Speaxx by Thinx, and Bambody.
Just'nCase by Confitex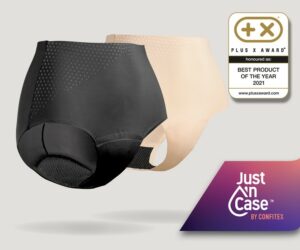 Our favorite brand of washable incontinence underwear is Confitex who offer a variety of functional pee panties and male incontinence underwear in a range of fashionable and comfortable designs. Awarded Best Product of the Year in the prestigious Plus X Awards, Just'nCase by Confitex reusable absorbent underwear feature market-leading textile technology that has been independently proven to offer the best combination of absorbency capacity and leakproof performance without excess bulk. Unlike other brands, Confitex's patented waterproof textile doesn't rely on a layer of plastic, which means the absorbent gusset within their life-changing Just'nCase women's briefs can be both heat-sealed and stitched to deliver superior protection against leaks. Better still, unlike other brands, they can safely be machine-washed and tumble dried without affecting their performance.
Confitex offers a variety of functional pee panties, male incontinence underwear, and nursing pads in a range of fashionable and comfortable designs.
Why choose Just'nCase by Confitex:
Comfortable, quality stretch cloth fabric, just like normal underwear
Machine washable and tumble dryable to save you time
Superior absorbency and leakproofing for light-to-moderate bladder leakage
Independently lab-tested leakproof, odor-resistant and breathable
Eco-friendly option over single use products, that can also save you money
Stylish designs available in different colors and absorbency levels
Easy online ordering and discreet delivery to your door
Available only at justncase.com
Exclusive discount for Caring Village readers! Use code CV2108WB at checkout to save 10% on your next order. One purchase per person. Not available with any other offer except free shipping on bulk orders. Full terms and conditions at confitex.com
Modibodi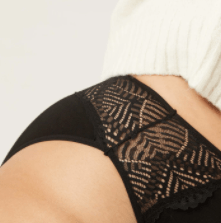 Modibodi offers a range of scientifically proven leak-proof underwear. The technology is built into the incontinence underwear in three layers:
The top layer wicks moisture and fights odor and bacteria to keep you fresh and dry
The middle layer absorbs fluid and locks it away.
The bottom layer is waterproof to keep you (and your clothes) safe from leaks.
This washable underwear will not smell or feel wet! The built-in lining is designed with a medically safe antimicrobial and anti-odor treatment. The layers capture moisture to help you feel dry and comfortable throughout the day.
Modibodi makes it easy to find the right product based on your size, style, and absorbency needs. Get $15 off your first order!
Speax by Thinx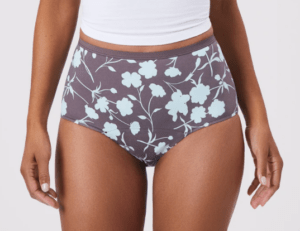 The washable incontinence underwear available at Speax by Thinx will transform your way of living.
Why choose Speax by Thinx:
Absorbent underwear that keeps you feeling dry by holding up to 8-teaspoons of liquid
Traps unwanted smells so you feel fresh, order-free, and comfortable
Breathable moisture barrier that helps protect your clothes from wetness
Quick-drying moisture-wicking inner lining helps keep you feeling dry
With a 60-day, money-back guarantee you can return for a full refund if they don't work out. Speax by Thinx offers a variety of styles, sizes, and shapes to fit your needs. Click Here to take 10% off your first order. 
Bambody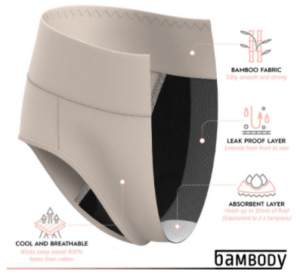 With a passion for sustainable products and protecting our environment, Bambody have developed an ultra-comfortable underwear line that may appeal to those with an active lifestyle. They work by incorporating an absorbent or leak-proof layer that helps prevent leaks from getting onto the outer layer of the underwear, and then onto your clothes.
Why choose Bambody:
Period-Proof and Pee-Proof: Can be used for leak protection as well as incontinence
Odor-Proof: Will remain odor-free as long as they are washed correctly
Comfort: Look and feel like regular underwear
When shopping you can search by absorbency styles and leakproof styles all with a reasonable starting price. Find your perfect pair today!
How to Wash Incontinence Underwear
In most cases, you will want to machine wash in cold water on a delicates cycle without the use of fabric softener (which can damage the absorbency), then tumble dry on low heat or hang to dry. Read the instructions carefully so that you don't damage the underwear or stretch them out.
Summary
The washable underwear will save you time and money in the long run by not having to constantly purchase disposable incontinence products. Get started today!