The Best Automatic Pill Dispensers
Updated June 2023
Caring Village may receive commissions for purchases or leads made through links in this article.

For many older adults remembering to take medication can be difficult. Approximately 44% of men and 57% of women older than 65 years take five or more nonprescription and/or prescription medications per week, and 12% of persons in this age group take 10 or more nonprescription and/or prescription medications per week.*
For your loved one's health and safety it is especially important they take the right medication, at the right dose properly every day.
In a recent post, The Best Tools for Medication Management, we discussed various tools available to help your aging loved ones manage their prescriptions safely and accurately. Automatic pill dispensers, in particular, can help older adults organize their medication by day, time, amount, and frequency.
Common Issues Seniors Have with Medication
Forgetting to take medication on time
Incorrectly taking too many doses at once
Confusing one medication for another
Taking another dose too soon after the first one
What is an Automatic Pill Dispenser?
Pill dispensers are portable devices that allow you to organize your medication by day/time. These devices provide safety and reassurance by dispensing the correct pills on a set day/time via an alarm/reminder mechanism. Most also lock when not in use, preventing the patient from taking the wrong pills, as well as preventing children from accessing the device.
The Benefits of Using an Automatic Medication Dispenser
In addition to helping ensure that correct dosages are taken at the right time, automatic dispensers can help families avoid the high cost of having to pay a caregiver to take care of their loved one's medication needs. This is especially beneficial in situations where family members may live some distance away and are not able to visit on a daily or weekly basis.
Overall, automatic pill dispensers can help support your loved one's independence and allow them to stay in their home longer.
A Few Things to Consider Before Purchasing
Will your loved one require audio alerts, visual alerts or both when it's time to take their medication? Most units emit an audible noise at varying decibels in addition to a flashing light for the hearing impaired.
How often will you or someone you trust be able to fill the dispenser? Some units can hold more medication than others.
Are you looking for a service that will handle prescription renewals as well as medication dispensing? Be aware that there can be an ongoing fee associated with these types of services.
Does your loved one have dementia? If so, a locking lid and built-in anti-tampering alarm system may be a feature that is especially important to you.
Does the unit you are considering have a backup power supply? Most do, but you should double-check before purchasing in case of power outages.
Does your loved one have arthritis or limited mobility? If so, be sure to read up on the ease of use of the unit you are considering.
How much medication is your loved one taking and how large are their pills? Most units have medication trays that are designed to hold a substantial amount of medication, but there can be limits on the volume as well as maximum pill size requirements.
How often and at what type of intervals is your loved one required to take their medication? Again, most units can accommodate a variety of complex medication schedules, but be sure to compare the unit's features against the schedule prescribed by your loved one's physician.
What level of monitoring or accountability do you require? Many units have an associated app that will alert you when your loved one has skipped a dose, but be sure to check if this feature is important to you.
Does Medicare pay for automatic pill dispensers?
Pill dispenser subscriptions may now be covered by Medicare as part of Remote Therapeutic Monitoring (RTM) services (coinsurance and copays may still apply). Private insurance may or may not cover RTM services. The actual pill dispenser is usually not covered by insurance, however. Check with your insurance provider for more information.
The Best Automatic Pill Dispensers
Our recommendations for the top automatic pill dispensers you should consider are listed below. Be sure to check with your insurance provider, as well as your physician to discuss which product might be right for your situation as well as what financial assistance may be available.
Hero sorts and dispenses doses at the push of a button with audible and visual reminders to help keep your loved on track, and an optional PIN password that keeps medications safe until it's time to take them. Your Hero membership gives you peace of mind with an automatic pill dispenser that makes it simple and easy for your loved ones to take the right medication at the right time, every time.
What We Like:
Audible and visual reminders to keep you on track and an optional PIN password keep medication safe until it's time to take them.
The app reminds you or your caregiver if you need a helping hand. You will also get an alert if you're low on pills.
The optional Hero Fill service delivers medication directly to your door to help keep you from running out of prescriptions, over-the-counter medications, and supplements and includes free delivery.
Monthly pharmacist check-ins included.
Holds up to a 90-day supply of up to 10 different medications
24/7 support to set up.
Free Shipping. Free Returns.
What Could Make It Even Better:
Battery back-up in case of a power outage.
This dispenser's Bluetooth capabilities allow the client or caregiver to set up the dispenser and review dosage records via a free iOS (iPhone) or Android app. No monthly fees. 9 daily alarms with voice notification "It's time for your medications" and blinking lights, AC powered with 2 months of battery backup, low battery warning. Bluetooth enabled, use your smartphone to set up the dispenser and to review dosage records.
What We Like:
Up to 9 daily voice alarms with 28 medication compartments
Keylock security
Self-fill medications
Best automatic pill dispenser for Alzheimer's patients
AC powered with 2 months battery backup and low battery warning
Free shipping in the continental United States
If needed they offer a repair service
1-year manufacturer warranty
What Could Make It Even Better:
Expanded app range (must be within 33 feet of the dispenser to take advantage of the app).
Patients, their families and caregivers can enjoy perpetual peace of mind with this automatic Bluetooth Pill Dispenser from LiveFine. The sophisticated system lets you set pill schedules up to 6X a day with easily interchangeable rings. Use the LCD to program manually or connect to any compatible smart device to plan dosages with the swipe of a finger. Be free to go about your day as the tiny computer tracks, records and alerts you when it's time to take your pills.
What We Like:
Reminds you to take medications with a beeping alarm and flashing lights for up to 30 minutes
28 compartments hold multiple pills or tablets per partition so fewer refills are necessary (perfect for prescription drugs, supplements, vitamins, aspirin, antibiotics and more)
Includes powerful latch and manual key to prevent messes, unwanted tampering and theft
Mini magnifying glass cover gives a closer look at corresponding dosage information
Pill delivery alerts
What Could Make It Even Better:
The option to lower the volume of the alarm
Larger capacity
The MedELert pill dispenser is an advanced electronic pill organizer that locks medications from the patient until the correct time arrives for dosing. Customize dosing combinations from once a day to six times a day. MedELert comes with programmable alerts to notify patients when a medication dosage is due. When the administration time arrives, the specified pill compartment for that time period is automatically unlocked and an audible alarm will sound. Motion sensor technology activates when the scheduled dose is ready and shuts off once the dispenser has been turned over to dispense.
What We Like:
Smart-electronic dispensing with audible and flashing alerts
Loud audio alert up to 30 minutes or until medications are dispensed
Low battery alert
Tamper-resistant keyed locking system
Flexible dosing combinations (once daily for 28 days, twice daily for 14 days, three times daily for 9 days, five times daily for 5 days, six times daily for 4 days)
LED display with clock/alarm 12/24 hour formats
Easy 3-button programming
What Could Make It Even Better:
An AC adapter in addition to battery power
A caregiver app
MedReady Automatic Pill Dispensers
Med Ready field-tested their dispenser with a large medical group before bringing the product to market. They enlarged the medication cups, made the tray removable, and added a rechargeable battery pack in case of a power outage. Depending on what model you decide to purchase there are many different features.
Starting with the base model which has all the features listed, but there is no app or visual alert. The next model up offers the flashing visual reminder.
The higher-end models feature cellular and landline-based alerts for caregivers, email, text, and automated phone calls if a power outage occurs or a medication is skipped. Each subscription has a different price point; contact MedReady for more information.
What We Like:
Dispenses up to 4x/day,28 dosses medication
Can hold up to 9 regular size M&M pills
Lock and key security
Unlock and self-fill the medications
Medication card holder on the bottom of the dispenser
Utilizes AC power, has a backup battery pack in case of a power outage, which can also be used if traveling
Optional remote monitoring with prescription on higher-end models
Favorable independent reviews. Seems to be tailored for clients with cognitive deficits.
Free shipping, 30-day money-back guarantee
What Could Make Them Even Better:
Longer return policy if not happy with the device
Larger pillbox sizes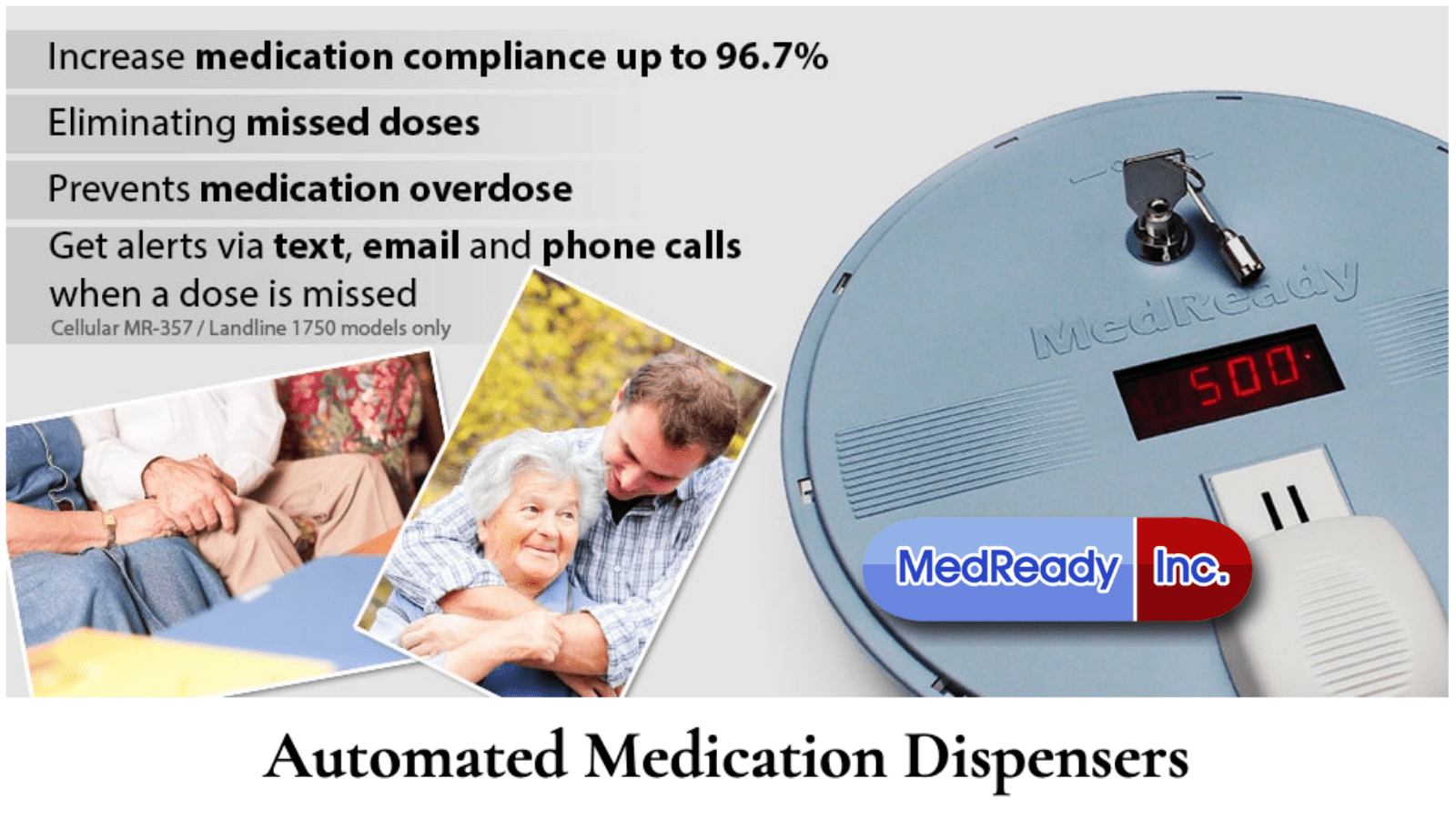 Brand Comparison
Up to 4x/day
Up to 28 doses

10 pills. Can also add up to 10 alerts for meds in fridge or liquid.

Up to 9 pills depending on size

Up to 9 aspirin size pills

Up to 24 aspirin size pills

Easy Pill Access (Arthritis)

All models have sound, some have light

Auto-Order/Self-Order Refills

Plug In (Use key for power failure)

AC adapter with battery backup

AC adapter with battery backup

$29.99/month paid yearly in advance
Other Helpful Products
Be sure to check out our Best Tools for Medication Management article for more great products including EllieGrid.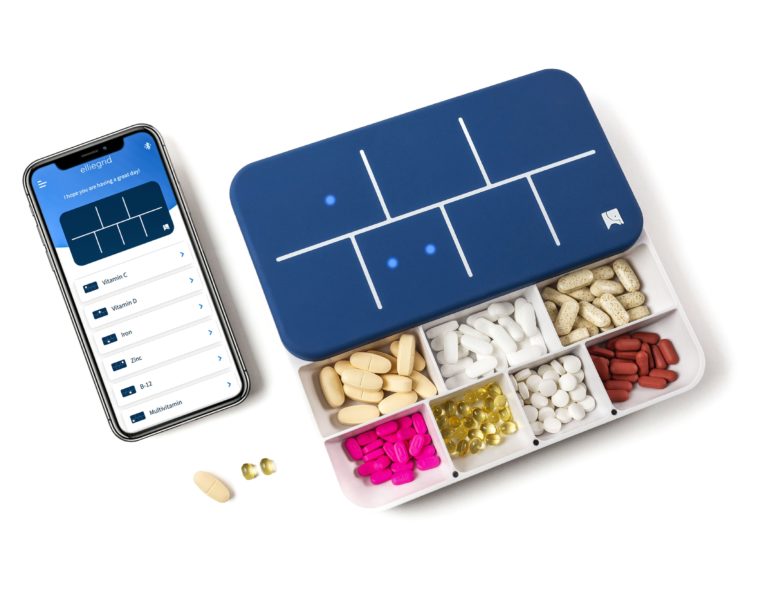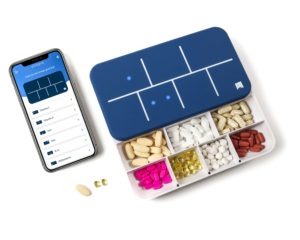 EllieGrid is a smart pill organizer that combined a beautiful design with strong technology in order to create a fashionable health accessory. In addition to the features above, EllieGrid also offers "smart alarms" in order to prevent alarm fatigue. If you enable the "smart alarms" feature, EllieGrid's software will track your activity and trigger alarms at more convenient times. Thanks to EllieGrid's unique features and design, it is the only medication management system that has shown it can increase medication adherence in 80% of users. Free shipping, free returns, and a 20% discount with promo code "CaringVillage".
Additional Thoughts
Accidents can happen, and we should take all precautions possible to prevent the mistake of taking the wrong medication. Using an automatic pill dispenser can aid your aging loved one each day and provide you with the comfort of knowing they are safe. Explore the best option for you and take a once-a-week action to fill the dispenser properly and avoid the daily stress of organizing medication each day.
Brooke worked as a home health and hospice nurse for many years. During her time working with patients and families, she saw the pressures and strain of what caregivers went through while caring for loved ones.
Dan Fogarty has more than 10 years experience in healthcare management and strategic communication. Dan earned his Masters in Health Communication from Johns Hopkins University in 2012. Dan is the Acting Chief Administrative Officer of the NIH Clinical Center and an Adjunct Faculty member of the Massachusetts College of Pharmacy and Health Sciences (MCPHS).