How much time have you spent searching for a discount to buy your new winter coat, a pair of new shoes or booking your next hotel? If you are like most, you have searched many websites looking for that 10% discount code. Imagine you are at the pharmacy picking up your recently prescribed medication for your aging parent's chronic illness. Have you done the same searching for a discount? What if you could pay 16% less? Or even 80% less?
Discount medications are available and are often not too far away. You can save up to 80% in many cases buying the same medication at a different pharmacy. There is no gimmick or risk. Your only risk is not saving money! We've provided some general information about how discount medications work and the benefits of using them.
NEW – ScriptSave® WellRx Prescription Discount Card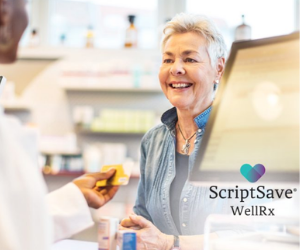 Today's prescription drug prices can be staggering. We get it. With ScriptSave® WellRx it's easy to search for the lowest price for your medication at more than 65,000 pharmacies nationwide. Just show your discount card or use the app at the pharmacy of your choice and start saving on your medications. Discounts on brand or generic prescriptions. Savings average 60% and, in some cases, can be 80% or more!* Get started today!
How do Discount Medications Work?
It is not as complicated as you may think. Discount medication is easily accessible.
In most cases, you can sign up for a free discount medication card or download the app from several different discount medication companies. These cards are available for use at the big retailers you shop at regularly including Walmart, Costco, Rite Aid, Sam's Club, Walgreens, and many more.
The medication cards (or apps) are unrelated to your insurance company. You will not be able to use your insurance when purchasing discount medication, but the cost savings may well be worth it.
The Top 5 Benefits of Discount Medication
When searching for your lower-priced medication, consider using a discount medication provider like WellRx to find significant money savings near you. The top benefits include:
It is absolutely free to sign up.
Have access to the same high-quality prescription medication at a reduced price.
Save up-to 80% on many prescription drugs.
Everyone in your household can use the same card.
Have immediate access to a network of 65,000 participating pharmacies, grocery stores and other retailers.
Have access to a convenient app to locate where medication is cheapest near you.
The costs of prescription drugs are often hard to manage, especially as a family caregiver. The immediate benefits of discount medication are cost-savings. In addition, the money saved is now available for other critical caregiving needs, personal respite or other caregiving costs. The benefits of discount medication are plentiful and the top 5 listed above should encourage you to explore the option further.
How do the Discount Medication Companies Make Money?
Typically, the discount medication company provides a free service but earns revenue by charging the pharmacies within the established network a small transaction fee. This fee is what provides you access to the discounted medication.
Your prescription drug is likely available in many locations and at different prices. Don't spend your money before doing your research. Within minutes you can identify the various prices in your area and choose the best price for you. Take control back as the consumer and checkout discount medication options in your area.