In any given family, there is a strong likelihood the medicine cabinet has old, unused or expired medication in it. This includes both prescription and over-the-counter medication. Getting rid of unused or out-dated medication should be a routine activity, especially for older adults who may accrue more and more over time. To dispose of medicine properly, which can include pills, creams, inhalers and more, follow the Food and Drug Administration guidelines outlined below.
NEW – Hero Medication Dispenser, Manager, and Pill Organizer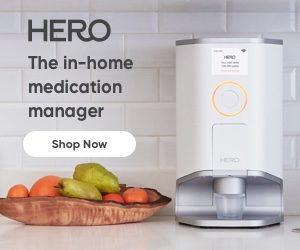 Hero sorts and dispenses doses at the push of a button with audible and visual reminders to help keep your loved one on track, and an optional PIN password that keeps medications safe until it's time to take them. The app reminds you or your caregiver if you need a helping hand. You will also get an alert if you're low on pills. The optional Hero Fill service delivers medication directly to your door to help keep you from running out of prescriptions, over-the-counter medications and supplements and includes free delivery. Your Hero membership gives you peace of mind with an automatic pill dispenser that makes it simple and easy for your loved ones to take the right medication at the right time, every time. Free Shipping. Free Returns. 30-day Free Trial.
How to Properly Dispose of Medication
What You Should Do
To dispose of medicine properly, follow these steps:
Identify what medication is expired and/or not needed and move them to a designated area for disposal – you can accomplish this by reading each expiration date on the medication. A helpful tip is to keep a list of all of your medicine with dates of expiration.
Review the medication's label for any specific disposal instructions (i.e. in local trash pick-up, community program, etc.) – some medications will include specific disposal instructions on the label itself.
Contact your local police department and pharmacy for public take-back programs that collect and dispose of medications – you will often find that your community does have various options to make it easier for you to drop off old/unused medicine. Just doing a Google search of your area will result in specific information for you.
Remove any personally identifiable information on the medication – make sure to remove your name, address and contact information from the medication to protect your identity from being stolen.
Dispose of the medication properly – this can include a few options (see the full list for specifics here):

At a community drug 'take back' program if available.
In the trash (if a take-back program is not available) by mixing your medications with items like coffee grounds, kitty litter or something similar. Then put everything into a sealable container (i.e. plastic bag) and into the garbage.
Down the drain only if it is on the FDA list of safe items to dispose of this way.

Conduct this review every few months – do not forget to do this often to prevent any expired medication from being used.
The proper handling of medications can prevent medication mismanagement and use. Remember to not give your medicines to friends to use or dispose of for you. Follow the steps above to get rid of medicine in a safe way.