Interested in ordering prescription drugs online? If you are, there are some important things to consider. You should first start looking for online pharmacies that are in the U.S., have a licensed pharmacist available to answer questions, and provide buyers with contact information for questions and concerns. Next, use the information below to ensure you are purchasing legitimate prescription drugs from reputable online sources.
NEW – Hero Medication Dispenser, Manager, and Pill Organizer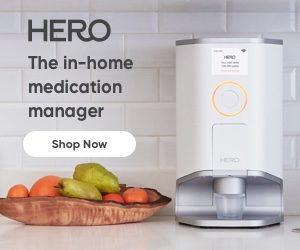 Hero sorts and dispenses doses at the push of a button with audible and visual reminders to help keep your loved one track, and an optional PIN password that keeps medications safe until it's time to take them. The app reminds you or your caregiver if you need a helping hand. You will also get an alert if you're low on pills. The optional Hero Fill service delivers medication directly to your door to help keep you from running out of prescriptions, over-the-counter medications and supplements and includes free delivery. Your Hero membership gives you peace of mind with an automatic pill dispenser that makes it simple and easy for your loved ones to take the right medication at the right time, every time. Free Shipping. Free Returns. 30-day Free Trial.
How to Determine If You Are Purchasing from a Trustworthy Site
Why should you be concerned about purchasing from a trustworthy site? Well, according to the National Association of Boards of Pharmacy, "The majority of websites selling medications are not what they appear to be. NABP has reviewed over 11,000 online drug outlets and found that 96% percent appear to be operating in conflict with pharmacy laws and practice standards."
When shopping for prescription medication online look out for any sites that:
Don't require a prescription
Don't have a licensed pharmacist available to answer your questions
Don't provide their physical business address and phone number
Are based outside the U.S. or aren't licensed by the state board of
pharmacy where they are based
Read more on the U.S. Federal Trade Commission Site
Many of these illegitimate websites:
Aren't U.S. state-licensed pharmacies or aren't pharmacies at all
May give a diagnosis that is not correct and sell medicine that is not right for you or your condition
Fail to protect your personal information
Follow the Do's and Don'ts of Online Prescription Shopping
The Mayo Clinic offers the following Do's and Don'ts to avoid making the dangerous mistake of ordering from a fake site (or pharmacy) and potentially obtaining harmful products or medicines.
Do This When Shopping Online
Consult your doctor. Only take medications prescribed for you by your doctor or another health care professional who knows you. Your doctor can determine if a particular drug is safe for you or if another treatment would be more appropriate.
Use a licensed pharmacy. The National Association of Boards of Pharmacy can verify if an online pharmacy is licensed and in good standing. Some sites carry a seal of approval from Verified Internet Pharmacy Practice Sites. The Center for Safe Internet Pharmacies has an online tool for checking whether your purchases are safe.
Insist on access to a registered pharmacist. Reputable sites offer toll-free access to registered pharmacists to answer your questions. If you have questions about a medication after you've begun taking it or you're concerned about drug reactions, it may be valuable to speak with a pharmacist.
Read the privacy and security policies. Before placing an order, verify that your credit card number, personal health information, and other private information will be protected.
Compare prices. You may find great deals online. But if online prices are significantly lower than your local pharmacy, you should question whether the site is legitimate.
Be alert for counterfeits. In some cases, drugs ordered online turned out to contain no active ingredient or to contain the wrong medicine. Counterfeit medicines are unsafe because they may be ineffective or even harmful. Reduce your risk by using only legitimate online pharmacies.
Report problems. If your order doesn't arrive, you find unauthorized charges on your credit card, or you have another problem with an online pharmacy, report these problems to the FDA. Speaking up can help promote a safer marketplace for everyone. 
Don't Do This When Shopping Online 
Don't use a site that bypasses prescriptions. Online pharmacies that dispense medication without a valid prescription are violating U.S. law. Don't be lured in by sites that give you a prescription if you complete an online questionnaire. Only your doctor can safely prescribe medication for you.
Don't order medication that's not approved by the Food and Drug Administration (FDA). It's illegal to import unapproved drugs into the United States. Taking an inappropriate or unsafe drug can have life-threatening consequences.
Don't overlook the address and phone number. Steer clear of sites that don't provide a street address and phone number or that list only foreign contact information. Use only U.S. pharmacies. International pharmacies may sell drugs that do not have FDA approval or that are illegal in the United States.
By following the recommendations above, you'll be in a good position to find the right medication online from the right pharmacy.