If you have multiple errands to run on a Saturday, what would you do? Most likely, you would create a list in order of priority or of convenience. Then you would use that list to guide you throughout the day – making it easier for you to check off each item one by one. Now apply that logic to a routine activity like taking medicine. If you have to take multiple medicines each day at a specific time – why not make it easier on yourself and use a medication management device?
The medication management tools include comprehensive medication visibility for you and your aging loved one. Consider that you can monitor and prevent medication errors, improve medication adherence, manage medication lists and avoid adverse drug events. Your need for detailed health literacy is not required for the multiple medications your loved one takes. Instead of keeping track of multiple pillboxes and all of the prescribed medications on paper or in your head, consider the various options below. You will be able to identify any need for medication reconciliation between tracking systems and use better assessments and tools by exploring each of the medication management tools we've listed below.
Why is Medication Management Important?
Managing your medications is important for a successful recovery or continued management of a chronic illness or disease. Think about the facts: for seniors, who typically take more medications than those under the age of 65, it is even more essential to take the right medication, at the right time, and not mix them with anything that could cause an adverse reaction. Adults (65 years or older) are twice as likely to need emergency care for adverse drug reactions (with over 177,000 emergency visits each year) and nearly seven times more likely to be hospitalized after an emergency visit. If you take multiple prescriptions on a regular schedule, then using a medication management device such as a pill organizer, automatic pill dispensers, alarm-style reminders, and timer medicine caps can be helpful.
Automatic Pill Dispensers
Pill dispensers are portable devices that allow you to organize your medication by day/time. These devices provide safety and reassurance by dispensing the correct pills on a set day/time via an alarm/reminder mechanism. Most also lock when not in use, preventing the patient from taking the wrong pills, as well as preventing children from accessing the device.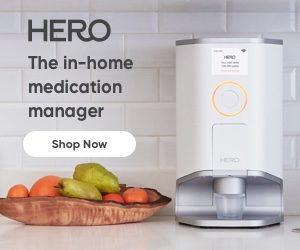 Hero Medication Dispenser, Manager, and Pill Organizer sorts and dispenses doses at the push of a button with audible and visual reminders to help keep your loved one on track, and an optional PIN password that keeps medications safe until it's time to take them. The app reminds you or your caregiver if you need a helping hand. You will also get an alert if you're low on pills. The optional Hero Fill service delivers medication directly to your door to help keep you from running out of prescriptions, over-the-counter medications, and supplements and includes free delivery. Your Hero membership gives you peace of mind with an automatic pill dispenser that makes it simple and easy for your loved ones to take the right medication at the right time, every time. Free Shipping. Free Returns. 30-day Free Trial.
Smart Pill Organizers
Smart Pill Organizers are portable devices that allow you to organize all of your medication in seconds, remind you to take your medications on a set day/time, and track medication adherence with embedded sensors. These devices provide safety and reassurance by keeping caregivers update on your adherence via text/email and allowing you to view adherence reports on the mobile app.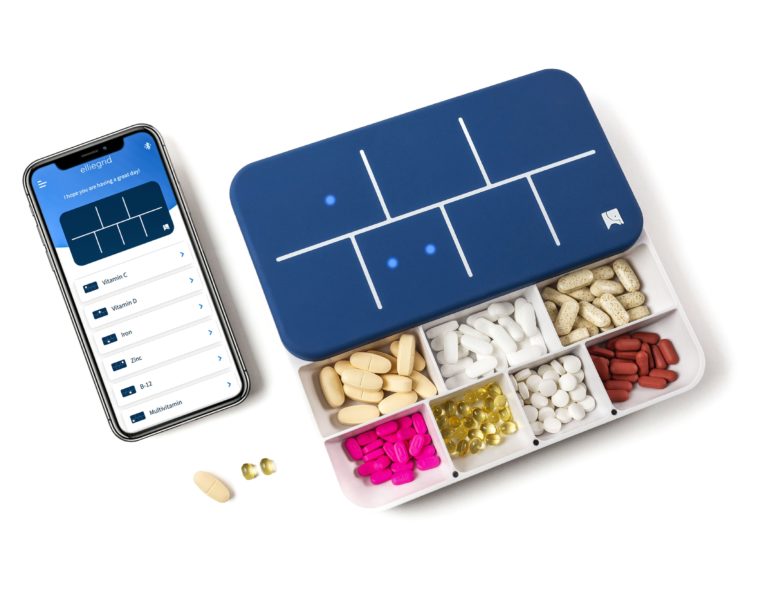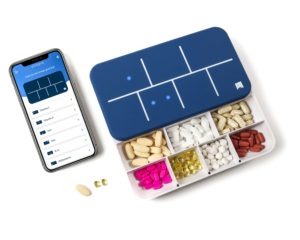 EllieGrid is a smart pill organizer that combined a beautiful design with strong technology in order to create a fashionable health accessory. In addition to the features above, EllieGrid also offers "smart alarms" in order to prevent alarm fatigue. If you enable the "smart alarms" feature, EllieGrid's software will track your activity and trigger alarms at more convenient times. Thanks to EllieGrid's unique features and design, it is the only medication management system that has shown it can increase medication adherence in 80% of users. Free shipping, free returns, and a 20% discount with promo code "CaringVillage".
Alarm-Style Reminders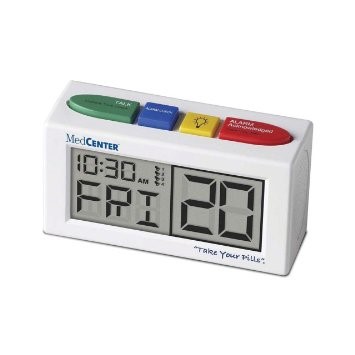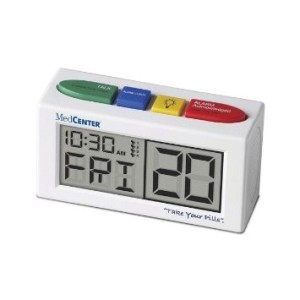 Alarm-style pill reminders typically have four alarm settings for morning, lunch, dinner, and bedtime to remind the user to take their pills. In addition to your typical alarms, some of these devices have recorded reminders such as, "Good morning. It's 9 AM and time to take your morning pills." These devices allow you to set daily alarms for desired dosage times, thereby making it easier to manage medications.
Average Cost: $35/reminder device
Timer Medicine Caps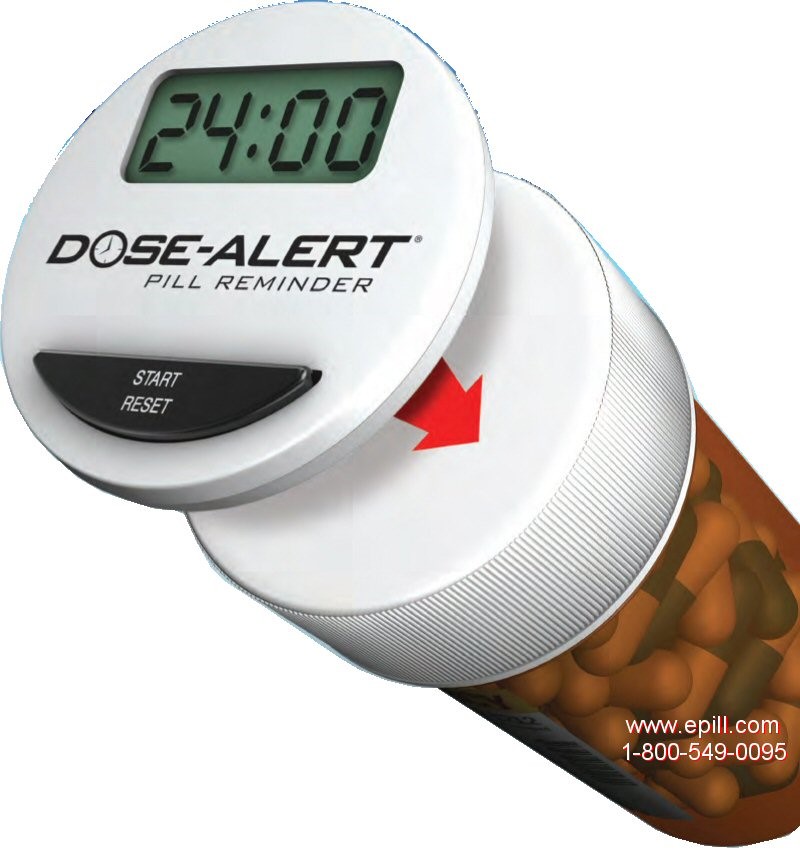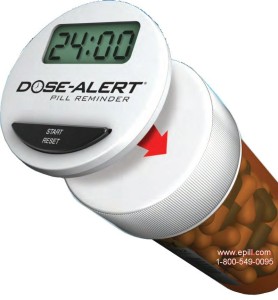 Timer medicine caps are digital timers with a count-up feature, which works like a stopwatch, automatically keeping track of how much time has passed since the medication was last taken. This will directly help with medication management since a user's first question is often, "when did I last take this medicine?" The cap also prevents a user from overtaking a medication.
Average Cost: $7/per cap and bottle
Pill Organizers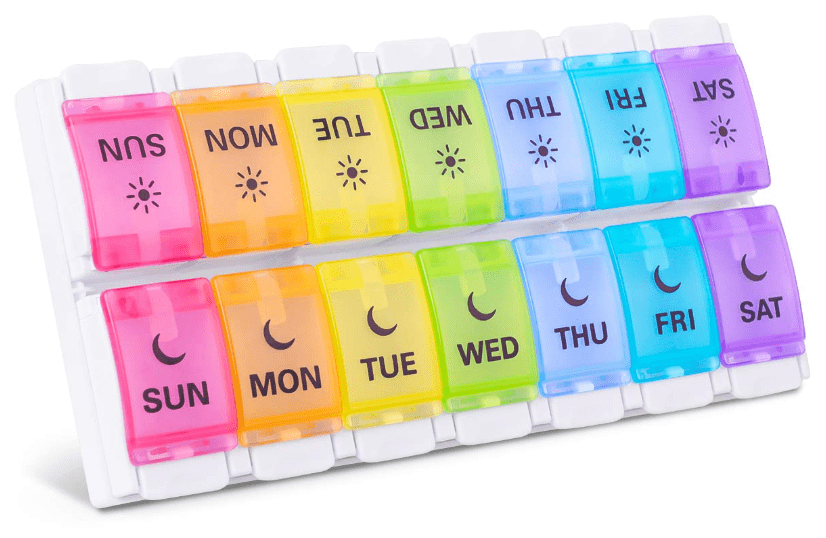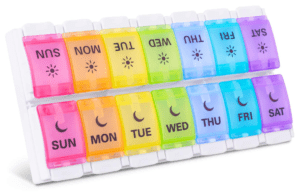 Pill organizers come in all shapes and sizes and can help you or your loved one stay on top of which medications to take each day. Most are highly portable and can be slipped into a purse or pocket if using outside the home, yet are large enough to fit both daytime and nighttime doses.
Average Cost: $10/per organizer
The list above includes the main types of medication management devices but there are others related to specific illnesses or needs as prescribed by your doctor. Other options, in addition to these devices, are mobile apps for medication management. If you are unsure about what device or app will be the best for you, do your own research and consider consulting a physician.