Home delivered meals are very popular and are popping up everywhere. Using a meal delivery service can be fun, fast, and easy, and can provide independence and autonomy for older adults aging in place either at their home or in yours. The types of services available include ready-made meals or meal kits that are delivered directly to your home. Here are the top service providers for both options.
How Should You Evaluate Meal Delivery Services?
As you think about the best meal delivery service for your aging parent, consider some of the following services offered:
What kind of a la carte meal plan can you subscribe to?
Are the orders complete meals or do you add supplements?
Does your grocery store offer meal delivery or pick-up options?
Does your food need to be diabetic friendly? Dairy Free? Do you have other Dietary restrictions?
How often can you change your requested meals?
Do you have to cook the food or is it ready to eat?
What is the price for the subscription service?
How does the subscription service work? Is it a weekly, monthly or annual charge?
Selecting the meal service you need will require a good understanding of your nutritional needs. Do a daily journal of what you are currently eating, favorite foods and discuss with your physician to evaluate the most appropriate meals for you.
What Are The Top Meal Delivery Services For Seniors?
Mom's Meals
Mom's Meals delivers fresh-made meals nationwide. Meals are delivered fresh, not frozen, in a fresh lock package and can be reheated in the microwave in as little as two minutes. Meals delivered by Mom's Meals are fully-prepared, nutritionally balanced meals that provide up to 700 calories with protein, whole grains, vegetables and snacks included. Meals are designed by a dietician and handmade by a dedicated team of chefs.

Silver Cuisine
Silver Cuisine is a meal delivery service designed specifically for seniors. Simply select the meals you wish to have delivered, and they take care of the planning, shopping, cooking and delivery. Their rotating menu includes over 150 alternating, delicious meal options. AARP members get 10% off every order + free shipping on your first order.


Freshology
Freshology by Diet-to-Go makes healthy eating easy. This chef-prepared food delivery service offers four award-winning menus that can be customized to fit your taste. The Balance menu combines mouth-watering, restaurant-quality flavors with dietician-approved, balanced portions of the foods you love. The Balance-Diabetes menu is calorie-controlled for sodium, carbs, fat and cholesterol and is designed to help you control blood sugar naturally. Keto and Vegetarian options are also available. Heat and eat in 2-3 minutes!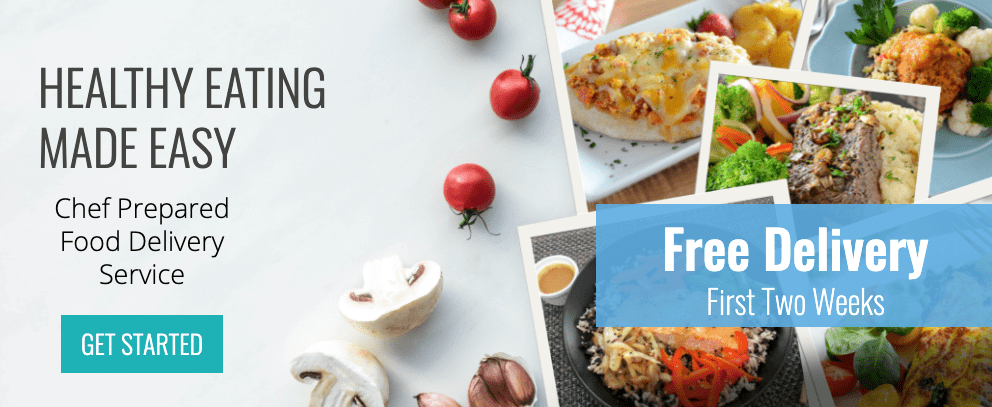 MealPro | Healthy Meals Delivered
MealPro is a meal prep service that specializes in healthy meals made with natural ingredients. Meals are delivered in special thermal boxes to make sure your meals arrive to you in optimal condition, ready to heat up by microwave or oven. If you choose their recurring service, you can earn rewards points for every dollar that you spend. And rewards points can be redeemed for free meals.
Personal Chef to Go
Personal Chef To Go offers fully prepared, ready to heat and eat meals and entree salads that are handcrafted by local chefs weekly in a commercial kitchen facility. They include locally-sourced vegetables, hand-trimmed FDA approved meats and whole grains. Select ingredients are combined in their own recipes to create an irresistible cuisine that is high on flavor, and low in fats and calories.
Top Chef Meals
Top Chef Meals offers fresh, made to order meals that are compatible with any health and wellness need. With over 70+ different entrees and over 300 side combinations, they give you honest pricing and the power to choose the food you love. Meals are delivered to your door and ready to eat in under three minutes.
Meals on Wheels
Meals on Wheels is the largest national provider of senior meal services. The services provided include frozen, home-delivered meals for older persons who are unable to leave their home to shop or prepare nutritious meals. The dietary and nutritional needs of the elderly are taken into account and accommodated. The nutritional information of each meal is available upon request.
Magic Kitchen
Magic Kitchen's healthy, chef-prepared meals are created using top-quality fresh produce and ingredients to ensure you receive delicious, nutritious meals that are quick and easy to prepare. They offer Dialysis-Friendly, Diabetic-Friendly, Portion Controlled, Low Fat, Low Sodium, and Senior's Diet Plans, and meals arrive on your doorstep frozen for quick reheating.
BistroMD
BistroMD is a diet delivery program designed by a weight loss physician. The diet delivery program does not focus on just cutting calories; it is scientifically and nutritionally balanced to promote the healthy loss of fat. With BistroMD, you can lose weight and enjoy great tasting, real food by choosing a 5 or 7-day program that is supported by dietitian and fitness professionals.


Freshly
Freshly partners with top chefs and the best rising culinary talent to discover unique ingredients and craft our delicious recipes. Freshly delivers healthy, chef-prepared meals to your doorstep on a weekly basis. Customers can choose from 4-meal, 6-meal, 9-meal, or 12-meal plan each week from their rotating, seasonal menu. Each meal is delivered fresh, never frozen, and is ready to eat in under two minutes. Get $50 off your first 5 orders of Freshly ($10 off each week)
Home Bistro
Home Bistro offers 50+ restaurant quality, gourmet meals including Heart Healthy, Vegetarian, and Diabetic Friendly varieties. Each meal is prepared by world-class chefs and delivered frozen. Ready to eat within minutes. No shopping. No cooking. No clean-up. No commitments.

What Are Meal Kit Delivery Services?
Another option is to have the ingredients and instructions delivered to make the meal yourself. This option can be a fun way to maintain a nutritional diet and cook with a friend or family member as well.
According to Consumers Advocates, the best meal kit delivery services are:
If you're considering this option, make sure to look into different services to find the one that works best for you and your loved one.
Where Should You Start When Deciding Which Meal Delivery To Use?
Meal delivery services may offer independence or convenience for caregivers living with an aging loved one. In some cases, they may also be available for free. Do your research by starting with these links and find all the options available in your area. You can also find additional resources by contacting your Area Agency on Aging specialist and visiting SeniorServices.org.