Fact checked by: Lynda Menegotti, Editor | Last Updated: June 2023
How We Found The Best Walking Canes:
Caring Village may receive commissions for purchases or leads made through links in this article.
The walking cane is the most popular and widely used support for those with limited mobility. Whether it is for a temporary need or permanent support, the cane is currently used by more than 5 million Americans (about 70% of those who use a mobility device (i.e.,
walker, wheelchair).
When used correctly, the right cane can improve balance and reduce the risk of falling by widening the base of support and decrease the amount of weight distributed on lower-body joints like the hips, knees, ankles, and feet.
While there is no doubt that the right cane can be a convenient and easy-to-use supporting device for your aging loved one, finding the best option may prove challenging given the many options and styles available.
Read on for more information about walking canes and a list of our favorite brands and models.
What Types of Walking Canes Are Available?
Single Point Canes
The single point cane has one point of contact with the ground and is often considered the most common type of walking cane. Single-point canes come in a variety of styles and designs.
Multiple-Point Canes
Multi or multiple-point canes generally have three or four points of contact with the ground. These quad and tripod canes can stand up on their own to provide more stability for users requiring a little extra help with balance. Click on images below to learn more.
Hemi Walker Canes
Hemi walker canes differ from quad canes in that their base is much larger. Many people moving from a walker to a cane due to paralysis, weakness, or partial loss of function of an arm, leg, or both find these walking canes to be the best choice. Click on images below to learn more.
Folding Canes
Folding canes are designed to collapse down for easy storage and make an excellent choice for those who do not need to use their cane at all times. These canes are often made of very lightweight material and include a strap or bag for easy carrying. Click on images below to learn more.
Seat Canes
Seat canes unfold to provide a convenient place to reset whenever the user needs to take a quick break. These canes are typically made of sturdy material and often weigh a bit more than a traditional single-point cane. Click on images below to learn more.
What Features Should You Look For In A Walking Cane?
As you begin to explore which walking cane is right for you or your loved one, consider the primary functions and various cane features listed below to help you decide. The correct handle type and grip will provide the strength, comfort, and mobility necessary to perform activities of daily living.
Walking Cane Handle Design
C-Cane
Also referred to as a crook cane, the c-cane is a single straight walking cane with a rounded handle at its top. This is the simplest and most common of all canes, and its handle design makes it easy for the user to hook the handle around their arm when opening doors.
Function Grip
Also called T-handle canes, these canes are similar to the c-cane except for the handle. A functional grip cane has a straight grip handle rather than a smooth curve. This allows for a better grip and is ideal for people with weakness in their hands or those whose hands fatigue easily.
Fritz Handle
Fritz handle walking canes are similar to T-grip canes; however, the extra curve reduces pressure on the hand and fingers, making it a more comfortable cane for those suffering from arthritis.
Offset Handle
Shaped like a question mark, these cane handles help distribute the user's weight more evenly over the body of the cane making them more comfortable to use. Not that nearly all quad canes are designed with this type of handle.
In addition to the design of the handle, you should also consider the various materials available when it comes to grip. Foam Grips, Gel Grips, and Orthopedic Grips are designed for comfort and to reduce joint pain and fatigue and may be available for your preferred cane style.
Walking Cane Body Design
The design of the cane is essential for comfort and wellbeing. The ergonomically designed wooden and anodized aluminum canes give you the best support possible. Also, consider what features come on the body (for example, LED Light)
Cane Tips
Finding a cane tip that is nonslip (like rubber) will provide extra stability and help prevent falls. Can tips can be purchased separately should they wear out. Click on images below to learn more.
Height & Weight Capacity
Your height and weight are critical pieces of information when selecting a cane. The cane needs to meet your hand to give you an upright position and support your weight distribution without causing fatigue in your back, arms or wrist.
Top 5 Walking Canes
The following is a list of our favorite walking canes. Due to the volume of canes available we tried to limit our recommendations to what we think are the best canes in each design category (i.e., folding, quad, etc.) to help you quickly assess the best cane for your loved one.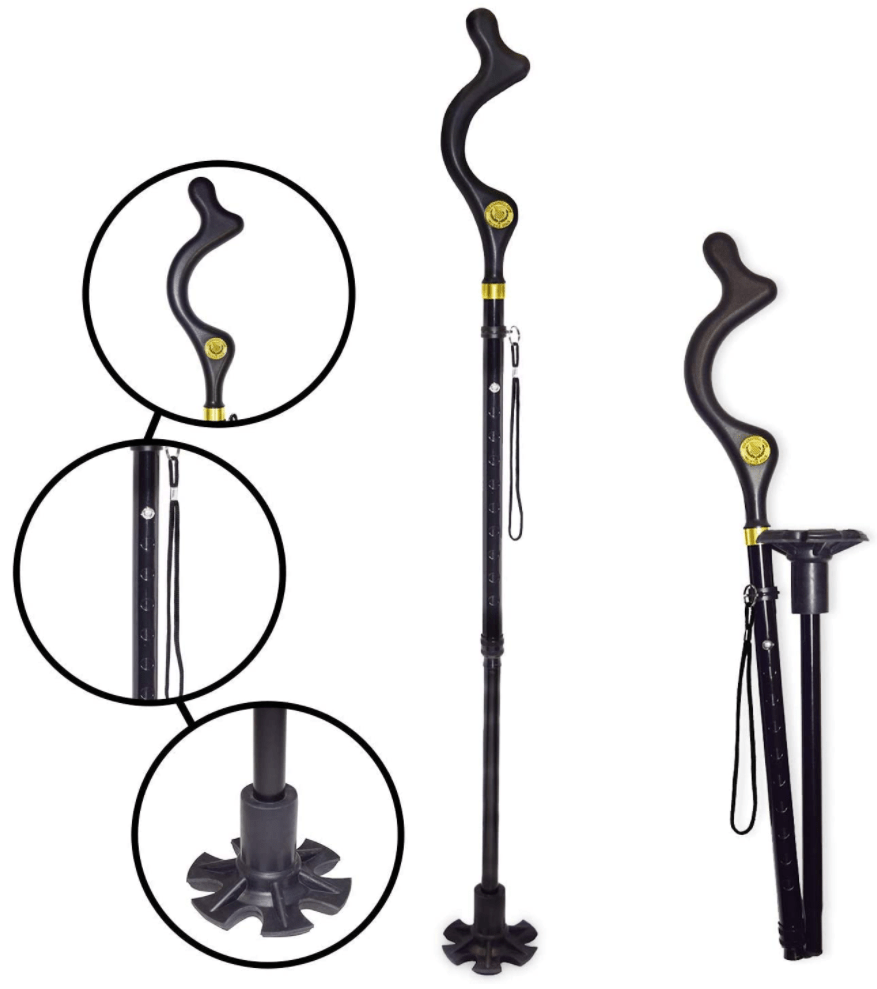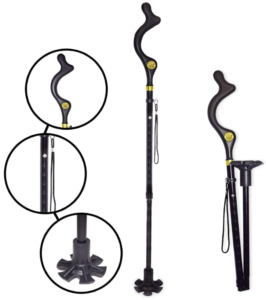 The Campbell Posture Cane is a unisex cane designed to keep you upright. This lightweight cane will allow you to move comfortably indoors and outdoors at your pace. The cane is sturdy to support a variety of body types, builds, and frames. How does Campbell differentiate itself from other companies? The handle is your answer
The Campbell Posture Cane's ergonomic grip handle is specifically designed to reduce the pressure you may often feel in your shoulder and wrist. This design will not just alleviate the pressure but helps with your posture, putting you in a more upright position.  The strain felt can affect your ligaments, muscles, and other areas throughout your body. The focus on your posture is what distinguishes Campbell Posture Cane from others.
The upright posture will keep your line of sight forward and at the right level. This is not only for comfort but for safety! Fall prevention is essential for the wellbeing of our older adults and this product helps your aging loved one maintain balance, mobility, and comfort. The comfort provided is not just in the handle but the 10-different height adjustments to help make it a more personalized fit.
Did we mention it has a self-standing feature making it simple and easy to reach? This helps with your day-to-day needs, emphasizes comfort, and eases any pain you may have when bending over or reaching out. Consider the specifications below when exploring the Campbell Posture Cane and if it is the right one for you.
Product Specifications:
Price: Starting at $29.99
Height: 10 different height adjustments. Extends from 40" to 49" for users 5' to 6'2"
Weight: 1.6 lbs.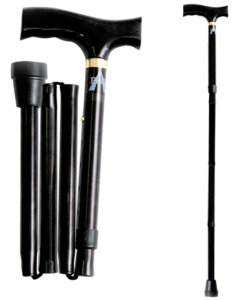 The ProBasics Folding Walking Cane folds into 4 convenient parts for easy storage. This collapsible cane is perfect for those on the go as the cane can be quickly collapsed and stored in the provided case. The contoured handle with comfort grip ensures the user is not fatigued during walking as the cane handle forms to your hand.
This cane adjusts from 31 inches to 37 inches in height and can also be used as a walking stick on uneven terrain. The locking ring ensures added safety after adjustment.
When not in use, this walking cane folds into a carry pouch. Trust ProBasics, a leader in creating quality folding canes, canes for women, canes for men, and mobility products.
Product Specifications:
Price: Starting at $27.00
Height: Adjustable height of 31"-37"
Weight: 13 oz
Weight Capacity: 300 lbs.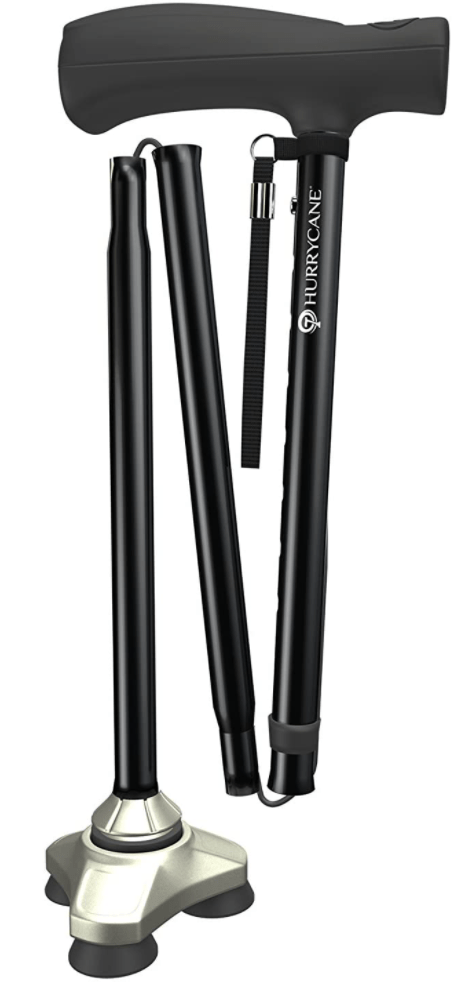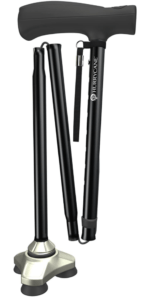 The HurryCane Freedom Edition is your all-terrain support. Whether you are walking uphill, downhill, inside, outside or on a rocky path, the HurryCane will keep you supported and confident in your mobility. A distinguishing component of HurryCane is the SteadiGrip technology.
SteadiGrip is a patented stabilizing technology that increases friction which provides and improves balance for any terrain. The pivoting base is what gives comfort and balance. This unique design offers shock absorption to give your aging loved one comfort, control, and balance. The main outcome is stability when standing or walking.
The stability of HurryCane is incomparable to others. Whether helping with injury recovery, dealing with chronic mobility issues, or providing general comfort when walking around, HurryCane stands out amongst its competitors in several ways. In addition, the cane easily folds and unfolds with little-to-no effort. If you purchase HurryCane you can expect a 60-day, 100% money-back guaranteed. You will find freedom and safety when purchasing a HurryCane with high customer reviews.
Product Specifications:
Price: Starting at $37.00
Height: Adjustable height of 30.5"-37.5" Compacts when folded to 13.75"
Weight: 1 lb
Weight Capacity: 350 lbs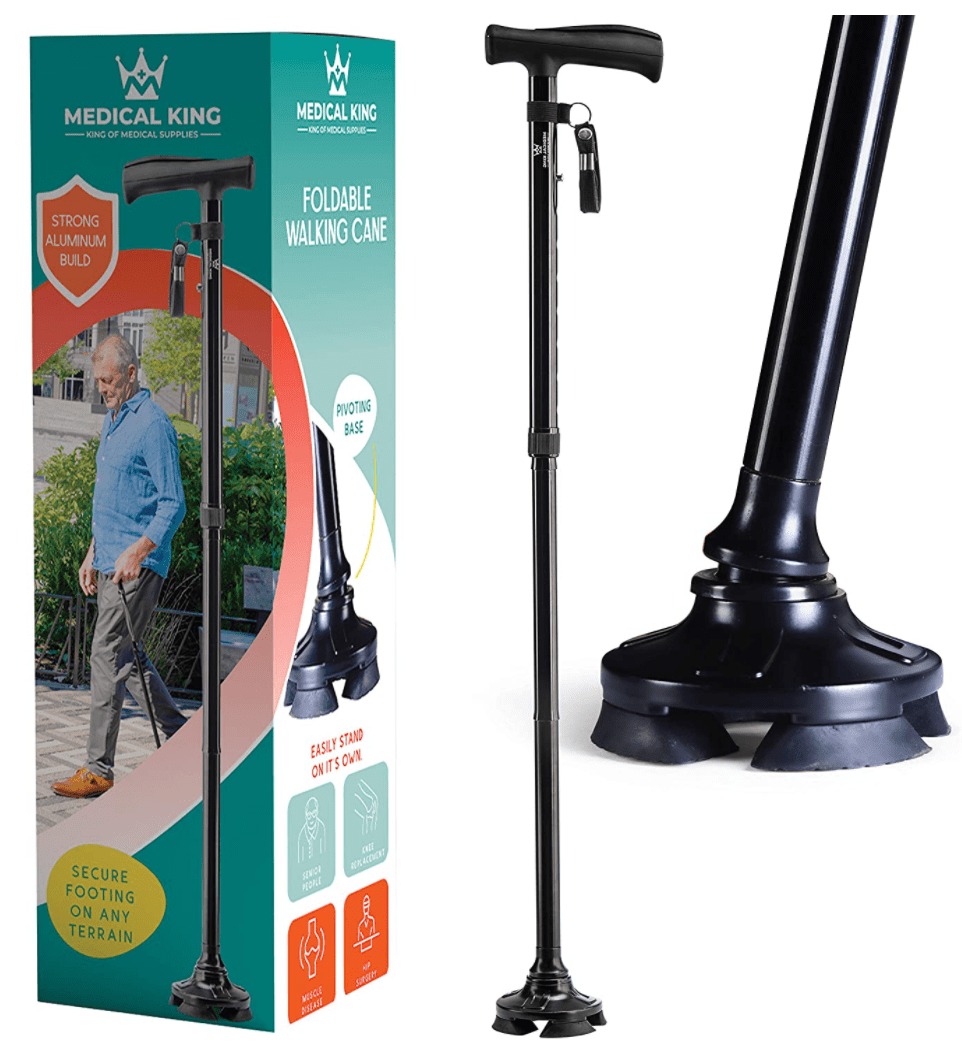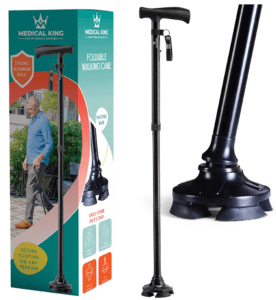 The Medical King Walking Cane is ready to offer you independence, comfort, and an easy way to carry it around. This product is one that will help your back, shoulder, and wrist with a supportive handle. The high-quality material Medical King uses gives you a supportive design to help you walk upright.
You can expect to use this in either hand to support your mobility needs. When resting, the uniquely designed tip is slip-resistant to prevent your aging loved one from falling, inside or outside the home.
At a lower cost compared to other canes, customers indicate it is a good purchase. You can easily take it on trips and pack it in a suitcase. The likelihood of losing it when walking is low with the wrist strap available to secure it to you as you move around.
Product Specifications:
Price: Starting at $19.99
Height: Adjustable height of 40-49" For anyone 4'5" to 6'.5"
Weight: 1.5 lbs
Weight Capacity: 300 lbs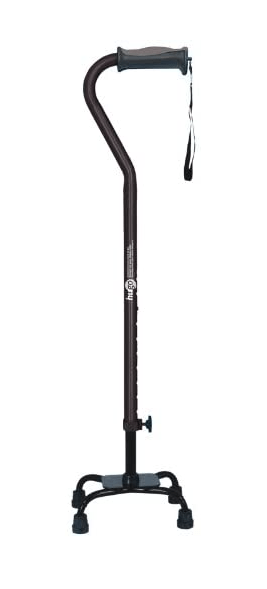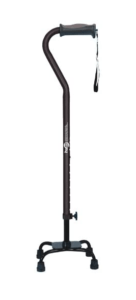 The Hugo Adjustable Quad Cane will stand out amongst the others. The cane's standout feature is the base with four tips to support the movement, posture, and safety of your aging loved one. The K-shaped base (the marker of Hugo mobility) will create a strong, stable supportive structure and is easily moved from the right to the left hand. The height is adjustable and accommodates most people with no impact to the base.
The stable base is just one of the many great features of the Hugo Cane. The ergonomic handle fits snuggly in your hand. It is not just comfortable to the touch and for posture, but the shock-absorbing cushion will ease your movement around town. The Hugo Cane is designed for safety and the reflective strap gives you nighttime comfort when outdoors. The aluminum-based structure ensures a long-lasting cane for day-to-day use while being an easy lift.
Product Specifications:
Price: Starting at $21.44
Height: Height of 28" with 11 precision height settings. For anyone 5' to 6'.5"
Weight: 2.07 lbs
Weight Capacity: 300 lbs
The DMI Deluxe Cane is a lightweight and easily adjustable alternative to its competitors. The support provided by this lightweight cane is a great fit for your aging loved one. The DMI Deluxe is designed with a reinforced metal frame and slip-resistant rubber tip. These two features provide additional safety and structural support while keeping it lightweight and easy to carry around.
Your mobility is the priority for DMI and the adjustable height ranges, comfort grip will offer you comfort as you get around. The DMI Deluxe Cane will provide balance to your day-to-day activities. There is a snap button that can be used to securely lock the cane in place prior to use.
The unisex design will allow anyone in your household to use the lightweight cane. Consider the DMI Deluxe lightweight walking cane as your source of mobility.
Product Specifications:
Price: Starting at $11.49
Height: Adjustable height: 30-39" (in 1-inch increments)
Weight: 12 oz
Weight Capacity: 250 lbs
Summary and Next Steps
Use the profile of each cane company listed above to find the best option for you. As you can see, there are many options available. Each cane company listed is a strong option for your aging loved one.
Brooke worked as a home health and hospice nurse for many years. During her time working with patients and families, she saw the pressures and strain of what caregivers went through while caring for loved ones.
Dan Fogarty has more than 10 years experience in healthcare management and strategic communication. Dan earned his Masters in Health Communication from Johns Hopkins University in 2012. Dan is the Acting Chief Administrative Officer of the NIH Clinical Center and an Adjunct Faculty member of the Massachusetts College of Pharmacy and Health Sciences (MCPHS).