More than half of all injuries occurring in people over the age of 85 occur in the bathroom. In fact, the most hazardous activities for all ages are bathing, showering, and getting in and out of the shower or tub.
One way to reduce the risk of falling and injury while bathing is to install a walk-in tub.
What is a Walk-In Tub?
A walk-in tub is a bathtub used for the same purpose as a standard tub; however, the design provides a safer, more convenient, and comfortable bathing experience for people of all ages and levels of mobility.
Walk-in tubs often look similar to traditional bathtubs but come with a watertight door built into the side and often include one or more safety grab bars to make getting in and out of the tub easier.
Walk-in tubs come in a variety of options and configurations to fit your unique needs and budget.
Why Purchase a Walk-in Tub?
In some cases, the addition of a walk-in tub may allow your loved one to age-in-place, helping them to stay safely in the home they love longer.
In general, most walk-in tub models are designed with an outward swinging door to help prevent falling or slipping and a built-in seat.
Because these types of tubs often also come with special safety features, they can ease the stress and anxiety you may be experiencing and help make bathing a more enjoyable experience for you or your loved one once again.
The need for and type of walk-in tub required depends on the individual's current and future mobility as well as any specific conditions they have that may benefit from some of the more therapeutic options available. Wheelchair accessible tubs can also help you create a home of comfort and accessibility while allowing your loved one to live independently.
What Types of Walk-In Tubs Are Available?
There are three basic types of walk-in tubs available in addition to a few therapeutic options: soaker tubs, bariatric tubs, and wheelchair accessible tubs.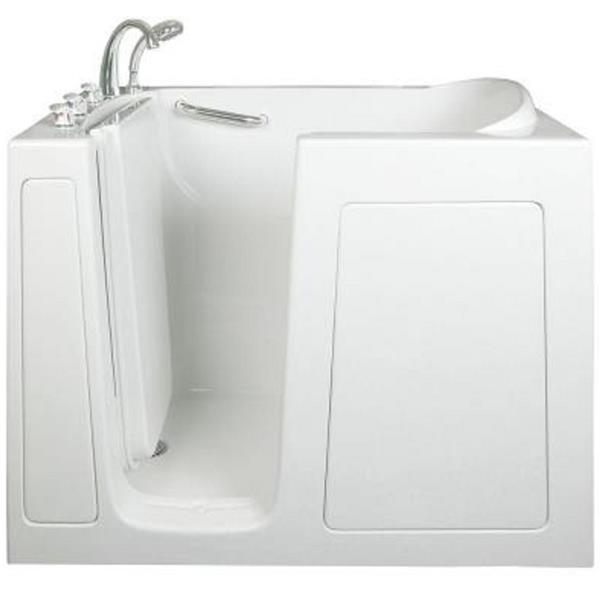 Soaker Tubs - Soaker tubs are most similar to a traditional bathtub with very few bells and whistles. The person bathing has only to walk into the tub, sit down on the built-in seat, close the watertight door, and begin filling the tub.
Bariatric Walk-In Tubs - Bariatric tubs are designed much like a soaker tub but can accommodate more substantial weights and often have a bit more room to move around inside the tub.
Wheelchair Accessible Tubs - Wheelchair accessible tubs have larger doors, making it easier to transfer from a wheelchair directly into the tub, though a walk-in shower may be better suited to your needs. Bathtubs with an integrated lift-seat are also available, however, these are more commonly used in assisted living facilities.
What Therapeutic Options are Available?
Hydrotherapy Tubs - Hydrotherapy tubs, also commonly referred to as whirlpool tubs, use jets and water pressure to provide massage-like qualities. These massage jets can be especially beneficial for those with arthritis and other illnesses that cause chronic pain.
Aerotherapy Tubs - Aerotherapy tubs also use air jets, but with air pressure, to add a gentle effervescence to the bathing experience.
Aromatherapy Tubs - Aromatherapy tubs use essential oils to create a relaxing scent that can create a soothing atmosphere to enhance the bathing experience.
Chromatherapy Tubs - Chromatherapy tubs use specialized lights in various colors to promote relaxation.
What Safety Features Should You Consider?
Non-Slip Flooring - Most models include anti-slip textured floors to help prevent slips and falls.
Step-In Height - With a step-up height of between three and seven inches, walk-in tubs are ideal for people with limited mobility and balance issues. The lower the height, the better!
Built-In Seating - Most walk-in tubs have textured seating to help prevent slipping off the seat while bathing and to significantly reduce the effort required for individuals to go from laying in a bathtub to a standing position.
Anti-Scald - Anti-scald valves come standard with most walk-in bathtub models. These automatically compensate for extreme changes in the cold and hot water lines to prevent injury while bathing.
Safety Grab Bars - Handrails or safety grab bars make it easier to stabilize yourself or your loved one during entry and exit from the bathtub and often come built into the tub's design.
Fast Drain - This feature allows you to quickly drain the tub in case of an emergency.
What Else Should You Consider When Purchasing a Walk-in Tub?
Before reviewing each company below, consider taking a few minutes to outline your needs and expectations first. This careful preparation will help you narrow your search quickly based on your requirements and budget. To help guide you, answer the following questions, and then apply your answers to each company and their available products:
What price range are you looking to stay within, and will you require financing? Walk-in bathtub costs range from $1,500 to $20,000, depending on the model you choose and the installation fee required. Financing is often available.
What are the dimensions of your bathroom and available space for the bathtub? In general, most walk-in tubs take up about the same amount of space as a traditional bathtub. However, the exact length and width can vary depending on the model and whether or not you require a wheelchair accessible or bariatric-style tub. And some wheelchair accessible models require an outward swinging door for which you will need clearance in your bathroom.
Are your plumbing and hot water tank designed to support a walk-in tub? Many walk-in tubs require a minimum of 50 gallons to fill. If your current tank holds only 40 gallons, you will have to wait for the tank to reheat before being able to fill your tub completely.
What type of warranty is offered? A warranty often comes standard with walk-in tubs; however, it's best to do your homework to find out exactly what is covered and how long it lasts.
Do you intend to move in the near future? In some locations, a walk-in tub may increase the value of your home when it's time to sell, but ideally, you should make sure a downsize or another move isn't in your immediate future.
What features are most important for your chronic illness or condition? Take into consideration any conditions that might benefit from some of the more therapeutic features available on the market. Would aromatherapy be helpful? Do you need air or water jets to help soothe chronic pain of some kind? Would heated seating be beneficial?
Is the walk-in tub self-installed or professionally done? Most companies or manufacturers offer a free in-home consultation where they can provide you with an estimate for the cost of professional installation, but be sure to double-check as you don't want any hidden surprises.
These questions are intended to get you started but consider all of the features you desire. Look for the product and company that comes as close to your needs as possible.
The Best Walk-In Tub Companies
There are many products available and we have summarized the top 10 companies below. Remember to be thorough when reviewing each company and use our prompting questions as a guide. Getting this decision right can save you time, money and most importantly provide safety and livability to your aging loved one.
Get Matched with a Walk-In Bathtub Partner, Accredited by ConsumerAffairs!
Consumer Affairs, a company that provides helpful information such as reviews, ratings from consumers and buyer guides on many products for seniors and those with disabilities, has developed a tool that will quickly provide recommendations for accredited partners that can help you with your walk-in bathtub installation and purchasing needs.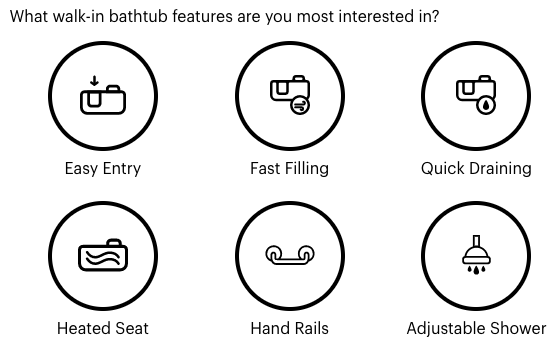 Jacuzzi
Jacuzzi Inc. now offers a simple solution that combines industry-leading safety with their legendary hot tub expertise: the Jacuzzi Walk-In Bathtub. These unique tubs can make your bathing experience a pain and stress-reducing pleasure, keeping you safe and protecting your independence. Your walk-in tub's door allows for tall tub walls, letting you enjoy neck-deep immersion and the same full-body soak as in a natural hot spring or regular hot tub. The in-line water heater maintains the same warm and cozy water temperature for as long as you want to soak.
Independent Home
Independent Home focuses on safe and practical bathing solutions. Their mission is simple: Independent Home is here to help you experience a safe, enjoyable bathing experience by alleviating the stress and heartache associated with mobility problems. Their walk-in tubs can get you back to living independently and comfortably, and allow you to stay in your home longer.
Safe Step Walk-In Tub Co.
Walk-in tubs from Safe Step are designed to satisfy the needs of seniors, the disabled, handicapped or anyone with mobility challenges. Their walk-in tubs combine safety with the powers of hydrotherapy to relieve your pain and boost your energy. Handicap features include a low step-in, built-in grab bars, and anti-slip surfaces. Once safely in the tub, choose from a variety of hydro-therapeutic soaking tub features such as massaging water jets to create a spa-like experience in your home.
American Standard
American Standard services a wide range of both residential and commercial customers, effectively delivering water saving products that are used for new construction and replacement/remodeling projects. American Standard offers various kinds of walk-in tubs made from Acrylic Gel Coat with Fiberglass reinforcement. You can choose from whirlpool, air spa, soaking, and combo massage models to fit your bathing needs. The company also makes walk-in-tubs accessible to individuals with limited mobility.
Kohler
Walk-in tubs from Kohler are designed with your safety and security in mind. Backed by 140 years of engineering expertise Kohler's safe step-in, extra-wide doors and easy-to-grip handrails make bathing a breeze. Their 3-inch step-in is the lowest of any walk-in tub on the market, and additional features and options include Whirlpool jets, heated surfaces, hand-held shower, fast drain and wide seats. Kohler also offers a lifetime limited warranty and the ability to personalize the look of your new bathing space with your choice of bath color and faucet finishes.
Hydro Dimensions
Hydro Dimensions is a large-scale manufacturer of standard bathtubs and walk-in tubs for over 20 years. The company also produces a variety of therapeutic massage systems ranging from hydro massage, air massage, dual massage, and custom massage systems. Each walk-in bathtub therapy massage system is built-to-order to meet each client's varying needs and lifestyles. Hydro Dimensions proudly services the entire US with a network of over 80 dealers nationwide.
Premier Care in Bathing
Premier Care in Bathing is a privately held service provider of specialist bathing equipment. The company offers a safe and independent bathing experience to elders and people with disabilities. Premier Care has designed and manufactured walk-in tub solutions that make bathing comfort a reality for its customers.
Improvement Center
For the Improvement Center, a walk-in tub is exactly what it sounds like: a tub that has a door to allow the user to walk into the tub and sit down, rather than having to step over the high lip of the tub to get in. Walk-in bathtubs are perfect for those with mobility, aging, or even obesity concerns. The unique design offered by the Improvement Center allows you to walk into the tub, close the watertight door, sit down and fill the tub to your desired depth and temperature. ImprovementCenter.com offers information on walk-in tub products, contractors, and services.
Bathing Safety
Bathing Safety offers the finest Hydrotherapy Walk-In Tubs. They offer models that are manufactured in the US and a selection of models that are imported. Bathing Safety offers three models of walk-in bathtubs that come in different sizes. Their models are the Diamond Elite Series Walk-In Tubs, Private Label Walk-In Baths, and Private Label Walk-In Tubs.
Freedom BathTubs (Accessibility Professionals)
Accessibility Professionals Inc. specializes in providing industry-leading products for making bathrooms and homes accessible and easier to use for people with physical disabilities as well as individuals of all abilities. Their goal is to help people arrange their bathrooms and homes to best meet their needs and maximize their independence. Accessibility Professionals believe everyone deserves to age gracefully and with dignity in the comfort of their own home.
Ella's Bubbles
Ella's Bubbles is a Chicago-based (OEM) manufacturer of acrylic walk-in bathtubs and a nationally distributed manufacturer of private label accessible shower stalls and gelcoat walk-in bathtubs. They have spearheaded acrylic walk-in bathtub development, production, and distribution in North America since 2005. Ella's offers exceptional craftsmanship, world-class customer service, and creative insights to help both distributors and dealers enhance their brand.
Additional Information
If you have Medicare Advantage or Medicaid, contact your representative to determine if there is any reimbursement available based on your state and circumstance.
Several VA grants offered by the Department of Veterans Affairs may also cover home improvements, including Disability Housing Grants for Veterans and Home Improvements and Structural Alterations (HISA) Grants.
You may also be able to deduct the cost of a walk-in tub as a tax-deductible medical expense in certain situations. The Interactive Tax Assistant tool can help you determine if you qualify.
Walk-in tubs offer your aging loved one a safe, spa-like experience by providing a convenient, relaxing bath in their own home. Do your research to find the right company and product for you. For more information check out our blog, How to Design a Safe Bathroom for those with Limited Mobility.