What are the Top 5 Adult Incontinence Underwear for Men?
Our experts researched and tested dozens of styles and brands of incontinence underwear for me before selecting their favorites.
How We Found The Best Incontinence Underwear For Men:
Caring Village may receive commissions for purchases or leads made through links in this article.
Incontinence is a problem that affects nearly 13 million Americans each year and is most common in older individuals. You are not alone! It can be an uncomfortable topic to discuss but it is important to find the best means to provide comfort and safety to your aging loved one.
Finding the best way and time to discuss incontinence can be challenging but the reward and benefits are well worth it. You can learn more about how to do this as a caregiver in our recent blog post: Caregivers Guide to Incontinence. The needs of each of you will vary and to help you find the best comfort and be knowledgeable on the best products, we have done some research for you on the best adult incontinence underwear for men.
Incontinence can be caused by a multitude of reasons in men, such as, an enlarged prostate, obstructions, neurological disorders, and, most frequently, decreased bladder capacity with aging. There are so many options available that the choices can be quite confusing. We put together a list of the top five products for men as ranked by the highest review average from Amazon customers*.
The Incontinence Questionnaire
If you are unsure if your loved one has incontinence (urinary or fecal (or bowel), then pay attention and answer the following standard questions. These could be used by observation or in a conversation with your aging loved one. If the answer is yes to any of the questions, then it may be due to a bladder or bowel issue.
When you have to go, do you rush to the toilet?
Do you feel you are not empty after going to the bathroom (relieving your bladder or bowels)?
Do you experience frequent leakage before you get to the toilet?
Do you strain (mild, medium or heavy) when emptying your bowels?
Do you leak regularly (lifting something, exercising, sneezing, coughing, laughing, etc.)?
Do you notice soiled underwear regularly?
Do you wake up more than twice to go to the bathroom at night?
This is not an exhaustive list and there are many other conditions that may identify incontinence. The great news is there are many ways to treat and manage your incontinence.
What is Incontinence?
Urinary incontinence (UI) is the involuntary loss of urine. It is common with older adults and the types vary from: Stress (physical pressure), urge (difficulty emptying), functional (physical or mental conditions), mixed or a total loss of control.
Bowel (fecal) incontinence is the inability to control your bowel movements. This often will lead to liquid stool that is then hard to control and can leak out. This is also true of solid leakage as well.
How Is Incontinence Diagnosed?
After you run through the questionnaire above and discuss incontinence with your physician, the next step is a diagnosis and determination of the cause of your urinary or bowel incontinence. To do that, your doctor will conduct a physical exam, and discuss your current health, lifestyle environment, and other important items such as:
How much do you drink?
How often you urinate and have a bowel movement?
How often you leak urine or bowel?
To prepare for your visit, take note of these items for at least a week prior.
At your visit, your physician may conduct some easy tests to search out the bladder control problem. One common test is having you cough while you are standing to see if you leak any urine. Beyond this common visual test, your doctor may run through any number of the following:
Urinalysis and urine culture: These tests show whether you have a urinary tract infection (UTI) or blood or sugar in your urine.
Bladder stress test: It simulates the accidental release of urine that may occur when you cough, sneeze, laugh, or exercise.
Pad test: A pad is weighed and measured regularly to see if there is an increase in weight from leakage.
X-rays or ultrasounds: These are used to examine changes in the position of the bladder and urethra when you urinate, cough, or strain.
Conducting any of these tests, or more invasive ones if needed, will help to identify the primary cause of your incontinence issues. With this identified, you are able to focus your energies on ways to treat and manage your incontinence. It will also help you know what to expect and focus on the best underwear to support your daily life.
Key Ways to Treat and Manage Incontinence
When dealing with incontinence, there are many ways to treat, manage or possibly stop it. Some of the fundamental ways to do this are:
Do pelvic floor exercises
Quit smoking
Avoid lifting heavy objects (especially improperly)
Lose excess weight
Deal with constipation immediately
Reduce the intake of caffeine and alcohol
Stay hydrated
Eat a nutritional diet
Take medication (only prescribed by a physician)
Have a surgical procedure
Have Botox injections to tighten the muscles to contract
Use incontinence underwear and other products
These are not the only means to address urinary and bowel incontinence; however, this is a good list to work through to see what, if any, can directly help your aging loved one. Start at the top of the list and work down to identify which one(s) directly affect you.
How We Tested & Selected Our Favorite Incontinence Underwear for Men
| | |
| --- | --- |
| Comfort is key when shopping for incontinence products. We looked for soft materials that feel great against the skin and tested for the telltale crinkle that can sometimes give away the fact that the user is wearing disposable underwear. | We tested each brand's recommended absorbency and checked to see if there was any leakage when standing, sitting, or laying down. Then, we pushed past the recommended absorbency to see if they could stand up to even more liquid. |
| Fit is an important factor when it comes to leak protection. We checked to make sure the material conformed to the body with minimal bunching and that the leg gathers were comfortably snug but not tight. | After testing absorbency, the underwear went on to wear-testing to find out how easy it was to get them on and off, both dry out of the package and after they had absorbed liquid. If the style was tearaway, we tested to see if the sides split on their own when heavy with liquid or if they were difficult to tear by the user. |
The Top 5 Incontinence Underwear for Men
There are so many options available that the choices can be quite confusing.
NEW- Because Quality Bladder Protection for Men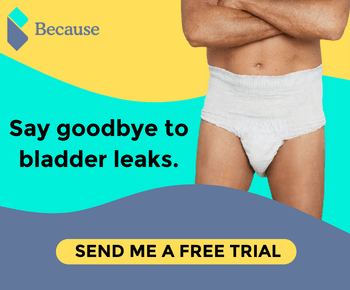 Highly rated by customers, Because Market is a little-known brand that makes some of the highest absorbency incontinence products on the market. Because Market's underwear absorbs up to 6 cups of fluid. Partnering with urologists at Stanford Medical Center, the team at Because has developed cutting-edge materials that make their products feel like real fabric underwear. Their underwear is designed with premium quality cotton-like fabric that has a streamlined fit under clothes. Double-stitched leak guards are built into the leg area to provide extra leak protection and neutralize unwanted odor. Both their pads and underwear are 35% more absorbent than leading brands* meaning fewer leaks, better protection, and more comfort. Because Market's underwear is available in two absorbencies: Maximum absorbs up to 4 cups of liquid, and Overnight absorbs up to 6 cups of liquid. Both are effective in protecting against leaks from sudden urges or gradual flows. The products are shipped free of charge discreetly to your doorstep. >> For a Free Trial take their Proven Fit Quiz to find the perfect customized fit for you or your loved one. <<
* US Industry average is 1200mL absorbency for an overnight product. Because is over 1500ml.
DryDirect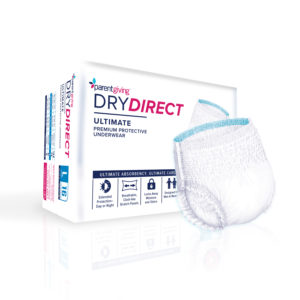 Dry Direct Ultimate Underwear's Super absorbency equals less changes per day and less leaks – which is ideal for all caregivers, but especially family caregivers. This is the first incontinence underwear ParentGiving have put their brand on and the first one they confidently recommend ONLY 3 or 4 changes per day are required. Dry Direct Ultimate Underwear is ideal for nighttime use and a good night's sleep without interruption.

Features Include:
•  Elastic leg cuffs (to prevent leaks in side sleepers and for bowel incontinence)
•  Breathable cloth-stretch panels
•  Soft cotton outer layer
•  Odor lock core (to minimize odors while in use)
•  Unisex design
•  Pull-up underwear design with tear-away panels for easy removal
Save 10% off Dry Direct products. This is a one-time use promotion code. Parentgiving is a website dedicated to helping caregivers and those in the aging process with the best information, support and products in one place. Promo Code: CVDD
Depend for Men Incontinence Underwear – Maximum Absorbency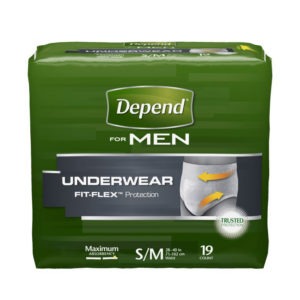 The new Depend Confidence Core technology provides incontinence protection where men need it most. Their newer maximum absorbency underwear feature FIT-FLEX protection, for a close-to-the-body fit while active that flexes with your legs. They also have a comfortable underwear-like waistband and brief-like leg openings that you won't find with other adult underwear. Depend incontinence products for men ship discreetly in a plain corrugate box.
Prevail PF-512 Protective Underwear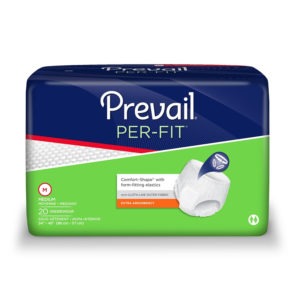 The Prevail Per-Fit Protective Underwear provides discreet absorbent protection. It has a cloth-like outer fabric for added comfort and refastenable frontal tabs. This underwear locks in moisture fast for added leakage protection, odor control, and healthier skin.
Attends Advance Protective Underwear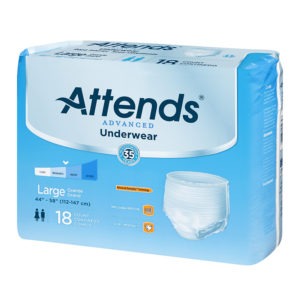 Attends Advance Protective Underwear is great for mobile individuals that have higher frequency urinary incontinence. The product is made of breathable, stretchable, cloth-like material that looks and feels like regular underwear. You will find comfort with their triple-tier moisture locking system that delivers superior performance and leakage protection while promoting skin wellness and managing odor. Attends also has comfort-flex tabs that are soft, flexible, and refastenable anywhere on the brief
Tena Men's Protective Underwear, Super Plus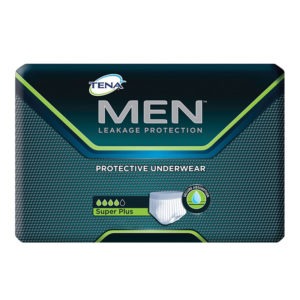 Tena Men's Protective Underwear provides total coverage for men with heavy leaks. They have super absorbent microbeads for advanced leakage protection where it's most needed. They also have a wider fit and core width between legs that allows fluid to move away from the body, enhancing leakage protection. Additionally, they use a modern design to fit and feel like everyday underwear.
Tranquility Premium OverNight™ Incontinence Underwear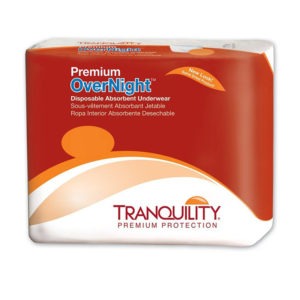 Tranquility's Premium OverNight™ Disposable Absorbent Underwear is the top-rated overnight underwear for adults. It offers superior protection to ensure a restful sleep. Premium OverNight™ Disposable Absorbent Underwear is available in a range of sizes from X-Small to 2XL. The absorbent Peach Mat Core provides maximum protection by locking away liquid resulting in dryness, urine pH neutralization, and odor reduction while protecting delicate and sensitive skin from the damaging effects of moisture. The superior performance of the Peach Mat Core is why Tranquility's Premium OverNight™ Disposable Absorbent Underwear is considered a top-rated overnight adult diaper among caregivers and medical professionals.
Although there are a lot of choices for men in the incontinence underwear market, these products have solidified their positioning in the market and have received excellent reviews and feedback from those who have purchased and used them.
Northshore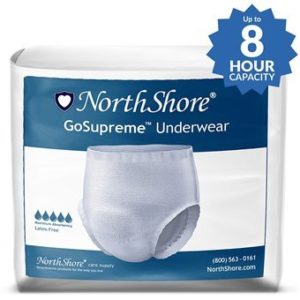 A pull-on that's different from the rest. GoSupreme™ from Northshore provides top-of-the-line comfort, absorbency, and fit while featuring extra coverage in the front, rear and sides. Improved leg elastics will fit great for those with skinny legs while still remaining comfortable for others. Plus, silky-smooth feel against the skin; extra waist elastics; low-profile design for reduced bulk; breathable yet 100% waterproof!
Men's Washable Incontinence Underwear
If you're seeking a solution for light to moderate incontinence that looks and feels more like normal underwear than paper pull-ups do, you may prefer ordinary washable cloth underwear with built-in absorbency. Not only are they discreet to wear so you can go about your usual day-to-day activities without worries, but you'll avoid uncomfortable supermarket visits and disposal dilemmas and you'll also save money in the long run. They are not suitable for heavy bladder leakage (full voids) or bowel incontinence.
Confitex for Men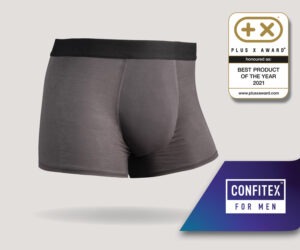 Our favorite brand of reusable, incontinence underwear is Confitex who offer a variety of functional pee panties and male incontinence underwear in a range of fashionable and comfortable designs. Awarded Best Product of the Year in the prestigious Plus X Awards, Confitex for Men washable absorbent underwear feature market-leading textile technology that has been independently proven to offer the best combination of absorbency capacity and leakproof performance without excess bulk.
Unlike other brands, Confitex's patented waterproof textile doesn't rely on a layer of PU plastic, which means the absorbent anatomical pouch on their life-changing men's underwear can be molded to provide superior fit and support without an uncomfortable center seam, and both heat-sealed and stitched to deliver superior protection against leaks. Better still, unlike other brands, they can safely be machine-washed and tumble dried without affecting their performance.
Why choose Confitex for Men:
Comfortable, quality cloth fabric just like normal underwear
Machine washable and tumble dryable to save you time and money
Superior absorbency and leakproofing for light-to-moderate bladder leakage
Independently lab-tested leakproof, odor-resistant and breathable
Discreet, with no telltale show-through or external bulk
Double stitched and heat-sealed to boost your confidence
No uncomfortable center-front seam
No worries in disposing of pads when out and about
Stylish designs available in different colors and absorbency levels
Easy online ordering and discreet delivery to your door
Available only at confitex.com
Exclusive discount for Caring Village readers! Use code CV2108MB at checkout to save 10% on your next order. One purchase per person. Not available with any other offer except free shipping on bulk orders. Full terms and conditions at confitex.com
---
Source
*We filtered the results to those that had at least 50 product reviews.
Dan Fogarty has more than 10 years experience in healthcare management and strategic communication. Dan earned his Master's in Health Communication from Johns Hopkins University in 2012. Dan has served as the Chief Administrative Officer, Office of Intramural Management (OIM), National Heart, Lung and Blood Institute for 8-years. At present, Dan is the Acting Chief Administrative Officer of the NIH Clinical Center.
In 2021, Dan earned the distinct credential of board certification in healthcare management as a Fellow of the ACHE (FACHE). Dan is also an Adjunct Faculty member of the Massachusetts College of Pharmacy and Health Sciences (MCPHS).
Dan is a member of the American College of Healthcare Executives. He earned his Fellow of the ACHE credential in 2021. He has consulted for a variety of healthcare organizations in strategic communication and operational initiatives.