Updated December 2020
Caring Village may receive commissions for purchases or leads made through links in this article.
As you age, you may find that you need help with dressing, bathing, or other activities of daily living (ADLs) due to a decrease in mobility or a physical or mental disability. Such needs are often not covered by traditional health insurance (including Medicare). This is where long-term care can help. Long-term care insurance provides benefits for those with functional or cognitive impairment. By purchasing a long-term care policy you will pay to receive benefits (or reimbursement) for the long-term care costs associated with:
Bathing
Dressing
Transferring (into and out of bed/chair)
Toileting
Eating
Incontinence
These long-term care benefits can be provided at various caring locations including:
At-home
Assisted Living Communities
Continuing Care Retirement Communities (CCRCs)
Skilled Nursing Facilities
Other care facilities
The Top Ten Long-Term Care Insurance Companies
Agent Review
Agent Review gives insurance shoppers access to fully vetted and professional agents who are experts in the long-term care insurance marketplace. They will guide you through the ins and outs of the process and make sure you get the policy that best suits your situation and your family's future.
LTC Financial Solutions
LTC Financial Solutions, LLC is composed of long-term care specialists with over 65 years of experience. LTC Financial Solutions, LLC specialists make searching for long-term care insurance easier by assisting clients to find long-term care solutions that are tailored to their needs. It educates clients about the benefits of long-term care insurance and helps them find a plan that matches their budget.
ACSIA Partners
ACSIA Partners LLC is a company that offers a variety of long-term care and related insurance products across the country. At ACSIA Partners, your quotes are delivered by one single specialist, who helps you choose the best features and discounts, without over-buying coverage. Avoid mistakes when planning your long-term care policy with one-on-one guidance from ACSIA Partners.
Mutual of Omaha
Mutual of Omaha offers a large number of policies and plans that are designed to meet individual needs and budgets. These come with different features that ensure your long-term care plan is able to handle future needs. You have the option to choose how to receive policy benefits.
New York Life
New York Life is a leading financial service provider backed by its strong capital position. It is one of the largest mutual life insurance companies in the country today and is rated A++ by AM Best. With its strong financial ratings, the company is positioned to be a reliable company for its long-term care customers now and in the future.
MassMutual
MassMutual is one of the biggest and leading insurance providers in the country today.  The company enjoys high financial scores from some of the most credible financial rating sites that include AM Best, Moody's, and S&P. With good financial standing, the company is poised to provide long-term care insurance services well into the future.
Northwestern Mutual
Northwestern Mutual is a rock-solid provider of long-term care insurance with sound financial backing. The company offers a comprehensive list of plans and benefits that are up to par with the best plans being offered today. Northwestern Mutual offers automatic inflation-protection at 3, 4 and 5%. This means that a similar plan without inflation-protection, which provides $100 daily benefit, could be enhanced to $200 daily benefit with inflation-protection.
Genworth Financial
Genworth Financial offers a range of products and services, including long-term care insurance and mortgage insurance. In 2016, the company suspended sales of annuities and life insurance, putting the existing books of business into runoff. In 2012, Genworth's U.S. companies paid over $3.2 billion in benefits to life insurance, long-term care insurance, and annuity policyholders and beneficiaries. The company provides individual long-term care insurance, group long-term care insurance for employers offering benefits to employees, and caregiver support services.
CLTC Insurance Services
CLTC Insurance Services provides long-term care solutions all over the nation by shopping all insurance companies for the best options and discounts available for your unique situation. CLTC emphasizes that they work for you and not the insurance company. As an independent specialist broker, the company also offers a Free Planning Guide, a "no obligation" consultation, and multiple quotes presented by one expert agent dedicated to helping you make the right choice to protect, you, your family and assets.
TransAmerica Long-Term Care
TransAmerica offers a variety of financial services and is considered as one of the top insurance services in the country today. The company aims to make long-term insurance more available by providing a myriad of solutions that includes tax-qualified and inflation-protected plans to make LTC more affordable and effective.
GoldenCare
GoldenCare Long-Term Care Specialists work one-on-one to educate you on all of your coverage options and to help guide you in your LTC planning. All of their products are hand-selected from top-rated carriers in the long-term care insurance industry. GoldenCare specialists have more than 40 years of experience in long-term care insurance.
LTC Resource Centers
LTC Resource Centers is an independent Managing General Agency that has been providing solutions to chronic health care needs (dependency) for over four decades. Their product portfolio includes; long-term care insurance, short-term care, linked or combo products, Medicare supplements, life insurance, critical illness, and annuities. The centers extend beyond just LTC to provide tools for caregivers, how to manage Medicare, and additional different methods to utilize for LTC. In addition, you can have direct contact with a specialist to assist you during your journey.
What Should You Consider When Planning for Your Long-Term Care Insurance Needs?
You need to consider many factors when planning for your LTC needs. Have you thought of the comparison to other monthly costs for caregiving support? Keep the monthly median costs noted below in mind as you plan for your long-term care needs.

* Source: Genworth 2019 Survey
Where You Live Matters – Depending on where you live the cost of long-term care can vary quite a bit. Studies show that on average the cost of long-term care insurance tends to be lower in the southeast and south-central states and higher in the New England states, as well as the northwestern and midwestern parts of the U.S.
Your Age and Physical Health Count – The older you are the more you will pay in premiums and the greater the likelihood is that you will develop a medical condition that makes it more difficult to get coverage. Shopping early is recommended!
Financial Strength Ratings Are Important – An insurer's financial strength rating is a forward-looking opinion about an insurance organization's ability to meets its ongoing insurance policy and contract obligations. Five independent agencies rate the financial strength of insurance agencies, each with its own rating scale and standards.
The Type of Policy You Choose Will Impact Cost – Both traditional long-term care policies and hybrid policies that combine long-term care insurance with life insurance are available. Keep in mind, however, that hybrid policies typically have a higher upfront cost in the form of either a large one-time payment or a shorter set payment term.
Additional Information
Who is Eligible for LTC?
In general, if you are in good health and over the age of 18, you can most likely find long-term care insurance. It is easier to look at what is excluded from coverage which includes in most cases:
Mental and nervous disorders or diseases
Alcoholism and drug addiction
Illnesses caused by an act of war
Treatment already paid for by the government
Attempted suicide or self-inflicted injury
Do You Need Long-Term Care Insurance?
Without question, we will all face additional costs to care for ourselves or for aging loved ones. How we pay for those long-term care costs (nursing home care, at-home care, etc.) is what should be planned out ahead of time. One option is Long-Term Care (LTC) Insurance. If you get LTC insurance, you will be reimbursed for common day-to-day activities, but you must first demonstrate you have lost the ability to engage in at least two activities of daily living (ADLs) which are: eating, bathing, dressing, toileting, walking, and continence. After making sure you fully understand what Long-Term Care insurance is, it's important to understand what experts say about it, what the costs and benefits are, and what alternatives are available in order to decide if it is right for you.
What the Financial Experts Say
Many financial experts suggest that Long-Term care insurance is not a smart investment if you pay more than 5% of your monthly income on it. Since the launch of LTC insurance for consumer consumption, many experts have found that many policyholders have been unable to continue paying their premiums due to increasing costs. Premiums can rise at any point in time and are not fixed (like Life Insurance). Also, many of those who purchased LTC insurance and then lived at a nursing facility were unable to collect any reimbursement because they could still perform their ADLs. Lastly, many of the LTC benefits that were paid were often less than the actual cost of care (source).
How Much Is Long-Term Care?
Each plan's cost will vary based on the coverage required. The cost is calculated based on the following:
Your age at the time of purchase
The maximum dollar amount the policy will pay per day
The maximum number of days (years) that a policy will pay
Additional benefits you choose with the policy
For example, a policy for a typical couple in Maryland in good health, aged 50+, can have an initial cost of $3,100 annually. Based on a recent review by the AARP, it is important to note that the premiums can shoot up without warning. The typical benefit amount ranges from $50 to $250 per day (source).To put the option of long-term care into perspective, only 8 million people currently have long-term-care coverage in the U.S. and only 131,000 policies were purchased in 2015 (down 24% from 2013) (source). Many people choose not to buy long-term care insurance. Instead, they save for their future long-term care needs on their own and pay for any necessary care out of pocket.
As you can see, the option of getting long-term care is available for most people. However, it is not widely used and can be confusing to obtain and get reimbursed. Make sure you do your homework, contact an insurance provider, and get all of your questions answered before deciding if LTC is right for you and/or your aging loved one.
The annual cost for LTC insurance can range from $3,000 – $6,000 depending on a variety of factors, such as sex, age, health status, maximum daily benefit, length of benefit, and waiting period. Those premiums can go up in yearly increases of 3% to 5% (source). Keep in mind that you may start paying for LTC in your 50's, but may not need it until your late 60's or 70's.
What Does Long-Term Care Insurance Cover?
A strong LTC policy may cover at least $300/day. This type of policy may have inflation protection, which often only lasts for three years. The volatility in healthcare costs may limit the value of $300/day in 10-20 years from now. The coverage offered through LTC can provide, in many cases, more than Medicaid and can include anywhere from 24-hour care in your home (or at a facility) to just a few hours a week in at-home care.
What Are the Alternatives to Long-Term Care?
To determine what coverage you will need, first determine how much you will have in your retirement savings and income. Based on that, you can calculate the cost of care in your area using the Cost of Care calculator from Genworth. Using the anticipated cost in comparison to your future income and assets will help you identify what (if any) difference exists. Based on your findings, discuss what options will work best for you with your financial advisor.
How to Know if LTC is Right for You
In the end, you need to make the right choice based on your personal circumstances. To get started, follow these steps:
Do your own research and don't fall for any sales pitches
Compare policies and all of the benefits offered from each one
Read and understand the fine print in each policy
Ask all of your questions upfront and write down the answers
Understand and research each company
Search for any consumer reports on the policy offered
Do not buy what you cannot afford
Apply early and plan for the future
Think about your spouse in each policy
Discuss and review this topic every single year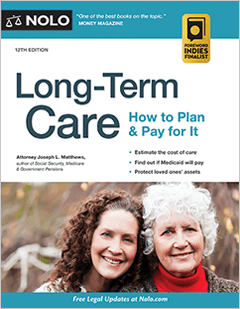 Further Reading About Long-Term Care
If you want to better educate yourself on Long-Term Care options prior to speaking with one of the following groups, we highly recommend the book by Joseph Matthews: Long-Term Care: How to Plan & Pay for It. It delves into this complicated topic in an easy-to-understand manner. It is currently in its 12th edition and is a good value to help you understand your options.
If you choose to get LTC insurance, you will be reimbursed for common day-to-day activities, but you must first demonstrate you have lost the ability to engage in at least two activities of daily living (ADLs) which are: eating, bathing, dressing, toileting, walking, and continence.
If you've decided to purchase long-term care insurance, make sure to take your time and research each of the companies listed above.