Are you looking for a book about caregiving? If so, there are plenty of great ones out there. To help you narrow your focus we've highlighted the six best books about caregiving below. These books have consistently ranked in the top five on a variety of caregiving websites and blogs within the past three years. Check out the books and descriptions below and let us know which one is your favorite.
The 7 Best Books About Caregiving
We start our list with a monthly highlight of 128 Days and Counting: A 28-Year Old Caregiver's Memoir by Honore Nolting summarized by this customer review on Amazon.com: A wonderful book for anyone trying to better understand the multi-layer journey dealing with cancer and its aftermath. The author's humor keeps you entertained throughout while not diminishing the intensity of the situation. With cancer being something that touches far too many lives, this book does an amazing job helping individuals grasp what you could expect at each stage and offers insight to everyone involved (be it patient, caregiver, friend, family member). Take-home points for me being communication and support are key to survival, and the journey is unfortunately not over when you hear "cancer-free." Well done and good luck Honor and Tom!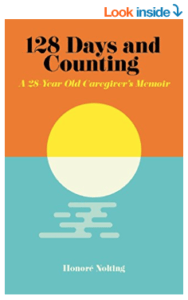 128 Days is a vivid and detailed account of a young couple during a cancer diagnosis and their relationship during the most difficult time of their lives. Honore and her husband, Tom, who went through chemo, an operation, and a difficult adjustment period, come alive in these pages as a loving and upbeat couple who are as familiar as your best friends. They are strong and scared, normal and quirky, determined and silly. Excerpts from the blog written during Tom's cancer answer many questions about what it's like to get cancer, and be a caregiver, as young adults. Honore's raw and emotional account about every aspect of the experience, and their relationship brings the reader fully into the magnitude of the diagnosis but what lingers is the joy, resilience, and effervescence of love.
Caring Village co-founder Michael Behrmann offers practical tips for caring for loved ones – and yourself – in the new book Enduring Alzheimer's! This book includes information from the authors' own personal caregiving experiences in an effort to create a guide to understanding and actionable steps.
Specifically, this book covers:
What is Alzheimer's Disease and Dementia?
How Caregiving Affects You and Your Family?
How to Prepare to Be a Caregiver for a Loved One with Alzheimer's
How Technology Can Help
How to Formulate Your Caregiving Plan
How to Care for Yourself While Providing Care- How to Keep Your Loved One Physically Safe
How to Keep Your Loved One Safe Financially
Managing Medical Issues- Medical Insurance
Legal Concerns- Financial Concerns
Research and Prevention
End of Life Care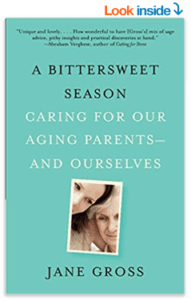 When Jane Gross found herself suddenly thrust into a caretaker role for her eighty-five year-old mother, she was forced to face challenges that she had never imagined. As she and her younger brother struggled to move her mother into an assisted living facility, deal with seemingly never-ending costs, and adapt to the demands on her time and psyche, she learned valuable and important lessons. Here, the longtime New York Times expert on the subject of elderly care and the founder of the New Old Age blog shares her frustrating, heartbreaking, enlightening, and ultimately redemptive journey, providing us along the way with valuable information that she wishes she had known earlier. Learn why finding a general practitioner with a specialty in geriatrics should be your first move when relocating a parent; how to deal with Medicaid and Medicare; how to understand and provide for your own needs as a caretaker; and much more. Wise, smart, and ever-helpful, A Bittersweet Season is an essential guide to caring for aging parents.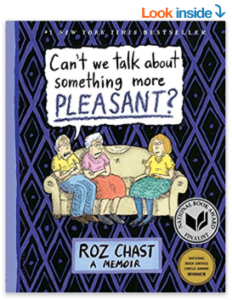 In her first memoir, New Yorker cartoonist Roz Chast brings her signature wit to the topic of aging parents. Spanning the last several years of their lives and told through four-color cartoons, family photos, and documents, and a narrative as rife with laughs as it is with tears, Chast's memoir is both comfort and comic relief for anyone experiencing the life-altering loss of elderly parents. While the particulars are Chast-ian in their idiosyncrasies–an anxious father who had relied heavily on his wife for stability as he slipped into dementia and a former assistant principal mother whose overbearing personality had sidelined Roz for decades–the themes are universal: adult children accepting a parental role; aging and unstable parents leaving a family home for an institution; dealing with uncomfortable physical intimacies; and hiring strangers to provide the most personal kind of care.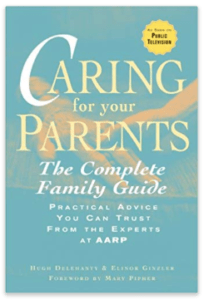 Drawing on AARP's deep wellspring of expertise in the topic, AARP's Caring for Your Parents offers both sensitive counsel and a practical road map through the complex emotional terrain many of us face as our parents age. This eye-opening book guides readers through a new, creative approach to caregiving that turns familial duty into a journey of emotional development and resolution.
Based on a 32-page National Magazine Award-nominated special feature, Caring for Your Parents documents the innovative ways that real people cope with this age-old issue. Throughout the book you will find useful, field-tested recommendations from AARP's staff of experts. Topics explored in depth run the gamut from locating quality health care and dealing with the bureaucracy of Medicare to avoiding consumer scams, organizing caregiving from afar, and planning the disposition of an estate. There are tips on designing your parents' house to make it more elder-friendly, navigating the hidden dangers of assisted living, and dealing with the invisible sibling issue. A resource guide in each chapter lists help lines, websites, and consumer action groups.

Being a caregiver can be rewarding but demanding work-and more than 40 million adult children find themselves experiencing the double duty of caring for their elders as they try to carry on a life of their own. The mission of this book is to help caregivers figure out how to look after aging loved ones, provide for other family members, and attend to their own career-without losing themselves in the process. In this supportive, reassuring, and practical guide, Doctor Alexis addresses the most pressing concerns, including such issues as how to: Get all family members to pitch in; Let go of feelings of guilt; Avoid conflict with an aging loved one; Foster independence in the elderly; Balance the demands on one's own time and resources.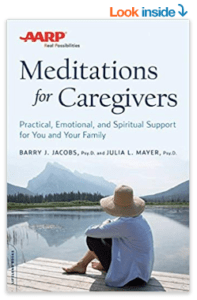 Family caregiving has its challenges: emotional overload, time constraints, anxiety, burnout, missed work, adult sibling conflicts, and marital issues. AARP Meditations for Caregivers blends emotional and spiritual motivation to minimize the strains while helping caregivers view their work as a mission from the heart. Chapters are organized by theme, including topics such as accepting your feelings, knowing your limits, seeking support, and managing stress. Each reading offers a poignant meditation, an anecdote drawn from the author's personal or clinical experience, and hands-on or psychological advice to foster coping skills and a sense of fulfillment. The meditations in this indispensable book will provide you with solutions to typical caregiving challenges, offer relief and renewal through mindfulness, and inspire you to find meaning and value in the work you do.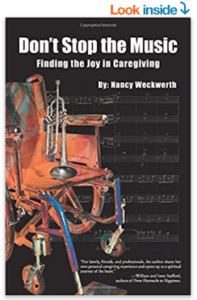 Based upon over twenty-five years of caregiving for Nancy Weckwerth's friend and partner, John D. Swan, the book describes how to find the joy in caregiving. Don't Stop the Music is a narrative of John's acceptance of his disability and Nancy's transformation to a caregiver. Nancy shares their journey through every triumph and challenge with honesty and openness. Her insights disclose the light, the lessons, and the laments that guided them across uncharted territory from surviving to thriving. Author Nancy Weckwerth has created a "survive and thrive" manual for Caregivers. The wisdom within is meaningful for any caregiving situation.

Pick up any or all of these books today and let us know what you think!