Top GPS Tracker Product Comparison: AngelSense and PocketFinder
Disorientation and confusion are common symptoms of those with Dementia or Alzheimer's. Knowing this can cause anxiety and concern for you as the caregiver should your loved one get lost. In a recent post, we profiled the top 10 Products to Best Track My Elderly Loved One's Location (click here to read the full post). AngelSense and PocketFinder were two of the top 10 GPS trackers and below is a more detailed comparison of the two products.
GPS Tracker Product Comparison: AngelSense and PocketFinder
GPS trackers offer you comfort, and your aging loved one protection. Each product will provide similar features: location technology, tracking, and alerts. With that said, the types of alerts, what tracking means, what type of wearable or app is required will differentiate each product just enough. Explore both AngelSense and PocketFinder in more detail below. Think about your needs first by asking yourself:
What is the price point I am willing to spend?
What kind of wearable do you want your loved one to have?
What phone features do you need?
What reporting functionality do you need?
AngelSense Elderly GPS Tracker and App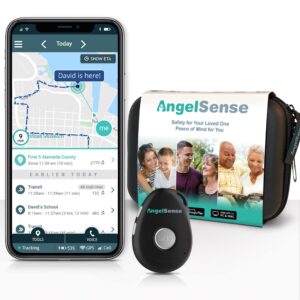 The AngelSense GPS Tracker is a unique offering that combines a GPS tracker and mobile app with a monthly service plan that includes unlimited notifications, full-day location updates, late departure warnings, email alerts, and real-time technical support. AngelSense initially entered the market as a service to track children and those with special needs (such as autism) and then eventually expanded into the elderly tracking space. This solution is perfect for individuals with Dementia, Alzheimer's Disease, and other memory problems as it helps prevent wandering and mistreatment while promoting independence and reducing family caregiver stress and anxiety. The AngelCall feature also allows families to talk to their elderly loved one directly without the need for them to "pick-up" the device. AngelSense offers three pricing plans and provides free onboarding support by phone.
Key Product Features:
Timeline View: See your loved one's daily timeline at a glance: locations, routes & transit speed.
Runner Mode: Get GPS updates every 10 seconds and send an automatic first responder alert.
Unknown Place Alert: Receive an instant alert if your loved one is in an unfamiliar place.
Sensory Friendly Wearables: Attach the GPS device to the loved one's clothing. Only caregiver can remove.
1-Way or 2-Way Voice: Find your loved one in a mall, medical center, or any indoor facility
Wide Cellular Coverage: No matter your carrier, AngelSense works throughout the entire US and Canada.
Late Departure Warning: Get an alert if your loved one hasn't left an appointment on time – ensure they're never left behind.
Indoor Search: Find your loved one in a mall, medical center, or any indoor facility
Alarm: Activate an alarm on the device to locate your loved one when nearby in a crowd or not in plain sight.
Cost:
AngelSense guardian Kit normally is $299 but is available for $99
The service plan is $33/month
Total price for the year is $498 (for the 12-month plan and the kit)
PocketFinder
provides an ideal way for families and caregivers to keep track of the people they love. Ideal for children heading to or from school or after school activities and seniors who value their independence. It's all about having peace of mind when you're not there with them. Vehicle Trackers are always on, protecting one of your most valuable assets and those that ride inside. PocketFinder Vehicle & PocketFinder+ help you know where they are and be alerted if they go too far – right from your App or computer! Breathe easier knowing those you love are safe! The latest PocketFinder Trackers launched in January 2017. The newer model utilizes all three location technologies, GPS, Cell ID, and Google Wi-Fi touch, for accurate outdoor and indoor locating. It also has an SOS button. Receive $30 off Personal or Vehicle trackers with discount code: CARING30
Key Product Features:
Location Technology: Accurate locates using all three location technologies (GPS/A-GPS, Wi-Fi Google Touch Triangulation, Cell-ID) & Google Premier Mapping!
Tracking: PocketFinder Vehicle location updated every 60 seconds. PocketFinder+ interval options and location updates as quick as 10 seconds.
Geo-Fences: Easily create an unlimited number of zones with enter and exit notification to multiple users.
Low Battery Alert: Power Cut notification for Vehicle Trackers and set your own battery level percent for notification with the PocketFinder+.
Speed Alerts: Be alerted when PocketFinder vehicle exceeds the speed limit you have set. Over the air update for PocketFinder+ when this feature becomes available.
Cost:
PocketFinder personal GPS is $159
PocketFinder Vehicle GPS is $299
Summary
The two products described above offer you very similar features, including a tracking device that provides you with up-to-the-minute whereabouts of your aging parent. With AngelSense and PocketFinder, you will have a simple device to attach to your loved one connected with your mobile app. The warnings, updates, alerts, and other general notifications vary between each product. Continue to explore product reviews and determine the best choice for you.