Best Washable Mattress Pads for Incontinence
Updated November 2021
Caring Village may receive commissions for purchases or leads made through links in this article.
Urinary incontinence is a reality for millions of Americans. Your day-to-day mobility can be supported with incontinence underwear. For sleeping, you can have the same support with mattress pads and covers.
No older adult should feel embarrassed or ashamed of bedwetting. It is a common challenge faced by millions every year. We have profiled the best washable mattress pads and covers to guide you through the often-unspoken challenge faced each night. Learn more about urinary incontinence at night and talk with your aging loved one about the available options right now!
What Causes Bed Wetting for Aging Adults?
There may be several reasons for urinary incontinence. Some of the more common reasons for nighttime incontinence resulting in bed wetting include:
A urinary tract infection
Diabetes
A blockage in the urinary tract (i.e. kidney stone)
Enlarged prostate
Medication side effects
General bladder problems (small capacity)
Neurological disorder
Obstruction sleep apnea
Hormonal imbalance
Dietary effects
How to Protect Your Mattress
Managing urinary incontinence when you are awake is much easier than when asleep. While sleeping you may not realize it and it could damage your mattress. Just like incontinence underwear, you can protect your mattress just the same. Some of the key ways to do this include:
Find and put on a zippered, vinyl waterproof mattress cover to provide coverage for the entire mattress.
Purchase and cover the cover with a waterproof mattress pad giving extra protection and absorbency.
Get extra comfort with a waterproof flat sheet.
Waterproof underpads provide protection both below and above the flat sheet.
Use layers of blankets instead of a thick comforter to make it easy to clean.
All of these options are available to you. Using washable mattress pads is an affordable and comfortable way to manage bedwetting.
What to Consider When Shopping for the Best Washable Bed Pads
As you know there are many ways to protect your aging parent's mattress. The waterproof (and washable) bed pad is an excellent choice. Looking for the right one can be challenging due to the many options available.
As you explore the best bed pad for you, think about the following criteria:
What is the absorbency?
The mattress pad is designed to absorb moisture (preventing it from reaching your mattress). It then dries quickly protecting both the mattress and your skin. Consider the absorbency level of the product when searching. The general range is 1,200 to 1,500 mm. The multiple soft layers of a bed pad are intended to be light and breathable.
Is it disposable or reusable?
You will find both options for mattress pads. Your preference will determine which one you choose. We encourage you to check out each of the washable ones we profile for you. The washable option is more sustainable and environmentally friendly.
Does it have odor control?
Read in the product description about any built-in odor controls. This will protect you from uncomfortable smells and odors.
Is it comfortable?
This is a choice based on practicality and functionality. Read more about each option and how comfortable the soft the pad is for your aging parent's sleep.
The Best Washable Mattress Pads
Finding the best washable mattress pad can bring comfort and peace of mind for your aging loved one. The list below was developed based on a search across highly reputable sites to identify the best pads and covers for urinary incontinence. Based on the search we compiled the top mattress pads. Look through each one carefully to find the best one for you.
SafeRest Premium Hypoallergenic Waterproof Mattress Protector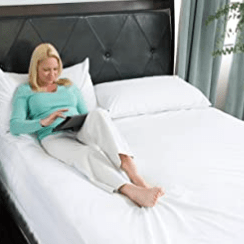 SafeRest mattress protectors are well known for their premium protection against dust mites, fluids, urine, perspiration, and allergens. This has made them especially helpful for those with kids, pets, allergies, asthma or incontinence. With just one unprotected fluid accident, a mattress can be left with a permanent stain or odor. SafeRest premium mattress protectors safeguard your mattress against fluids and stains offering peace of mind and a more sterile sleeping environment for you and your family.
Approximate Cost: $28.99 - $39.99
Click Here to Learn More
PlushDeluxe Premium Bamboo Mattress Protector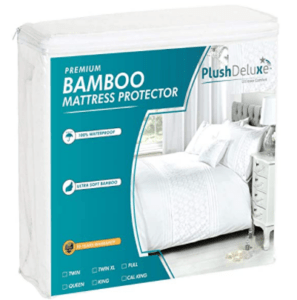 Keep your expensive mattress in pristine condition with PlushDeluxe Premium Bamboo Mattress Protector. The ultra-soft mattress guard effectively protects your investment from dirt, water and normal wear and tear, so it stays clean and comfortable for a long time!
Approximate Cost: $27.99 - $42.99
Click Here to Learn More
Epica Premium Quality Bed Pad
Don't use bed pads that hurt sensitive skin or crinkle and bunch uncomfortably. Instead, try the most advanced bed pad made with the most comfort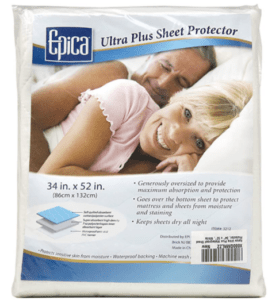 able materials—one that protects you and your mattress, while allowing you to get some sleep, too. Dream easy on the Epicad Bed Pad. Quilted 3-layer cloud-like fabric feels decadent against your skin while leakproof material ensures nothing gets past this security blanket.
Approximate Cost: $18.95 - $28.50
Click Here to Learn More
KANECH Bed Pads for Incontinence Washable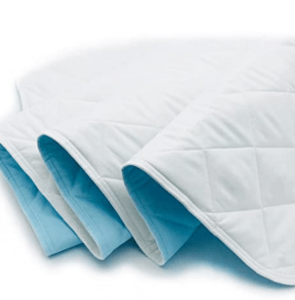 The high-quality brushed microfiber surface will help you sleep well and offer extra comfort as hypoallergenic. With KANECH's washable bed pad you can absorb up-to-10 cups of liquid. The liquid is absorbed in the high-density polyester/rayon felt and made washable for a guaranteed 300 machine washes.
Approximate Cost: $12.99 - $23.49
Click Here to Learn More
RMS Washable and Reusable Incontinence Bed Pad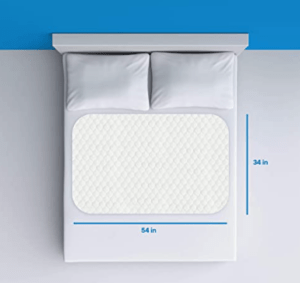 Protecting your bed, mattress, sofa, car seat or lift chair from moisture and staining, the RMS Ultra Soft Washable and Reusable Incontinence Pad features 4-layer waterproof protection that keeps your sheets dry all night long. It is machine washable and reusable. It is an ideal solution for those with adults, seniors, children, pets, or any incontinence needs.
4-layer of Waterproof Protection: The RMS Underpad offers 4 layers of protection and comfort:
Soft Quilted Top - Provides soft and comfortable touch and wicks away the moisture to effectively minimize skin irritation.
Absorbent layer - Offers maximum absorbency and liquid retention.
Cooling Layer - Adds softness, and more absorbency keeping you cool and dry.
Waterproof Bottom Layer - Ensures no leak or water staining to your bed or furniture.
Approximate Cost: $14.55 - $27.99
Click Here to Learn More
Medline Sofnit 300 Washable Underpads 
Medline Sofnit 300 underpads provide all the protection you need to help keep your loved one dry. Durable and reusable, our bestselling pee pads are generously sized to cover a large area on your furniture or floor. They catch the mess and clean up easily right in the washer and dryer. No muss, no fuss.
Approximate Cost: $25.99
Click Here to Learn More
Next Steps
Explore each of the products described in this article. You may need to try a few options to find the best fit for the mattress and for your aging loved one's comfort.
Brooke worked as a home health and hospice nurse for many years. During her time working with patients and families, she saw the pressures and strain of what caregivers went through while caring for loved ones. Lack of resources to help caregivers prompted her to start a support group for caregivers in her area. Since then Brooke has turned to writing courses for nurses and content writing.
In her spare time, she enjoys time with family, her dog, and travel.