What are the Top 10 Home Alert Systems to Keep My Elderly Loved One's Safe?
Home alert systems allow users to contact emergency services in the event of a fall or other emergency. If you recently determined that your aging loved one needs a home alert system, here is the Consumers Advocate's list of the Top 10 best medical alert products for 2018:
Medical Guardian

Medical Guardian's mission is to provide an affordable and reliable medical alert service to all those who wish to live an independent life, regardless of their limitations. Whether customers are looking to remain safe in a medical emergency (such as a seizure, stroke, or heart attack), have limited mobility, are at risk of falling as they age, or are afraid to live alone because of home invasions or fires, Medical Guardian guarantees that they will to be there to protect them.
Bay Alarm Medical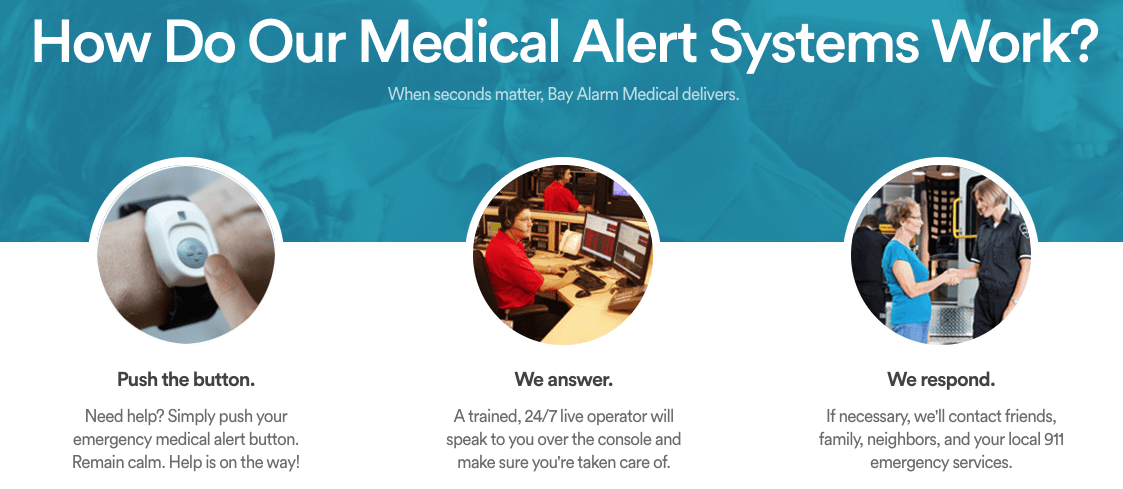 Bay Alarm Medical provides consultation, technical support, and customer service from their headquarters in California. They keep 24/7 medical monitoring completely separate from their day-to-day business operations to ensure that all calls are rapidly responded to. In the case of a medical emergency, pushing the help button quickly connects your loved one to a professionally-trained operator.
MobileHelp

MobileHelp isn't the least expensive option, but they're certainly among the best. The company provides a reliable GPS-enabled medical alert system that helps protect loved ones at home and away from home. MobileHelp offers a host of peripheral features including automatic fall detection and location tracking.
GreatCall

GreatCall is committed to supporting the needs of aging Americans and the approximately 42 million family members who care for them with innovative products and services that keep families connected while preserving independence.
Medical Alert

Connect America, Medical Alert, and/or Alarm Company specializes in Personal Emergency Response Services (PERS). Connect America is a nationwide company founded by Kenneth Gross, with its corporate headquarters in Broomall, Pennsylvania. Connect America's core business is providing personal emergency monitoring and home alarm services nationwide to older adults with medical ailments or conditions, who wish to live at home.
Philips Lifeline

Philips Lifeline is a Massachusetts-based medical alert provider. Originally Lifeline Solutions, the company was acquired by Philips in 2006. With both wireless and landline options, this company's medical alerts can be used at home or on the go. Features include auto alert and quick dialing, and their fall detection software boasts a 95% success rate.
LifeStation

LifeStation has been instrumental in providing a safety net for those faced with the potential of requiring immediate medical assistance. The LifeStation medical monitoring system has been designed by industry veterans who have one goal in mind — secured independence.
ADT

When using ADT when an alarm signal is received from the personal emergency response system, you can count on this professional monitoring system to deliver a fast response to both you and the appropriate response agency.
Medical Care Alert

Medical Care Alert is a company that provides medical alert services for seniors. It has a variety of medical alert plans and equipment designed to notify medical professionals about any emergency.
LifeFone

LifeFone has been an innovator in providing security and peace of mind to thousands of people throughout the U.S. since 1976. Utilizing the latest information technology and their continued commitment to "personal" response, LifeFone is in the forefront of the healthcare communications industry.
Explore each of the products listed above to find the one that best meets your aging loved one's needs. You can also discuss these options with your healthcare provider to get their recommendation. Remember that finding the right product can give you peace of mind and protect your loved one.