Want to know more about who you are and where your family came from? For as low as $79 you can get an entire ancestry DNA genetic test done to learn it all.
If a DNA genetic test sparks your interest, then it is likely for one of three reasons (which we will explore throughout this article):
To learn more about your family history (ancestry and genealogy)
To find relatives through matching your DNA
To learn more about your health and potential risk for diseases
Not sure where to start and what your next step should be? Exploring which DNA company is right for you to be able to conduct your at-home DNA test is described below.
We've considered it all based on our research and have outlined it to provide you with:
The Background of Genetic (Ancestry) DNA Testing
What is Ancestry DNA Testing?
How the DNA Kits Work
What the DNA Kits Test
The Best Ancestry DNA Tests Available
If you are ready to kickstart your journey, continue reading in detail. We hope to clear up some myths, confusion, and general questions about these tests. You are embarking on a voyage into your past going back generations and you may be surprised by your findings. Sit back, read, think of what you want to learn about, and explore your DNA.
Challenging the Main Misconception: Ancestry vs. Heritage
Many of us will interchange DNA ancestry with family heritage. The DNA ancestry test will not tell you exactly where each family member (in your family tree) lived throughout the many generations prior. The DNA test will in fact tell you how much of their DNA you have inherited. In an article exploring the Limits of DNA Testing, Dr. Pickrell, a geneticist and the CEO of Gencove, a company that sells genetic testing hardware and software to other companies, stated, "It's possible that your brother might have inherited a piece of DNA from one of your ancestors that you did not." (source)
What is Genetic (DNA) Ancestry Testing?
Most of us that get our ancestry DNA test done are looking to learn more about our backgrounds (ancestry, ethnicity, what parts of the world our ancestors may have lived). The genetic genealogy (DNA testing) will go well beyond what you and your family may know today. The DNA variations between us provide specific clues about where our ancestors may have come (general and specific regions around the world) taken from the raw data within your genetic code.
The genetic test will explore the genetic variations among those that have taken the test before. The most closely connected the variations then the map becomes clearer. It is very possible that your ethnic background may be very different than what you imagine it is and you will see this through the provided ethnicity estimations in comparison to the reference population.
The Most Common Genetic Testing for Genealogy
The most frequently used genetic tests for understanding your genealogy are Y-DNA Tests, Autosomal DNA tests, SNP (single nucleotide polymorphism), and Mitochondrial DNA Tests (mtDNA). Each of these has the outcome of providing you with a genetic history with some limitations for each type:
Autosomal DNA test is most commonly used for beginners; it can identify relatives between five and seven generations back, across both maternal and paternal lines.
Y-DNA (Y-Chromosome) test, which identifies male relatives on the paternal line reaching back 60,000 years; it can help to trace your family's surname.
Mitochondrial DNA (mtDNA) testing can determine genetic relationships on a maternal line from up to 150,000 years ago; both men and women can take this type of test.
SNP (single nucleotide polymorphism) test is done by measuring genetic variation. One of the more common is SNP genotyping, which measures the variations of a single nucleotide polymorphism providing a granular analysis.
How DNA Tests Work
The DNA test kits are super easy to use and with little fuss. You don't need to draw blood and the test will only take just a few minutes to do. You will either have to spit into a vial or rub a swab in your mouth … that's it! All of the genetic data is available in your saliva. Once you do the test, you will put it in the case provided and mail it to the lab. Then you wait for your results!
The Top (3) Ancestry DNA Tests
In looking across numerous consumer reports sites, ratings, and customer reviews we have found the top 3 ancestry DNA tests to be: 23andMe, Ancestry DNA, and Living DNA. Each of the companies is profiled below. Explore and select the best option for you.
23andMe
Ancestry DNA
Living DNA
Cost
$79.00 (Basic)
$129 (Essential)
$129 + $29/year (Premium)
$99.99 (DNA only)
$100 (DNA + Family Tree Bundle)
$119 (DNA Traits)
$79.00 (Ancestry)
$99 (Wellbeing Kit)
$149 (Wellbeing and Ancestry Kit)
Wait Time
3 - 4 Weeks
2 - 3 Weeks
6 - 8 Weeks
Postage Included
Yes
Yes
Yes
Health Testing
Yes
Yes
Yes
Family Tree Software
No
Yes
Yes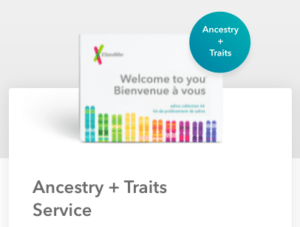 With 23andMe you will be able to conduct your test in three easy steps: Order, Spit and Discover!
Order: Choose from one of the options available - Health + Ancestry or Ancestry + Traits services. Your saliva collection kit is the same for both services and typically arrives within 3 to 5 days. Express shipping is available.
Provide Saliva Sample: Follow kit instructions to spit in the tube provided — all from home. Register your saliva collection tube using the barcode so 23andMe knows it belongs to you, and mail it back to the lab in the pre-paid package.
Discover: In approximately 3-4 weeks, you will receive an email to let you know your reports are ready in your online account. Log in and start discovering what your DNA says about you.
The 23andMe rigorous quality standards include:
All saliva samples are processed in CLIA-certified and CAP-accredited labs
The DNA collection kit is FDA-cleared for use with the 23andMe Genetic Health Risk and Carrier Status reports
Genotyping is a well-established and reliable platform for analyzing DNA
23andMe scientists and medical experts use a rigorous process to develop the reports
Your personalized reports are based on well-established scientific and medical research
Ancestry percentages are derived from our powerful, well-tested system that provides you with ancestry estimates down to the 0.1%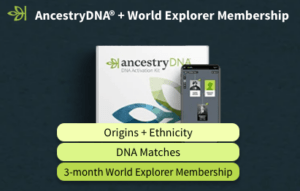 AncestryDNA is a cutting-edge DNA testing service that utilizes some of the latest autosomal testing technology, the patented Genetic Communities technology, and the largest consumer DNA database to revolutionize the way you discover your family history. This service combines advanced DNA science with the world's largest online family history resource to estimate your genetic ethnicity and help you find new family connections. It maps ethnicity going back multiple generations and provides insight into such possibilities as what region of Europe your ancestors came from or whether you're likely to have Southeast Asian heritage. AncestryDNA can also help identify relationships with unknown relatives through a dynamic list of DNA matches.
Your privacy is their highest priority. Ancestry DNA uses industry-standard security practices to store your DNA sample, your DNA test results, and other personal data you provide. In addition, we store your DNA test results and DNA sample without your name or other common identifying information. You own your DNA data.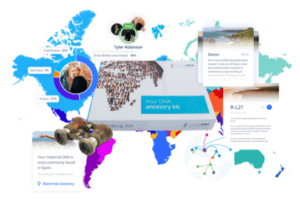 Living DNA is one of the world's leading personal genomics companies with the focus of using DNA testing to help transform lives. With Living DNA, you are always in charge of your DNA. Living DNA keeps your DNA anonymous and safe while making sure only you can tell them what you want them to do with it. They will never share your DNA without your explicit request.
In 3-Easy Steps, you can purchase your Living DNA kit online, take the simple DNA mouth swab and get your results in 6-8 weeks. One customer's 5-star review said, "My results confirm what I have discovered from my family tree. I love the history section and I am very happy to be part of this project. This is a very enriching experience. Oh, and by the way, I got the results three weeks earlier than predicted!"
Next Steps
Consider the best Ancestry DNA test for you and what you hope to learn. Order the test. Provide your DNA and wait for the results to open yourself up to your genealogical adventure.