Telemedicine is a care management tool. It allows health care professionals to evaluate, diagnose, and treat patients at a distance using virtual technologies using your phone, tablet, or other computer software to visit with your doctor remotely.
The need for telemedicine (also known as telehealth services) is ever-growing for older adults, especially those in rural areas. This technology will offer access to primary care physicians, check-ins for long term care and potentially avoid emergency room visits that are not necessary. However, a 2019 survey found that less than half of those asked compared the virtual visit favorably compared to in-person visits.
Telemedicine can be broken down into three primary means: synchronous, asynchronous and monitoring:
Synchronous Telemedicine (telehealth) is a real-time, two-way communication likely via video (usually through video conferencing platforms that are secure).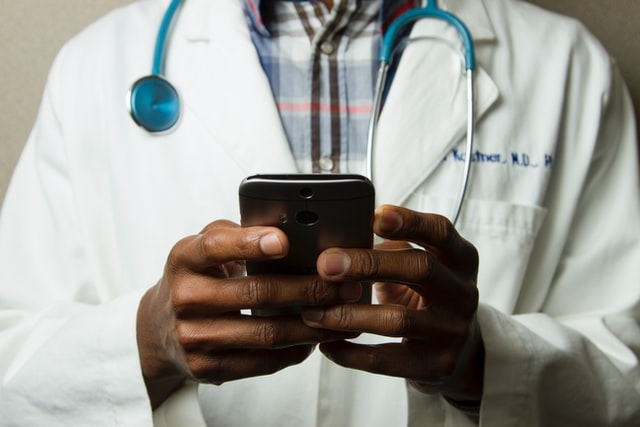 Asynchronous Telemedicine (telehealth) is a one-way message (email, for example) sent via a secured platform to communicate back-and-forth with a health care professional.
Remote Patient Monitoring Telemedicine (telehealth visits) provides health care professionals with real-time data (i.e., blood pressure) to identify any irregularities and initiate further communication should it be needed or incorporate into the next visit.
Top Five Benefits of Telemedicine for Aging Adults
Telemedicine offers many benefits, including increased patient access, reduced cost structures, faster information sharing, and other benefits, both tangible and intangible. As a caregiver, you may be wondering how you can take advantage of telemedicine for your aging loved one. Find out more about the benefits of utilizing telemedicine and how you can incorporate it into your care routine here. It is easy to incorporate into our regular communication with family members and between patients and families.
Monitoring and Maintenance of Chronic Conditions: With advances in mobile phone apps and other devices that can monitor vital signs (including blood pressure, weight, blood sugar, etc.), physicians can receive real-time data about your health. This monitoring is critical for chronic health conditions like diabetes, dementia, heart disease, and many others. Telemedicine creates the communication channels for this monitoring to occur.
Providing Autonomy and Independence to Aging Adults: At-home health monitoring devices allow for aging adults to live independently at home. These devices can monitor heart rate, blood pressure, etc. and send alerts to physicians and other emergency responders as needed. The alternative option requires routine visits to the doctor's office or more frequent visits from an at-home care professional.
Reducing Transportation Difficulties: The frequency of going to the doctor for aging adults can vary greatly. Depending on the purpose of the visit, a check-in with your physician using telemedicine may be all that is needed. This type of remote check-in will save time and reduce the stress of traveling to-and-from the doctor's office by having the visit in the comfort of your own home.
Potential Reducing Healthcare Costs: Telemedicine has the potential of reducing healthcare costs across the board by significantly increasing the prevalence of preventative medicine. Emergency care is often very costly, but if telemedicine can identify warning signs early, then the general costs of healthcare may be reduced.
Having 24/7 Coverage: The many tools of telemedicine can ultimately offer 24/7 coverage. What this means is that many service providers and telemedicine technology companies offer consultations around-the-clock. This kind of access is an excellent benefit for your aging parent if they have a question, but it is not an emergency.
Does Medicare cover telemedicine?
Medicare Part B (Medical Insurance) covers certain services, like office visits and consultations, including those provided:
Using an interactive two-way telecommunications system (with real-time audio and video)
By a doctor or other health care provider who isn't at your location.
The push by healthcare providers to increase coverage is expanding and likely will continue to grow as technology and public health need continue to grow.
Next Steps
Now that you have a general understanding of telemedicine discuss options and features with your physician to understand what will work for you and your aging loved one.