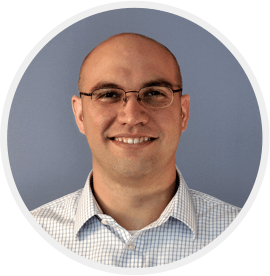 Matthew has been bringing products to life for more than 11 years. In his various roles as a business analyst, automated documentation specialist, health IT specialist, and product owner, Matthew has worked in the financial, government, and healthcare markets. As the former Mobile Services manager, he learned all about the intricacies of building native Android and iOS mobile applications.
"After experiencing first hand what my family went through for three aging grandparents, I understand the stress and disruption that comes with being a caregiver. I watched as my grandfather and two grandmothers went from independent lifestyles to needing full-time nursing care. I've seen what it does to them, to their families, and to the caregivers who become part of the family. 
I joined this team the moment I heard what they were doing and have never felt better about my job than I do at Caring Village. We're actively trying to make caregiving easier because we've all been there and realize that there HAS to be a better way. I know my grandparents would be proud of what we're doing here."
Matt is interested in cooking, brewing beer, tinkering with various electronics projects, and building things with his daughter. In addition to spending quality time with his family, Matt also tries to get back to Penn State for as many football games and tailgates as he can.