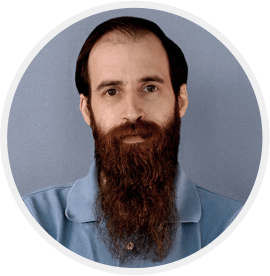 Mark has been with Caring Village's parent company for 18 years and has over 23 years of software development experience. Mark holds a Bachelor's degree in Computer Science and a Master's degree in Software Engineering from George Mason University.  He is the chief architect of the Caring Village platform, and is a supporter of using unobtrusive technology to help improve lives.
"I love bringing technology to bear to improve the lives of others, so when Mike and Ron approached me about Caring Village I was very excited to be a part of it. My parents spent many years caring for my grandmother at home as her mental and physical health continued to decline as she aged. I know it would have been easier for them had they had a platform like this to maintain communication with the rest of the family and ask for help when needed. Now, our family can use Caring Village to stay up to date on my own parents' health to make sure they have everything they need to continue to thrive in their retirement."
Mark enjoys scuba diving, underwater photography, and spending time with his Alaskan malamute "Tikaani" (whom his mother affectionately calls her "grand-dog"). He also spends several weekends a year doing improvisational acting in a medieval/fantasy setting, and is an avid fan of the Game of Thrones novels and TV series.