How many subscription services do you currently have? If you have Netflix, Amazon Prime, magazines delivered or access to online news you signed up for – then like all of us you are subscribed to many services. Having a subscription to information and access to entertainment is the norm. What about receiving a gift, a surprise, a hand selected box delivered to your home regularly?
Welcome to the subscription box world. It is not different then signing up for a newspaper, ordering delivery or ordering online. All of these are delivered to your home. Now take that to the next level and imagine having a monthly subscription service to a high-quality, themed box brought to your doorstep? That is a subscription box and the options are endless.
Subscription boxes are great gift ideas for your aging loved ones. You could have a snack box, book-of-the-month, beauty box and many other options delivered right to your aging parents' door.
To help you find the best subscription box service for you, we have outlined everything you need to know in this article. Take a few minutes to become an expert and pick the best option.
What Is a Subscription Box Service?
A subscription box on the surface is a regularly delivered item that includes new products each time that are themed according to your preferences and likes. The types of subscriptions can include food packages, new fragrances, cleaning supplies, clothes and much, much more. What stands out about subscription boxes is the joy, surprise and delight they can bring to you or your aging loved one.
You can subscribe for yourself or set one up as a gift for a loved one. The box is delivered to your home on a frequency associated with the box company: monthly, bi-monthly, etc. Each box delivered will be unique.
In some instances, the boxes are specifically designed for you and in other cases everyone that subscribes will get the same (but new) box delivered each time.
What Are the Different Types of Subscription Boxes?
Considering there are more than 7,000 subscription box companies in the world – there are many different types of subscription boxes!
Some of the most common types of themed boxes are:
Grooming
Beauty
Clothing
Accessories
Pet supplies & toys
Prepared meals
Healthy snacks and treats
Wine
Home decor
Entertainment (puzzles, games)
Sporting goods
Book of the month
How Many People Subscribe to These Services?
Would you believe there are more than 18 million subscription box users in the U.S. alone? Surprisingly, it is true! Of those subscribers, 35 percent have three or more subscriptions.
How a Subscription Box Service Works
Once you choose the subscription box (or boxes) for you then all you have to do is wait for it to arrive. After you subscribe and provide whatever details are requested, you will be set up for the next delivery. The subscription box service will continue to deliver the gift to you until you unsubscribe from it.
Picking the Right Subscription Box
To determine the right company and subscription box for you or your aging loved one, consider our scorecard below as an evaluation guide. This will help you craft your subscription box.
Subscription Box Evaluation Guide
To use this guide, take the time to really think about your aging loved one's needs and wants. Start first by reading each statement below. After reading each statement, separately note down the number associated with the item in order of preference.
I want a box that is a money saver on products, food, supplies or other items.
I want a box that is very detailed and specifically selected just for me.
I want a box to bring joy to my loved one as a gift that keeps on giving.
I want a box that is purely a mystery each month it arrives.
I want a box that brings me what I need so I don't have to think about it.
I want a box that brings me new knowledge, activities and ideas every time.
For example, if you ranked 1, 5 and 6 as your ranking boxes then you have mapped out your preferences. Next, you will compare against the key preferences associated with these phrases. You can see, below, that it would mean you prefer the value, time saving and learning & activity to be your primary subscription box needs.
Value
Curation
Giving
Surprise
Time Saver
Learning & Activity
The full grid and guide are summarized in its full view to provide some more context and assistance! Of course, your preferences may change so come back and revisit this whenever you consider adding, removing or changing your subscription box.
Value (1)
I want a box that is a money saver on products, food, supplies or other items.
Curation (2)
I want a box that is very detailed and specifically selected just for me.
Giving (3)
I want a box to bring joy to my loved one as a gift that keeps on giving.

Surprise (4)
I want a box that is purely a mystery each month it arrives.
Time Saver (5)
I want a box that brings me what I need so I don't have to think about it.
Learning & Activity (6)
I want a box that brings me new knowledge and ideas every time.
Subscription Box Companies
Now that you have a greater understanding of what a subscription box is, why you would want one and how to select one based on your preferences – it's time to consider what box company meets your needs.
When searching online, you will find many companies available depending on the theme you are looking for: Birchbox, HelloFresh, Dollar Shave Club, GrandBox, Silver Cuisine, and many more.
If you use our evaluation guide and the key areas of: value, curation, giving, surprise, time saving, and learning & activity – then one particular box service stands out and has it all: Cratejoy.
Cratejoy is an online subscription box resource. The company creates a large marketplace for subscription box services. As Cratejoy describes on their website:
Cratejoy enhances your life through the discovery of unique product experiences catered to you! We feature the most exciting gifts and subscriptions in the world, conveniently all in one place. That's why Cratejoy is the best way to feed your passion, period.
Subscription box services can go to Cratejoy as a one-stop-for-everything shop. If a new box business engages with Cratejoy they will have access to a custom website, easy-to-use payment services, analytics, customer service management and other essential features.
At Cratejoy - No matter your interests, experts and enthusiasts will create and curate the absolute best products for your subscription box – and then send it right to your door, on the regular. Explore what you already love or expand your horizons with something new each month! The choices are yours – and they're endless.
So How Do You Get Started?
1 - Go to Cratejoy.com and learn that Cratejoy works in 3-easy-steps: Browse the marketplace; Learn from the reviews/ratings and Q&A; Subscribe with just a few clicks.
2 - Think about what Cratejoy you are:
Seek all things self-care & wellness
Give great gifts to your family and friends
Indulge in treating yourself
Obsess over rarities, oddities, and quality goods
Enjoy creative ways to have more family fun
Embrace lifelong learning
Love getting goodies while doing good deeds
Crave more joy and less junk
3 - Create an account at Cratejoy to have direct access to all of the available subscription boxes, receive essential update, create a wish list, write reviews and much more!
4 - Search the categories to find the perfect box for your aging loved one:
New Arrivals
Women
Men
Kids
Family & Entertainment
Food & Drinks
Books
Self-Care
Home
Novelty
5 - Scroll around on the main home page for a mix of curated boxes on many preferences including:
Curated crates; Editors picks; Gifts under $100; Gift guides
6 - Select your box(es) and subscribe!
What a Subscription Will Cost
You can anticipate paying anywhere from $10 to $40+ depending on the products and service. Typically, with the subscription you receive a discount based on the subscription length. Remember to check the subscription cancellation policy as it often requires a specific action otherwise you will continue to pay for the subscription fee.
How Many Products Will Be In My Subscription Box?
This will really depend on the products included. For food items you may receive an entire meal or ingredients to make a meal. For beauty products it could include 4-8 samples. It is recommended that you read all about the box you are subscribing to before committing to anything.
What Kinds of Items Can I Expect My Loved One To Receive?
It all depends on the company and type of box you select. However, most companies and very familiar with the challenges or shopping for seniors and take their abilities, mobility and overall needs into consideration when putting their subscription boxes together.
Below are just a few examples of subscription boxes for seniors that we found interesting.
Grandbox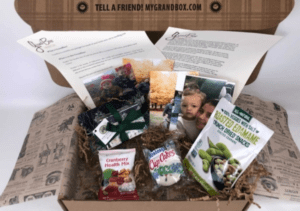 GrandBox is the original subscription box for grandparents and seniors. Each month has a theme that will delight and put a smile on their face. The best part: you can include 5 photos and a note in every box. Send something personal and special. Every box is hand-packed with love!
Add your own photos and a note
Full Sized Items
Free Shipping
Discover New Products
Each Month Is An Adventure with Exciting Themes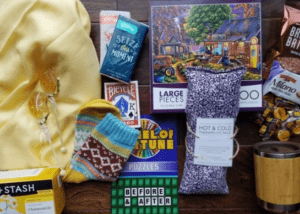 Care Box. Co.
Delivering smiles to a deserving generation! Their mission is to bring as many smiles as possible to our nation's aging population. Care Box. Co. have developed an awesome, and very affordable, way for friends and family with aging loved ones to send them a reminder they are in their hearts and on their mind!
Your personal message is printed and included in the box. You can also print and include photos.
Every care box sold allows them to also send care boxes to low income or orphaned seniors across the country.
Shipping included within the United States
The PERFECT BOX to let seniors know they are loved and missed.
Boxes are tailored to your loved one with a personal letter, family photos and by answering a few questions.
Boxes for men, woman & couples.
Make your senior feel even more special by selecting the personalized option to include an item with your loved one's name!
Send your senior the gift of knowing they are thought about and cared for even when you aren't able to be there in person.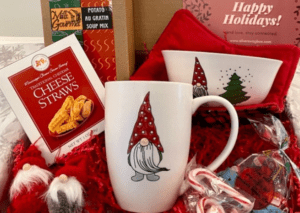 Silver Swag Box
Send love. Stay Connected. A box filled with thoughtfully curated items intended to inspire deeper relationships with the seniors you love. Perfect for parents, grandparents, or any other senior citizens in your life. Each box contains 5-7 items (like an activity, something useful, & snacks) perfect for older adults.
Great gift for grandparents, people who live in assisted living, or other senior citizens.
Each box contains a conversation starter to help foster meaningful conversations.
Each box contains a handwritten note. Just let us know what you'd like it to say at checkout.
They are a small, women-owned family business who sources products from local makers and vendors. We utilize small business and American-made products whenever possible.
Care package for grandma, grandpa, aunts, uncles, older parents, and family friends.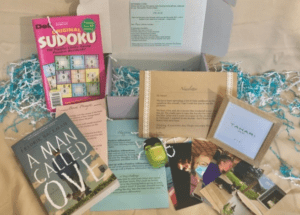 The Joyful Nursing Home
Send the gift of Joy to your loved one in the Nursing Home. They'll receive items to keep them feeling connected, peaceful, and entertained. Most importantly, you can show them that they are loved no matter the distance, time constraints, or restrictions keeping you apart.
A beautiful personalized Newsletter written by you, included in each box
Up to 5 photos printed, tied up in a bow, and laid in the box - so they can delight in the highlights of your month
Activities such as puzzle books, craft projects, and novels (with added book prompts we create ourselves!)
A monthly "brightener" item - a surprise item specially selected to *brighten* their living space, mood, or mind!
Monthly Happiness Tip - includes guidance to help them create a positive, healthy mindset
Summary and Next Steps
Try a curated subscription box through Cratejoy and see how it works for you!